Over the past year, teachers have been working endlessly to build their professional development and adjust to virtual circumstances all while making sure that their students are still being provided with a robust education. Recently, schools have been moving back to the classroom just after getting the hang of remote learning. Teachers are now shifting their focus toward rebuilding relationships with their students, in-person to make sure they feel supported going back to the classroom.
How To Prioritize Student/Teacher Relationship Building Going Back to the Classroom
Building strong relationships is incredibly important for a teacher to best provide for their students as well as make students feel excited about learning every day.
1. Spend individual time with each student
Students have spent so much time away from the in-person classroom and face-to-face interactions that going back to the classroom may be a struggle for some students. Sometimes teachers and classrooms are safe spaces for their students. Spending individual time with each student can help the teacher to feel in the loop about what specifically students need, support-wise, to help them be successful back in the classroom. 
2. Prioritize student needs
Teachers have focused much of their time on their own needs for building up their classroom in the past year making sure they have all the skills they need to conduct class virtually. While moving back to the classroom teachers now have to make student needs their priority to ensure that students feel comfortable and are progressing forward after an uncertain year. Student needs are incredibly important for the overall atmosphere of a classroom and the overall growth of a student. Prioritizing student needs shows the students that you care about their well-being and what is in the best interest of them.
3. Create a positive environment 
Going back to the classroom is something that is exciting for not only teachers but also students. After a year of not stepping foot in the classroom, students may feel nervous about what to expect going back. Create an environment that students are able to express themselves, feel safe, and are excited to spend the day. Teachers set the tone for the entire class by how they present themselves and their lessons. Students look up to their teachers and follow the example that teachers set for them. Taking time to make sure that positivity is something that is constant around the classroom can make that much of a difference for students.
4. Promote student voice
Promoting student voice is one of the best ways to get to know your students and find out exactly what they need from you. Asking for feedback and letting students be vocal about their learning helps students excel and feel more confident in the classroom. The classroom is where students learn about who they are and what they are interested in. While teachers still have to educate students on the set curriculum, students should be able to have some say in how and what they are learning. Give them options and ask them to help you, help them. 
Navigating going back into the classroom can be a bit tricky at first but prioritizing building strong relationships with students, as a teacher, can be one of the most beneficial ways to help ease that journey.
Start teaching confidently with Dyknow for free!
In addition to web browser updates and bug fixes, Dyknow released several major product updates, new features and enhancements. Check out Dyknow's 2021 Year in Review!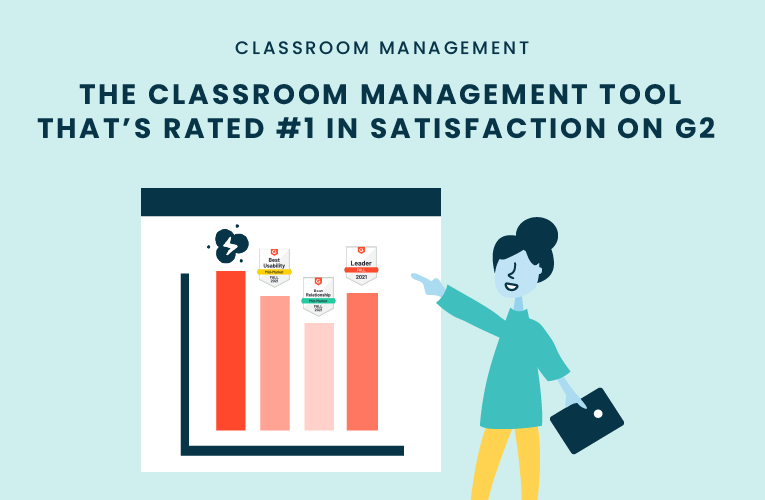 K-12 Administrators across the world trust G2 as the #1 platform to find, research, and choose EdTech tools that solve the most pressing problems their teachers are experiencing. In G2's Fall 2021 Reports, Dyknow was once again rated #1 in overall Satisfaction out of...
On this episode of Tackling Tech, Tierra Leustig interviews Scott Bayer about being an anti-racist teacher, diversifying reading lists, creating inclusive learning environments, and leveraging ed-tech in non-technical ELA classrooms. Scott Bayer is a High School...