The implementation of EdTech tools is increasing, and one of the biggest concerns for educators is how the use of these tools differs based on the various subject areas that they are used for. 
This week on The Dyknow Digest, we're sharing how teachers can use Dyknow to support various subject areas and customize their monitoring experience. Not a Dyknow user? Start Your Free Trial Today!
The Question:
"Different subject area teachers in their use of Dyknow to teach both virtually, in-person, and remotely because the way we use a tool will change depending on what subject is being taught."
Use Dyknow for Various Subjects
Dyknow can be used to enhance learning in any subject area as long as school-issued devices are being used for learning in that class. It's important that teachers are able to defeat distractions and enhance learning regardless of what subject they are teaching.
This article will break down how to create specific blocking plans for various subjects in Dyknow as well as how to tailor formative assessment features to benefit different subject areas.
Create Blocking Plans for Specific Subjects
The most impactful way that teachers can use Dyknow for specific subject areas is to create and save blocking plans that can be used for that particular class or activity.
For instance, Language Arts teachers can create specific blocking plans for writing activities, tests and quizzes, and general class periods that only allow the websites and apps that will be used during those specific periods. Similarly, Math teachers can create and save specific blocking plans for testing days and math activities that require and limit usage to specific websites and apps during class.
In order to create, save, and enforce these specific blocking plans, teachers need only go into Dyknow's "Blocking Plans" feature to create and save Allow Only blocking plans that include these websites and apps. Once saved, teachers should "Start Monitoring" their subject class, navigate to "Modify Blocking" and enforce the specific blocking plan for that subject.
Formative Assessment for Specific Subjects
The formative assessment features within Dyknow also enable teachers to conduct specific formative assessment activities for various subject areas and engage with students to progress their learning. 
Teachers can do this in Dyknow using two features: Question Bank and Check Student Understanding. Creating specific questions for each subject enables teachers to easily have access to questions and formative assessments to use throughout lessons and activities in their specific subjects. Additionally, teachers can send out quick polls using the "Check Understanding" feature to quickly get an idea of how well students are grasping the subject area for each class.
Different subjects require different device, website, and app usage to make learning more effective and impactful. Teachers can lean on these features within Dyknow to take different subjects to the next level and review student activity during each different subject area to inform their blocking plans and device usage during class.
Get Class History for your classroom with Dyknow for free!
In addition to web browser updates and bug fixes, Dyknow released several major product updates, new features and enhancements. Check out Dyknow's 2021 Year in Review!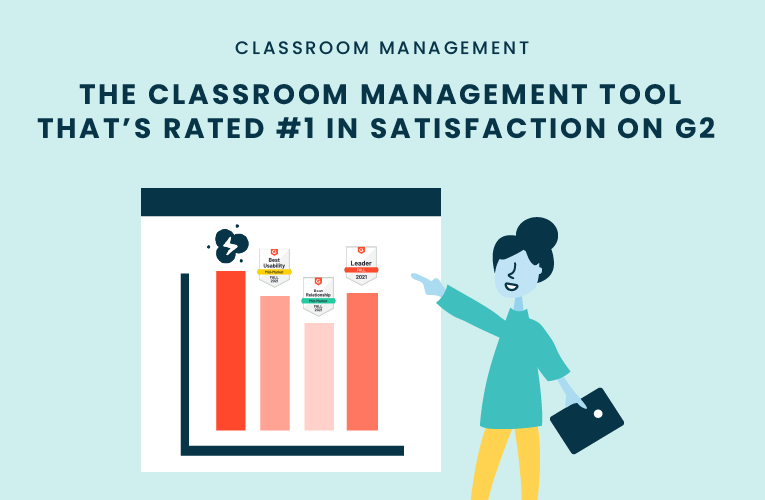 K-12 Administrators across the world trust G2 as the #1 platform to find, research, and choose EdTech tools that solve the most pressing problems their teachers are experiencing. In G2's Fall 2021 Reports, Dyknow was once again rated #1 in overall Satisfaction out of...
On this episode of Tackling Tech, Tierra Leustig interviews Scott Bayer about being an anti-racist teacher, diversifying reading lists, creating inclusive learning environments, and leveraging ed-tech in non-technical ELA classrooms. Scott Bayer is a High School...