The COVID-19 pandemic has created many challenges for K-12 educators. Yet, there have been positive takeaways from this time of remote learning as this has been a time of growth for teachers and students. 
We were able to talk on the Tackling Tech Podcast with Eric Guise, media specialist and technology coach at Hopewell Valley Central High School, on his take about K-12 technology adoption during the pandemic. He gave us some insight into the positives he has found throughout this pandemic.
Finding the Positive out of a Pandemic
Although this pandemic has brought many hard times, Eric Guise continues to look on the bright side and see the positives that have come out of it. One area Eric has seen growth in during remote learning is k-12 technology adoption. During remote learning, technology has become all teachers' primary teaching and communication tool. Not only has the use of technology increased for academic purposes, but teachers' technology skills have also increased immensely. 
Another positive Eric discovered is that remote learning has opened so many people's eyes to the digital divide between students. Digital inequality has always been a big issue and this pandemic has caused a to be shed on these inequalities between different districts' access to devices or technology. This realization has caused a movement to try and get these districts to be on a level playing field so all students can learn equitably.
A Shift in Student Measurement During Remote Learning
This pandemic has also caused many districts to re-evaluate their grading method. While keeping up with their classes during remote learning, many students are facing many other struggles. They may have family members that are sick, parents working full-time, or having to work themselves. It is hard to assign a grade to students when they are all in different situations. 
Expectations have now changed regarding student measurements, causing teachers to become creative. Due to the pandemic, teachers have ditched the question and answer assessments and have allowed students to be more creative with their assignments. Many teachers have found passion projects to be a great alternative to their regular assessments. Passion projects allow students to research, create, and present on a topic they are interested in, which will more than likely increase engagement. 
Although the pandemic caused a major shift within student measurement, there is newfound creativity within teachers and students. 
There have been many challenges that have come from the COVID-19 pandemic, but Eric urges you to recognize the positive outcomes from this situation including an increase in K-12 technology adoption. Some advice Eric would give to K-12 educators during the pandemic is to realize that now is a great time to get to know the people you don't know. Get to know them and get to know their needs. There are many good things to come from starting a new relationship.
Listen to our full conversation with Eric Guise
On this episode of Tackling Tech Podcast, powered by Dyknow, Brett McGrath talks with Eric Guise, the Media Specialist and Technology Coach at Hopewell Valley Central High School in New Jersey, about adapting to this new period of remote learning. In addition to supporting the district and teachers with technology, Eric hosts a tech-centric podcast for busy teachers, GotTechEd.
Start teaching confidently with Dyknow for free!
In addition to web browser updates and bug fixes, Dyknow released several major product updates, new features and enhancements. Check out Dyknow's 2021 Year in Review!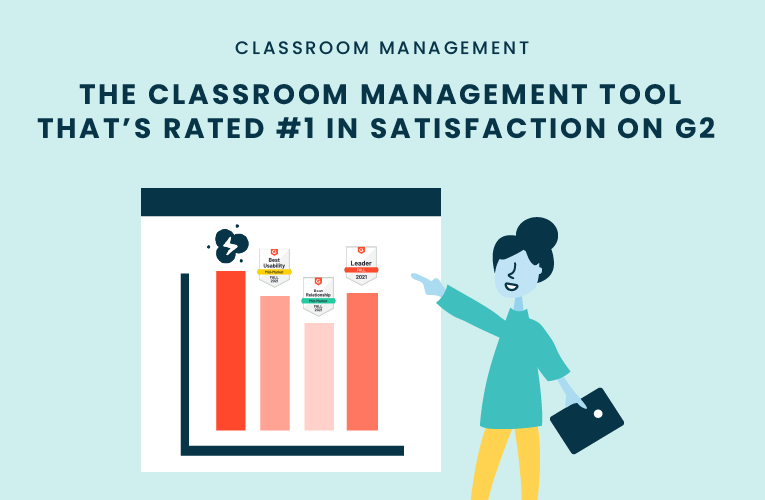 K-12 Administrators across the world trust G2 as the #1 platform to find, research, and choose EdTech tools that solve the most pressing problems their teachers are experiencing. In G2's Fall 2021 Reports, Dyknow was once again rated #1 in overall Satisfaction out of...
On this episode of Tackling Tech, Tierra Leustig interviews Scott Bayer about being an anti-racist teacher, diversifying reading lists, creating inclusive learning environments, and leveraging ed-tech in non-technical ELA classrooms. Scott Bayer is a High School...