Taking risks as a teacher can be scary, but times of uncertainty sometimes require teachers to try new things and take risks in the classroom. During this time of remote learning, it has become especially important for teachers to be comfortable leaning on technology in order to take risks and make instruction possible.
Recently we sat down with Rachelle Dene Poth to learn how she and her colleagues are taking risks as teachers using technology during remote learning. Rachelle is a Spanish and STEAM teacher at Riverview Junior-Senior High School in Oakmont, PA. She is also an attorney, has a Master's Degree in Instructional Technology, and is the president of the ISTE Teacher Education Network.
Technology for better or worse
Technology integration has been at the forefront of K-12 education long before remote learning became a priority; however, technology can be used for better or worse in the classroom. As Rachelle put it "when it comes to technology, you can have the newest and best tech, but it means nothing if it's not being used substantially or to enhance their learning." Taking risks as a teacher is a large part of the role, but risks related to technology should aim to be for the better.
An upside of technology and remote learning is that there are so many new technology tools and so many more teachers are using them, but the downside of this is that new technology tools can be overwhelming for educators, students, and their families. When taking risks as a teacher, accounting for student and parent adjustment to technology is important.
Taking risks as a teacher is an exciting part of remote learning, but Rachelle shared some insight for limiting these risks as you adjust to using technology in order to make the transition smoother.
How to limit risks as a teacher using technology
Limiting risks while transitioning to remote learning, or technology integration in general, can help these tough transitions go more smoothly for teachers and help teachers, parents, and faculty feel more comfortable during this time. Rachelle had a few tips for how to limit risks as teachers during this time while leaning on technology.
1. As a teacher, you don't need to use every technology tool out there. 
Rachelle recommended finding one or two tools that can do all the things you are looking to do, making technology more manageable. If all teachers in a school are following this practice and using the same tools, students will feel a sense of comfort and consistency throughout remote learning.
2. Keeping parents in the loop during this time can help gather feedback.
This feedback can help to gauge effectiveness, as well as make sure families feel supported. Rachelle explained that if you have taken risks as a teacher and are not sure if it is working, checking in with parents, call home, and make sure you are gathering feedback for constant improvement.
3. Think ahead to the future and take these risks and technologies into account.
Rachelle explained that we have to think about how these technologies will translate to the classroom and look towards the future after remote learning. Although taking risks as a teacher during this time is necessary because of the abrupt nature of this transition, we need to plan for the future of learning in the classroom and prepare for future remote learning scenarios that may present themselves.
Preparing to take risks as a teacher when classrooms resume
As the Summer months near and school comes to an end, there are more conversations about what the future of remote learning looks like and how taking risks as a teacher fits into the physical classroom when it resumes. Rachelle shared that she hopes that there won't be any forcing of teachers or students to use technology when we return to the classroom. Some teachers have been doing research and preparing for this time to maximize technology and take risks as teachers, but there are other teachers who don't have the same resources and might at a different level with technology. 
Rachelle explained that we need to get everyone involved in a conversation to talk about what we learned, what worked, what didn't work and why, and how we can use some of the same tools to provide opportunities for our students and educators when we go back to the physical classroom. Collaboration, communication, and supporting one another are critical skills that have accompanied remote learning and should carry over following this time. 
Teachers have learned many new skills, technologies, and strengths during this time, so they should be encouraged to continue to innovate and take risks in their classrooms following remote learning. 
Listen to our full conversation with Rachelle Dene Poth
Start teaching confidently with Dyknow for free!
In addition to web browser updates and bug fixes, Dyknow released several major product updates, new features and enhancements. Check out Dyknow's 2021 Year in Review!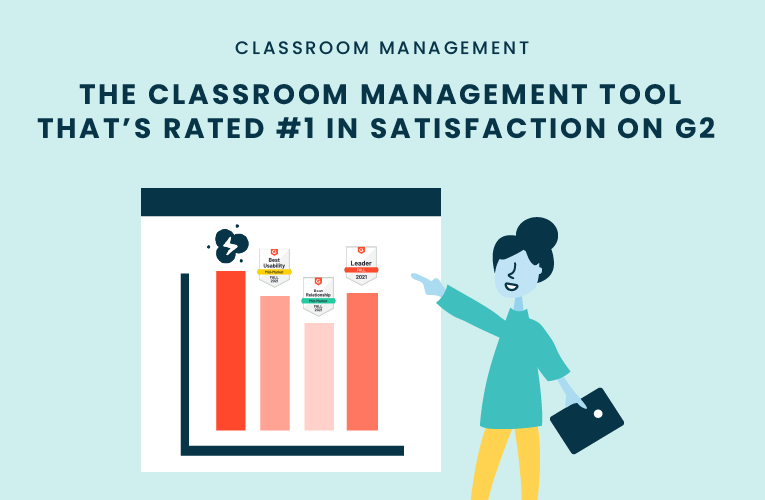 K-12 Administrators across the world trust G2 as the #1 platform to find, research, and choose EdTech tools that solve the most pressing problems their teachers are experiencing. In G2's Fall 2021 Reports, Dyknow was once again rated #1 in overall Satisfaction out of...
On this episode of Tackling Tech, Tierra Leustig interviews Scott Bayer about being an anti-racist teacher, diversifying reading lists, creating inclusive learning environments, and leveraging ed-tech in non-technical ELA classrooms. Scott Bayer is a High School...