Technology integration is an inevitable part of the evolving K-12 education space. With awesome new EdTech tools constantly coming out, district and school leaders are finding new ways for teachers to facilitate instruction in the classroom. But first, before any of these tools can be implemented, a one-to-one device program has to first be established.
One-to-one programs are not new to the K-12 space, but schools and districts are on different timelines for deciding if going one-to-one with devices in is their technology plan, and what rollout will look like. 
What does it mean to be one-to-one? 
One-to-one refers to programs that supply each student with a portable device to use in class and for after-school purposes like homework, projects, and assignments. These devices can take the form of laptops or tablets, and span the spectrum of device types like Chromebooks, Macs, and Windows portable devices. One-to-one device programs can take many forms. Some schools have one-to-one device programs where students can't take their devices home (known as carts), and others prefer that students purchase and bring their own devices to school (BYOD). 
The challenges of starting a one-to-one device program:
Typically, the decision to go one-to-one with devices is made on the Administrator level of a school or district, and teachers are tasked with figuring out how to incorporate these devices into their classes. Going one-to-one can be intimidating for some teachers because of the challenges that inevitably arise when every student has a screen in front of them during class. 
1. A fear for classroom management
The biggest fear for Jeff and his fellow teachers with their one-to-one rollout was the classroom management piece. "A lot of teachers were nervous that they would lose all student attention and that it might be impossible to determine if students were plagiarizing or cheating."
Although the fear of cheating and plagiarism with one-to-one devices did not become a reality, Jeff expressed that there was still a large learning curve as to how to teach effectively with each student having their own device.
2. The learning curve that comes with technology
Although Jeff expressed that most teachers in his school used a laptop to facilitate teaching before their one-to-one device implementation, there's still a learning curve that comes with student devices, and some teachers will be quick to dismiss these devices and not use them to instruct.
Even Jeff was skeptical at the beginning of his school's one-to-one device rollout: "At the end of the day, I was an English teacher, and the main thing we needed to be doing in class was reading books and writing essays. I saw technology as a distraction." Although Jeff's thinking has changed since the initial rollout of one-to-one devices in his school, he believes that traditional teaching tactics should still always come first, with technology as a compliment. 
3. Figuring out how to use technology meaningfully in the classroom
When the decision to go one-to-one with devices occurs, it is typically a one-way process, in that devices are here to stay. Jeff acknowledges this in his experience, "After that initial shock of realizing that every student now has a computer, we had to take a step back and ask ourselves, they have these devices, and these devices aren't going to go away."
Once teachers have accepted that devices are not going anywhere, they must adapt their instructional tactics and classroom environment to accommodate this new addition. Jeff's advice is to "figure out how we can use [devices] meaningfully so that it's not just a direct substitution of replacing paper worksheets with digital ones, but looking for ways that we can augment, modify and reimagine how we use the devices in the classroom. Really embracing the SAMR model to incorporate technology for enhancement and not just substitution." 
Transitioning from a non-device or limited device environment to a one-to-one student device rollout can be a tedious process, but ultimately benefits schools, teachers, and students, preparing all parties for the ever-changing education space and the world that lies beyond K-12 and higher education. Stay tuned for actionable tactics to tackle you one-to-one device rollout head-on, and bridge the gap between Administration-level decisions and classroom-level instruction. 
Start teaching confidently with Dyknow for free!
In addition to web browser updates and bug fixes, Dyknow released several major product updates, new features and enhancements. Check out Dyknow's 2021 Year in Review!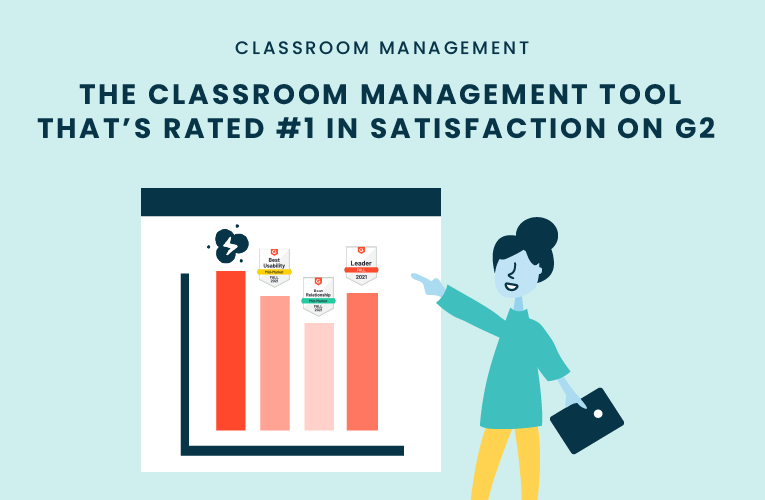 K-12 Administrators across the world trust G2 as the #1 platform to find, research, and choose EdTech tools that solve the most pressing problems their teachers are experiencing. In G2's Fall 2021 Reports, Dyknow was once again rated #1 in overall Satisfaction out of...
On this episode of Tackling Tech, Tierra Leustig interviews Scott Bayer about being an anti-racist teacher, diversifying reading lists, creating inclusive learning environments, and leveraging ed-tech in non-technical ELA classrooms. Scott Bayer is a High School...