One of the best Opportunities for K-12 educators to engage in Professional Development and learn from their peers is by attending EdTech events throughout the year. Because attending these events requires teachers to take time away from being in the classroom, a need arises for a remote classroom management tool to ensure students are still learning when teachers are away. Whether it be national events such as ISTE, or smaller local conferences like Indiana Connected Educators,these events provide countless opportunities for K-12 educators to learn from others like them about relevant K-12 initiatives and instructional tactics, and check out the most useful and popular EdTech tools to invest in for their classrooms. 
A downside of attending these events is that teachers are out of their classroom, sparking concern that students will not respect instructional time with substitute teachers during those days. For educators who use Dyknow, this concern is easily avoidable with the ability to remotely manage their classroom, ensuring that students are on-task regardless of where a teacher is.
How does remote classroom management work?
Although Dyknow only supports student devices that are Macs, PCs or Chromebooks, teachers only need a web browser to access Dyknow. This means that teachers can log in to Dyknow from a mobile phone, tablet, or another device from anywhere as long as they have a reliable internet connection. This easily enables teachers to have a tool for remote classroom management whether they are out at an EdTech event, or at home sick for the day. 
All teachers need to do for remote classroom management is log in on their device while their class is in session and start monitoring. Teachers who choose remote classroom management have access to all the features and functionality that they would in class, giving them the confidence that students will still be learning while they are away. 
Do K-12 educators actually use Dyknow for remote classroom management?
Our Dyknow team attends many of EdTech events throughout the year, allowing us to connect with K-12 educators from around the country. One of the best parts about attending events is connecting with Dyknow users in person to hear how they use Dyknow in their classrooms. 
Frequently, customers come to our booth at events, telling us how thrilled they are because they have been monitoring their classes right from the event! The ability to use Dyknow as a remote classroom management solution gives teachers the flexibility, confidence, and empowerment to trust that students will be on task even on days when they can't be in the classroom. 
Check out how this teacher used Dyknow for remote classroom management at TETC 2019!
Whether in or outside of the classroom, Dyknow empowers K-12 educators to trust students with devices in class and ensure that instructional minutes are being used to their full potential. Try using Dyknow for remote classroom management next time you take a day away from the classroom!
Want to see how Dyknow can help you teach confidently?
In addition to web browser updates and bug fixes, Dyknow released several major product updates, new features and enhancements. Check out Dyknow's 2021 Year in Review!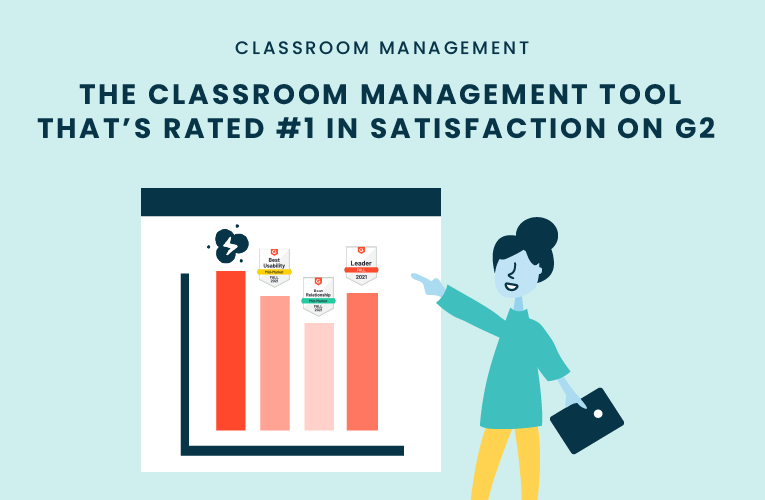 K-12 Administrators across the world trust G2 as the #1 platform to find, research, and choose EdTech tools that solve the most pressing problems their teachers are experiencing. In G2's Fall 2021 Reports, Dyknow was once again rated #1 in overall Satisfaction out of...
On this episode of Tackling Tech, Tierra Leustig interviews Scott Bayer about being an anti-racist teacher, diversifying reading lists, creating inclusive learning environments, and leveraging ed-tech in non-technical ELA classrooms. Scott Bayer is a High School...