With TCEA 2020 right around the corner, this weekend is the perfect time to take a look at the presentation schedules for each day and decide which sessions you will be attending. Dyknow will be attending TCEA 2020 to connect with educators from all over the country, and part of this involves going to sessions that align with Ed Tech topics and initiatives to learn how educators are leading the way within the space. Here are the TCEA 2020 sessions we are most excited for on Monday and Tuesday.
TCEA 2020's Monday and Tuesday sessions will start at 8:00 a.m. and continue until 4:40 p.m. – so be prepared for a full day of learning! These are some of the sessions on Monday and Tuesday that we think you should add to your TCEA 2020 schedule.
TCEA 2020 Monday Schedule Highlights
Monday, February 3rd, 8:00 – 9:30 a.m.
Joshua Kell | COO | Horizon AVL System Integration
Leveling up Esports for Education – developing the necessary steps for a successful esports program and facility. From curriculum to competition we will take an in depth look at the industry and trends surrounding esports. Esports has become a hit with students and educators alike as the benefits expand to include digital citizenship, team building, positive social development, and places of inclusion. Esports has proven to accelerate achievement and personal growth. Educators are teaching a wide variety of academic and soft skills using video games. 
Monday, February 3rd, 10:30 a.m. – 12:00 p.m.
Dr. Doretha Allen, Kelly Morgan, Olivia Uribe, Lily Ruble, Michael Strange | Blended Learning Instructional Team | Dallas ISD
A glimpse of year one of 1st Blended Learning Lead Coaching Team. We will reflect on our balancing act of implementing district technology initiatives, fulfilling grant requirements, and targeting various training needs as we learned along the way.
Monday, February 3rd, 11:35 a.m. – 12:35 p.m..
Brianna Hodges | Advisor & Spokesperson | Future Ready Coaches
You've spent money on devices and hired specialists, but how do you know if they're positively affecting learning? Learn how Future Ready Coaches maximize BLENDS of pedagogy, curriculum and technology to move initiatives from investment to invested.
TCEA 2020 Tuesday Schedule Highlights
Tuesday, February 4th, 8:30 – 9:20 a.m.
John  Briese | Director of Technology | Millsap ISD
Providing devices to teachers and students does not do them any good unless they are prepared to use them. How can we help prepare and support them both to help them use the technology to enhance the learning already happening in the classroom?
Tuesday, February 4th, 1:25 – 2:35 p.m.
Danielle Edmunds & Michael Liener | Brighton Central School District
This session will explore how Brighton Central Schools are using curriculum design, instructional practices, technology and flexible learning environments to ensure all students are prepared for the world beyond its walls.
Tuesday, February 4th, 2:15 – 3:05 p.m.
Kristi Visage, Suzanne Gaddis, Ryan Wheeler, Deborah Hilton, Mark Estrada | Technology Instructional Mentors | Lockhart ISD
Start, assess, and scale an innovative instructional vision for your district that leverages technology to increase student engagement and academic growth. Leave with usable examples and strategies from our Visionary Instruction Plan (VIP).
Want to see the full TCEA 2020 schedule?
In addition to web browser updates and bug fixes, Dyknow released several major product updates, new features and enhancements. Check out Dyknow's 2021 Year in Review!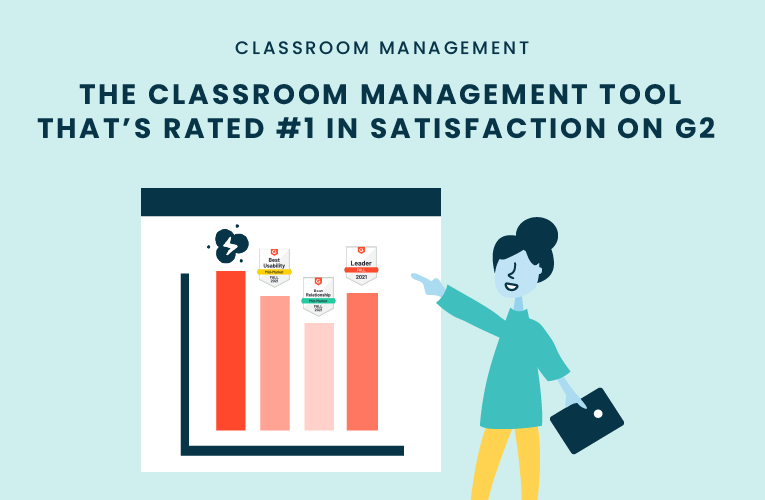 K-12 Administrators across the world trust G2 as the #1 platform to find, research, and choose EdTech tools that solve the most pressing problems their teachers are experiencing. In G2's Fall 2021 Reports, Dyknow was once again rated #1 in overall Satisfaction out of...
On this episode of Tackling Tech, Tierra Leustig interviews Scott Bayer about being an anti-racist teacher, diversifying reading lists, creating inclusive learning environments, and leveraging ed-tech in non-technical ELA classrooms. Scott Bayer is a High School...