Dyknow customer,
Lowndes County Schools
in Valdosta, Georgia is a district made up of 10,681 students across 11 schools. We've been working with them for a year and wanted to highlight them as an example of a district that has decided to implement a classroom management solution initially in an isolated setting.
Lowndes County Schools
uses Dyknow to help their teachers defeat student device distractions at their alternative school. It's not atypical for district Technology Directors to implement classroom management in a test setting for certain schools or grades, prior to expanding adoption to more students in the district.  
I got the chance to ask Al Rowell, Director of Technology at Lowndes County Schools some questions to learn more about their 1:1 device program, how their team supports teachers on technology decisions, and the overall makeup and structure of his team.
Here's how a Georgia school district supports teachers with technology…
Can you describe Lowndes County student device program and how it's benefiting your district?
The Lowndes County Schools has implemented 1:1 Chromebooks in grades 3-8 with substantial access (but not 1:1) at our high school. Our alternative program is 1:1 with assigned Chromebooks. All Chromebooks are used only at school. As a Google G Suite for Education district, our teachers have adopted Google Classroom for day-to-day instruction and use a variety of websites for instruction. Teachers are able to individualize instruction, and also with one-to-one, they are able to efficiently meet system expectations for time on task for certain instructional programs. At our alternative school, where Dyknow is deployed, our students are rostered into an integrated learning system.  Dyknow helps the teachers to monitor and keep the students focused on their assigned work.
What challenges or changes have been made to the program since it's been implemented?
The program launched as individual personalized learning program grants, one per each school. The teachers involved in those pilots identified Chromebooks as the best fit for our district, and we have expanded the deployments gradually grade by grade. Finding time for professional learning has been a challenge, but we have over 200 faculty who have now attained Google Certified Educator status.
What does your technology team look like?
Aside from the director, we have a system network administrator who manages the network, one technician principally dedicated to wireless and low-voltage service, a technology coordinator who manages users and applications, three technicians who perform daily repairs on our system hardware, a technology specialist who maintains inventory, and an instructional technology specialist who works with teachers directly on enhancing their skills using instructional technology. We also have six technology paraprofessionals who provide first-line troubleshooting of reported problems.
How does your technology team support your teachers on a daily basis?
Teachers report issues via a ticketing system.  The problems that cannot be resolved by the technology paraprofessionals are transferred to the technician assigned to the facility to be assessed and repaired.
How do schools/departments collaborate on technology decisions?
The technology department communicates with the Teaching and Learning department and with the media specialists and technology committees at each school.  Challenges are identified and the department works with the schools to find the best solutions.
What are some of the best practices you can recommend to other districts to make sure technology is working for them and not against them?
Involve teachers early in the adoption of new technologies and work through a gradual deployment. Make yourselves available for questions and listen to concerns. We are fortunate in that we have developed a strong cadre of media specialists who assist with the implementation of instructional technology at our schools.  Their assistance has been invaluable. Invest in professional learning, and seek ways that students can actively use the technology to create and collaborate.
If you are a technology leader in K12 education we want to feature you on this blog. We are always willing to take your recommendations on topics that you or your school find helpful as technology continues to change K12 education.
Want to learn from educators like you?
In addition to web browser updates and bug fixes, Dyknow released several major product updates, new features and enhancements. Check out Dyknow's 2021 Year in Review!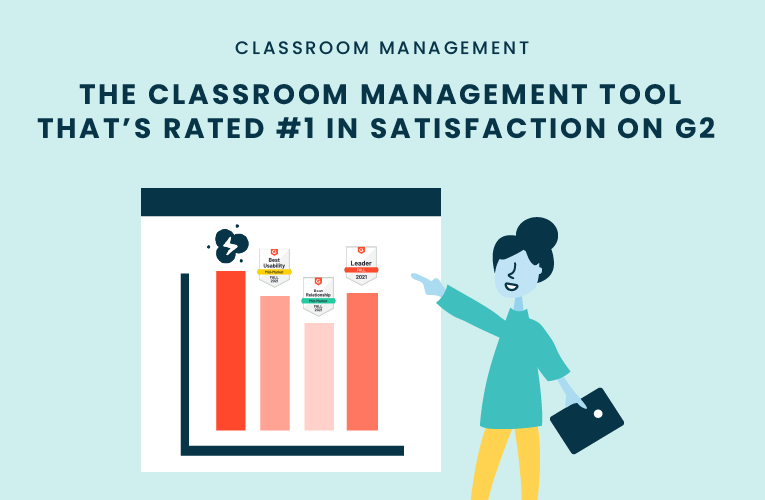 K-12 Administrators across the world trust G2 as the #1 platform to find, research, and choose EdTech tools that solve the most pressing problems their teachers are experiencing. In G2's Fall 2021 Reports, Dyknow was once again rated #1 in overall Satisfaction out of...
On this episode of Tackling Tech, Tierra Leustig interviews Scott Bayer about being an anti-racist teacher, diversifying reading lists, creating inclusive learning environments, and leveraging ed-tech in non-technical ELA classrooms. Scott Bayer is a High School...