We have many Dyknow users that are responsible for their district's 1:1 student device program and decided to set up conversations to better understand each district's unique process. We will share these conversations as they happen and hope our audience can learn from other industry peers. Last week our team connected with Devin Arms, Director of Technology at Tippecanoe School Corporation in Indiana. During our conversation, Devin described their technology program, how it's organized, and what their team does to support teachers on a daily basis.
It's inevitable that more schools in K-12 education across the United States are moving to a 1:1 student device program. CoSN's (Consortium for School Networking) 2019 K-12 IT Leadership Survey Report states that 82% of the responses are providing 1:1 student devices for their districts, which is up from 69% from the previous year. 
Devin has been the Director of Technology at Tippecanoe School Corporation for four and a half years. Devin's prior roles include IT leadership at another Indiana district and a 5th-grade classroom teacher. Tippecanoe's phased student device rollout started back in 2012. Now the district issues a device to each student in grades 6-12. Middle school students turn in their devices at the end of each school year, while high school students receive a new device their freshmen year to use throughout their entire high school career. The biggest challenges the technology team faces are cost, ongoing maintenance, and oversight of the initiative. In order to get a better understanding of Tippecanoe's technology team's structure, and how they support their district, we connected with Devin and asked questions about their current program.
WHAT DOES THE TIPPECANOE SCHOOL CORPORATION TEAM LOOK LIKE IN TERMS OF MAKE UP AND STRUCTURE?
Our team's comprised of 22, soon to be 23 individuals including myself. We support nearly all technology operations and e-learning professional development activities for all of our students and staff. Our district is 13,600 students with 1,200 employees made up of teachers and administrators. In terms of those 22 people, we have our department segmented out into four different teams. We have those teams come together and collaborate to address various issues.
Tippecanoe School Corporation Technology Team Breakdown.
1. Connected Learning Team. This is our e-Learning team that is focused on providing professional development to our teachers, going out to buildings and conducting training. They meet with teachers 1:1 or in small groups, doing co-teaching and working on various projects. Also, they provide Q&A support and allow teachers to book individual appointments for more direct support. The team also provides some of the curriculum software applications or web-based applications that the staff uses.
2. Data and Systems Team. This team handles our student information system, internally run custom developed applications, and state and federal reporting.
3. Network and Infrastructure Team. They make sure that our network is safe, secure, robust, and reliable, ensuring we are up and running when we need to be.
4. Technology Support Team. This team is comprised of technical specialists or primary building technical contacts. They are the boots on the ground at schools providing direct hardware and software support to staff. They are stationed at the middle or high school level and support the student Chromebook initiative in terms of inventory, issuing the devices, collecting devices, and repairing any broken equipment. The team also handles all of the repairs in house.
HOW DOES YOUR TECHNOLOGY TEAM SUPPORT TEACHERS ON A DAILY BASIS?
Tippecanoe is a unique district in that our teachers have a block built in of professional development time before school each day. The elementary and middle schools have half an hour of PD time before school every day and the high schools have an hour every week after school on Monday. This is a time we call instructional improvement block or IIB for short. We typically have our staff understand what initiatives are going on, where any deficiencies exist, and how to access support. In addition to the individual PD blocks, our team develops targeted professional development sessions each semester. Then each of our schools signs up for two or three times per semester where a member of the technology team will go out and provide training to the entire staff. 
We understand that it's difficult for staff to sit and absorb all of the material that we are presenting. However, we do take advantage of that time we have, as it allows us to present concepts consistently across all of our schools. We're able to keep folks on a similar page, which helps us be more efficient in the ongoing support that we provide.
WHAT ARE SOME OF YOUR RECOMMENDATIONS FOR DISTRICTS TO MAKE SURE THEIR TECHNOLOGY IS WORKING FOR THEM AND NOT AGAINST THEM WHEN THEY'RE STARTING OR EVOLVING THEIR 1:1 STUDENT DEVICE PROGRAM?
Communication is key in every step of the process. It's really easy for IT staff to make decisions in a silo and not really think about all of the implications and ramifications for some of those decisions. A lot of the time we'll come up with tentative plans in the technology department and then share them in draft format with our principals and administrators. After sharing we apply feedback and tweak our plans to make sure we incorporate necessary changes or improvements. We've learned that just ramrodding or forcing a decision on people is definitely not best practice, especially if you want people to feel like their voice was heard in the decision-making process. You're never going to make a decision that pleases everyone, but at least if you can be transparent and communicate what you did to gather the information. By incorporating other departments into the process, you'll have a better chance of being successful. 
We place a strong emphasis on customer support and providing training that's important. I think you need to be very purposeful in the programs you are going to roll out. Identify the things people are going to need prior to and after the rollout to be successful. It's important to define how to get information out and identify how to engage your district. Web conferences, videos, or face-to-face conversations, are all good customer support options for your district.  
The breakdown of Tippecanoe School Corporation's technology program is organized to make sure systems are running, the staff is onsite to support day-to-day issues and questions, and ensure there are regularly organized trainings to enable teacher adoption on new programs that can allow them to enhance their classroom management. The systematic support that their technology team provides their teachers allows them to stay hyper-connected to make sure that the technology is working for them and not against them. The bridge that Arms has built between his team and their teachers helps to break down silos that exist to make sure they reach their mission of striving to educate their students to reach academic potential in an environment that encourages confidence, competence, and a desire for learning.
We'll continue to highlight the technology leader's voice on this blog and are always willing to take recommendations on topics that you or your school find helpful as technology continues to change K-12 education.
Looking for more helpful edtech resources?
In addition to web browser updates and bug fixes, Dyknow released several major product updates, new features and enhancements. Check out Dyknow's 2021 Year in Review!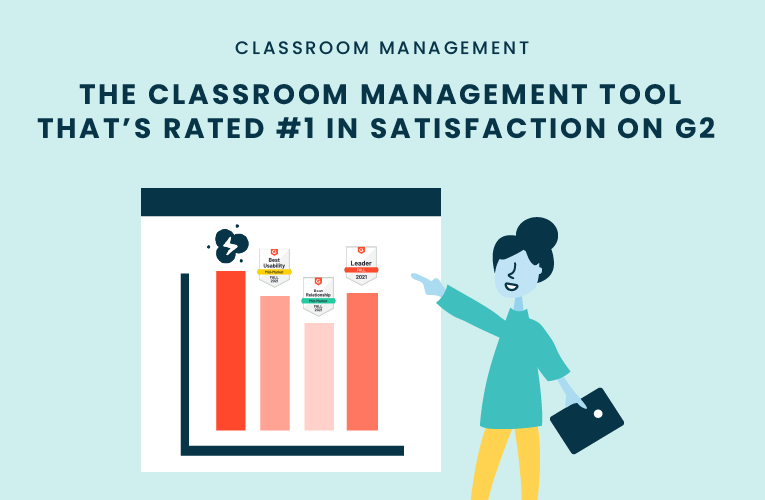 K-12 Administrators across the world trust G2 as the #1 platform to find, research, and choose EdTech tools that solve the most pressing problems their teachers are experiencing. In G2's Fall 2021 Reports, Dyknow was once again rated #1 in overall Satisfaction out of...
On this episode of Tackling Tech, Tierra Leustig interviews Scott Bayer about being an anti-racist teacher, diversifying reading lists, creating inclusive learning environments, and leveraging ed-tech in non-technical ELA classrooms. Scott Bayer is a High School...