In K-12 education it can be easy to fall into the pattern of finding things that work, and never branching out from that success. Some teachers have been doing the same lessons for 20 years and although that may work for them, is it benefitting their students? We recently had a conversation with Principal Evan Robb to understand why taking risks as a teacher is so important.
How to Create an Environment that Encourages Risk-Taking
Risk-taking is something that is not often taken advantage of for many reasons. One reason is that people are afraid of failure and another being that they are comfortable where they are and don't want change. Evan believes that risk-taking is the only way that innovation and creativity will be brought into the workplace – no matter what industry you are in. He believes, "There is way too much imitation and not enough innovation." 
Evan suggests asking the question 'how do you create a workplace and an environment where innovation and creativity are equally valued?' The answer to this question is that it all begins with the leadership of an organization. Leaders and administration have to encourage, support, and demonstrate risk-taking at their school if they hope to see any sort of positive results from their teachers.
The leaders of an organization either encourage or inhibit risk-taking based on their words and their actions. Encouraging language and support need to be used and communicated to make sure that teachers feel comfortable taking a risk and with the possibility of failing. Teachers need to know that they can get right back up and try again if they fail and there won't be detrimental consequences for taking that extra step for their students. Evan shared, "When the environment is such that people feel comfortable taking risks, then you will get the best out of people."
How to Take Risks as a Teacher
Evan gave us an example of how his school successfully took a risk that ended in a positive result. He explained how the smallest steps can be taken to initiate risk-taking, and it can be as simple as implementing one new technology into your school or classroom. His school decided to implement new technology and Evan took a risk with his approach to the decision making and negotiation process. He went around looking for a team of risk-taking teachers to help him be successful. 
Risk-taking as a teacher does not have to be done alone; get a friend or colleague to help! Evan found a staff member who was a really good negotiator to negotiate a deal with this company for their school. He also found a team of other staff members who were very tech-savvy and excited about an out-of-the-box opportunity.
As a team, they were able to get a deal, implement tactics, train staff, and successfully integrate this new technology into their school. Evan took a risk putting people who were not traditionally in decision-making roles on the team of decision-makers, but this risk led him to a great deal for his school and nearly flawless implementation of new technology.
Risk-taking can be scary and unpredictable but the outcomes could be far greater than you initially imagined. Take risks as a teacher to not only spice up your life but to set an example for your students. Show them that it is okay to fail and try again. Show them how to set your mind to something and go for it. Your students are always watching and learning from you even without a lesson plan. Taking risks will allow empowerment and more opportunities to assume leadership roles in new and innovative ways.
Listen to the full conversation with Evan Robb on our Tackling Tech Podcast!
On this episode of Tackling Tech Podcast, powered by Dyknow, Brett McGrath speaks with Middle School Principal, Evan Robb. Evan is a Ted Talk speaker, author, and progressive thinker. He shares how he cultivates a school environment that is encouraging risk-taking and how they are making the shift from emergency to intentional remote learning.
Start teaching confidently with Dyknow for free!
In addition to web browser updates and bug fixes, Dyknow released several major product updates, new features and enhancements. Check out Dyknow's 2021 Year in Review!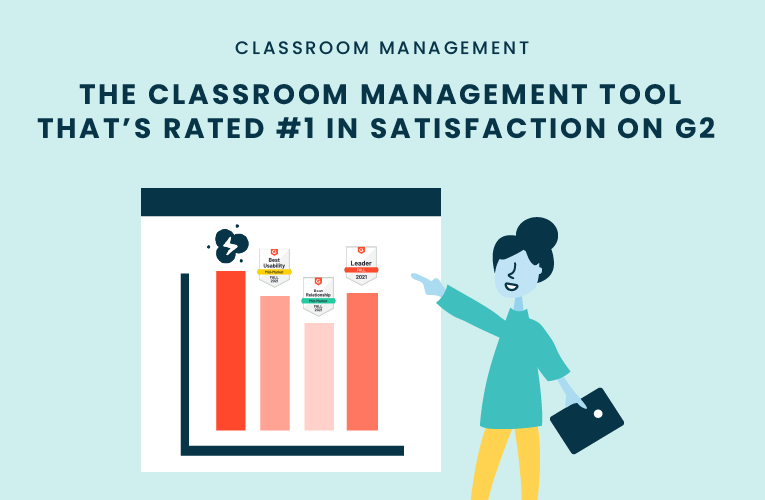 K-12 Administrators across the world trust G2 as the #1 platform to find, research, and choose EdTech tools that solve the most pressing problems their teachers are experiencing. In G2's Fall 2021 Reports, Dyknow was once again rated #1 in overall Satisfaction out of...
On this episode of Tackling Tech, Tierra Leustig interviews Scott Bayer about being an anti-racist teacher, diversifying reading lists, creating inclusive learning environments, and leveraging ed-tech in non-technical ELA classrooms. Scott Bayer is a High School...