It's not uncommon for school systems to roll out their 1:1 (one-to-one) student device program in phases. Conducting a 1:1 role out at a smaller scale helps schools identify and understand the problems that devices create. Furthermore, the smaller deployment makes it easier for technologists to problem-solve and apply teacher feedback to improve classroom management practices. Once districts are confident that teachers can maximize instructional time using technology with their students, they expand student devices to other grades. Dyknow is fortunate to help support the growth of 1:1 student device programs. Our team enjoys hearing these stories often from our network of users. 
Sterling Education is grade specific with their 1:1 student device program approach and uses it to jump start their students on a path where digital tools enhance curriculum activities. Primarily, they focus on using implemented technology to advance student learning, rather than creating obstacles for students. 
Kristi Yarshenko has been teaching for 22 years. She's worked in public and private school systems, as an online instructor and in adult education as well. In her current role, she is a Senior English and Art teacher at a private school that's part of a global education system. We were fortunate to ask Kristi Yarshenko a few questions to learn more about how she's using technology in her classroom and how she works with others to maximize it.
What ways are you maximizing your student device program in your classroom?
Our school provides laptop computers to all students from grades 3 – 12, and the older students use computers for all of their classes. We utilize a Student Directed Learning model that's designed to help our students develop 21st-century thinking skills. In addition to the personal computers, our school system uses Zoom to facilitate distance learning and to encourage collaboration between our students, our schools and our staff.
How are you working with tech roles and admins on the use of technology in schools?
We have a talented group of tech professionals that provide guidance with technology policies and programs. Extensive training is provided to staff so that we are completely comfortable in the technological environment. We also encourage our students to use technology in learning and problem-solving activities.
What tips can you provide on how to maximize instructional time with technology?
I suggest that teachers listen to the students and focus on the task rather than the technology. Students are receptive and aware of current trends, new programs, and apps. Collaborating as an entire group we can enhance everyone's experience with technology. By focusing on the task, or outcomes, I can allow the students' space to navigate their own pathways to achievement and understanding. If I prescribe the technological route I would like them to take, I limit the possibilities and might hinder student creativity and growth.
We'll continue to highlight the teacher's voice on this blog and are always willing to take recommendations on topics that you or your school find helpful as technology continues to change K12 educations.
Want to enhance your student device program like Kristi?
In addition to web browser updates and bug fixes, Dyknow released several major product updates, new features and enhancements. Check out Dyknow's 2021 Year in Review!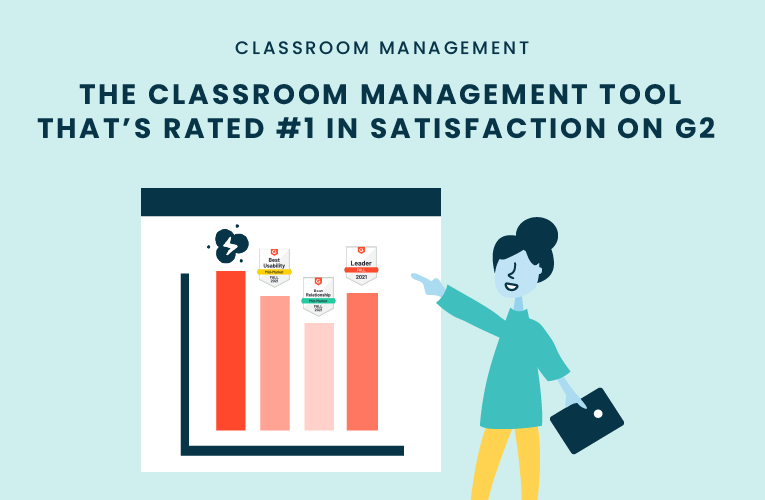 K-12 Administrators across the world trust G2 as the #1 platform to find, research, and choose EdTech tools that solve the most pressing problems their teachers are experiencing. In G2's Fall 2021 Reports, Dyknow was once again rated #1 in overall Satisfaction out of...
On this episode of Tackling Tech, Tierra Leustig interviews Scott Bayer about being an anti-racist teacher, diversifying reading lists, creating inclusive learning environments, and leveraging ed-tech in non-technical ELA classrooms. Scott Bayer is a High School...