Technology integration is a big investment and long process for any size K12 school or district. More important than the initial decision to implement technology in classrooms, are the following decisions on which EdTech tools Technology Teams should invest in. At the highest level, Technology Directors manage the final decision, implementation, and activation of these tools. But before these steps can be taken, teachers and Tech Coaches research and evaluate different EdTech tools to decide which should be brought to a Director for further evaluation. This process can be tedious because there are so many EdTech tools to choose from. So, when evaluating different EdTech tools, it is crucial to understand how an EdTech tool should impact instructional time once implemented.
As the first installment in this 4-part series, we'll summarize 3 qualities you should look for in evaluation, that all the best EdTech tools have.
3 Qualities of the Best EdTech Tools
In a recent conversation with Tyler Abernathy, a Tech Coach at Richland District Two, we learned that there are 3 qualities educators should look for when evaluating potential EdTech tools for technology integration. He explained that "technology integration should be at least one of three things. Either you use it for engagement, efficiency, or it enhances what you're doing." Being aware of these three qualities can help educators visualize a tool in their classroom, evaluating whether it will serve one of these purposes, or if it runs the risk of decreasing instructional effectiveness.
When evaluating EdTech tools, you should look for at least one of these qualities, but Tyler explains that the best EdTech tools succeed in checking all three boxes, which maximizes an integration experience:
"It's incredible when all three of those elements come together because then it's a maximized experience. Thinking about it from that standpoint, I try to center my instructional strategy with these three goals in mind, as well as look for learning technology that achieves at least one of these goals."

– Tyler Abernathy, Tech Coach
To make these three qualities even more understandable, we put together this SlideShare deck to summarize each quality and how the best EdTech tools are capable of achieving all three, creating a maximized technology integration experience in K12 schools. 
Not a fan of clicking through presentations? Here's what's inside the slideshare.
What do these qualities actually mean?
In order to best evaluate EdTech tools using these qualities, it's important to first understand what each quality means for your classroom. When reading our descriptions below, think about what each term means to you in your classroom environment.
To be effective, the best EdTech tools increase overall engagement. Since the term can mean so many things, we broke down engagement into three categories: engagement between teachers and students, engagement with the lesson, and engagement with devices. If an EdTech tool has the potential to increase your current classroom engagement in at least one of these categories, then it should be worth exploring further.
What Tyler said about Engagement:
"If a tool can make your learning more engaging, then obviously that has a benefit if it creates overall student engagement with both technology and the lesson and teacher engagement with incorporating technology."
Instructional minutes are so valuable that efficiency is one of the most important qualities an EdTech tool can provide. Saving time can mean a lot of things to teachers, so we've grouped efficiency into three categories: making transitional time at the beginning of class or in between activities more efficient, increasing the efficiency of teacher-student communication during class, and making evaluation after class more efficient for teachers.
What Tyler said about Efficiency:
"If a tool can make your work more efficient and save you time, everybody always talks about the fact that they never have time for anything, so if a tool or strategy saves them time, it makes everything easier."
Enhancement is a quality that can be . If an EdTech tool is truly capable of enhancing a lesson, that tool becomes invaluable because it will bring both students and teachers an experience that they would never get otherwise. True enhancement takes the lesson to another level, enhancing the use of technology, students' understanding, teachers' instruction, and the overall class experience. Most EdTech tools enhance instruction to some capacity, but the best EdTech tools will make teachers and Technology Teams wonder how they ever used devices without that tool.
What Tyler said about Enhancement:
"The enhancement is if it takes the students or teacher to something they never would have seen in a book or even if you print it off on a sheet of paper. Enhancing the overall learning experience for teachers and students to make sure that they are having a better experience than they would have without it."
Stay tuned for our upcoming installments in this 4-part series, that will dive deeper into how to look for each of these qualities in the best EdTEch tools, and how Dyknow helps you achieve all three in your integrated K-12 classrooms.
Want more helpful EdTech tips straight to your inbox?
In addition to web browser updates and bug fixes, Dyknow released several major product updates, new features and enhancements. Check out Dyknow's 2021 Year in Review!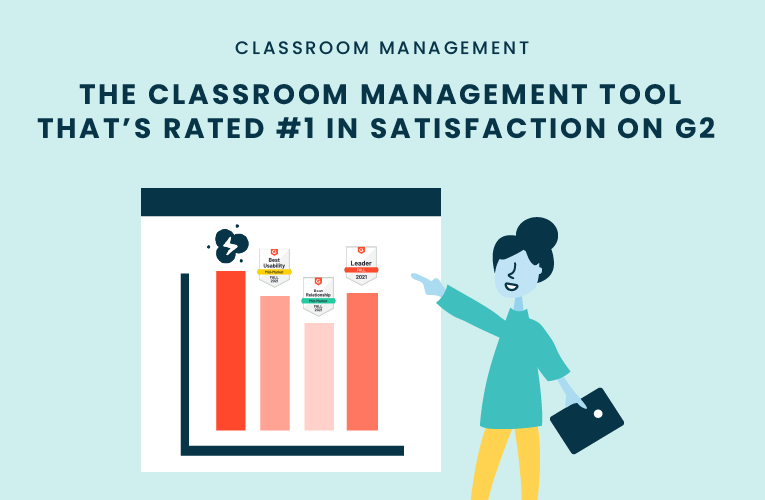 K-12 Administrators across the world trust G2 as the #1 platform to find, research, and choose EdTech tools that solve the most pressing problems their teachers are experiencing. In G2's Fall 2021 Reports, Dyknow was once again rated #1 in overall Satisfaction out of...
On this episode of Tackling Tech, Tierra Leustig interviews Scott Bayer about being an anti-racist teacher, diversifying reading lists, creating inclusive learning environments, and leveraging ed-tech in non-technical ELA classrooms. Scott Bayer is a High School...