In 2021 schools are looking for new ways to combat distractions that technology and devices provide in the classroom. As K-12 education shifts towards an EdTech initiative, new distractions have arisen that play a huge role in how students progress throughout a school year. Distraction prevention tactics like implementing content filters have been one way that schools are trying to limit the number of distractions presented by devices in 2021, but these efforts are not exactly what educators are looking for.
What are Content Filters?
Content filters are implemented at the school or district level and protect students from inappropriate and dangerous content on the internet. Essentially content filters are a form of blocking on student devices to enhance safety and to increase good digital citizenship of students. Content filters do their job well of keeping students away from distractions. One downside of content filters is that educators cannot always predict what type of distractions students will get themselves into online. Content filters have students in mind but not teachers. Teachers do not have control over what is blocked in their classroom with content filters, meaning that they have to request sites to be blocked by the tech team at the school or district level. Content filters don't provide the protection that teachers need from device distractions in the classroom.
3 Reasons Why Content Filters Aren't Cutting It in 2021
1. They aren't implemented with teachers in mind
Content filters are implemented for sit blocking for students. This approach is reactive rather than proactive. If a teacher sees a student continuously go off-task on a website that is not school-related, they can block that site after the fact. Some schools don't give teachers the power to block sites at all. Teachers need to have the power in the classroom when distractions are in question because they know better than anyone.
2. They create large gaps at the classroom level
Every student is different, meaning that they all have different forms of distractions that grab their attention. With content filters being the same on all devices, this doesn't stop from the fact that sites not blocked may be a distraction for some and not others. Especially in different age groups as well. Having a tool that allows for customized destruction prevention is much more effective for teachers using devices in their classrooms.
3. They don't provide teachers from the real classroom threat: distractions
Teachers have no insight into how their students are using their devices with content filters. Essentially content filters do not guarantee that distractions with devices will be eliminated in the classroom, only managed, maybe. Content filters get the job done if a school knows exactly what each student is being distracted by or they block everything on devices except for exactly what students will use on devices during class time.
Many schools are migrating to device monitoring software for the added insurance that distractions can and will be eliminated in the classroom. Content filters just aren't cutting it in 2021 and moving forward educators want a proactive approach to distraction prevention.
Start teaching confidently with Dyknow for free!
In addition to web browser updates and bug fixes, Dyknow released several major product updates, new features and enhancements. Check out Dyknow's 2021 Year in Review!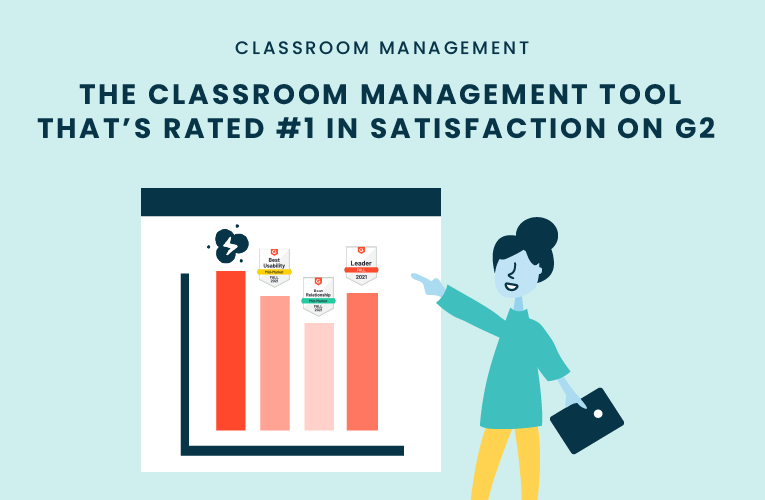 K-12 Administrators across the world trust G2 as the #1 platform to find, research, and choose EdTech tools that solve the most pressing problems their teachers are experiencing. In G2's Fall 2021 Reports, Dyknow was once again rated #1 in overall Satisfaction out of...
On this episode of Tackling Tech, Tierra Leustig interviews Scott Bayer about being an anti-racist teacher, diversifying reading lists, creating inclusive learning environments, and leveraging ed-tech in non-technical ELA classrooms. Scott Bayer is a High School...