Finding the right edtech tool that fits the needs of your students and classroom can be hard. Especially during remote learning, integrating new technology can be lengthy and challenging to master. We compiled a list of edtech tools that every integrated classroom needs in 2021. These tools are easy to use, navigate, and integrate into your classroom in 2021. Here are our top picks for the 2021 school year:
1. Student devices
One of the best ways to expand the usage and knowledge of technology in the classroom is to provide students with devices to use in and out of the classroom if that is applicable for your school. Even having just a handful of devices that students can rotate between during class can help to take some work off teachers' hands. Chromebooks, Pc's, Mac, and iPads are some devices that are popularly used in classrooms today
2. LMS 
Learning management systems are a great way to have an interactive virtual classroom. Systems like Schoology and Google Classroom allow teachers to build and create a classroom online that replicates what an in-person classroom similarly feels like. 
3. Video communication/conferencing
For classrooms that are remote or hybrid video communication is a great way to re-create the feeling of in-person interactions. Connecting with students is super important when having to provide one-on-one time and building positive relationships. Zoom and Microsoft Teams are two great examples of tools that can help accomplish connecting teachers with students face-to-face.
4. Student Device Monitoring
While students are at home completing their work virtually, keeping track of a student's activity can be hard for teachers. Dyknow solves this problem with our student device monitoring system. With our software teachers and tech coaches are able to see each of their student's devices throughout their workday. This enables teachers to keep students on track, see how students are progressing in their learning, and see how often students are on other sites during the school day. Dyknow offers a variety of features including site blocking plans for students who tend to get distracted easily. 
5. Charging station 
If your classroom has devices for students to use either for assignments or at their leisure, having a charging station can be extremely beneficial to ensure that the devices are always ready for use and available to students. Hook up the chargers to a power strip and give students a daily task to make sure that they are putting the devices back where they found them.
6. Classroom enhancement 
Try a new edtech tool in conjunction with what your classroom already has. FlipGrid, Wakelet, and Nearpod are super popular tools amongst the educators in our PLN. So many free edtech tools are offered online that can help enhance a classroom's overall atmosphere and success levels. 
7. Class / School social media accounts 
One way to effectively communicate with students and parents is to communicate through a medium they use every day and are familiar with. Social media is a great way to provide information, announcements, and support for teachers and students because they provide a singular place to find all information needed for that class.
8. Maker Technology
Maker technology is an up and coming addition to classrooms that provided spaces for students to innovate and experiment with STEM, robotics, etc. This creates excitement around learning for students where they associate fun with learning.
9. Podcasting and video equipment
As technology in classrooms increases, take time to invest in learning how to use technology to up your game in the edtech world. Making instructional videos or podcasts for students can help re-create that in-person feeling while remote. They also help to provide an extra set of hands for teachers in the classroom when used with learning styles like flipped learning.
The availability of edtech tools online and in-person are endless. Take the time to research and experiment with different tools to find out what tools compliments your classroom the best. 
Start teaching confidently with Dyknow for free!
In addition to web browser updates and bug fixes, Dyknow released several major product updates, new features and enhancements. Check out Dyknow's 2021 Year in Review!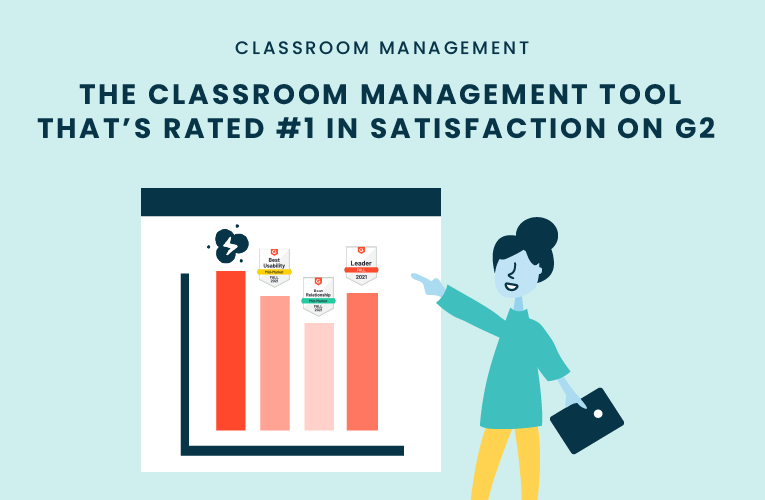 K-12 Administrators across the world trust G2 as the #1 platform to find, research, and choose EdTech tools that solve the most pressing problems their teachers are experiencing. In G2's Fall 2021 Reports, Dyknow was once again rated #1 in overall Satisfaction out of...
On this episode of Tackling Tech, Tierra Leustig interviews Scott Bayer about being an anti-racist teacher, diversifying reading lists, creating inclusive learning environments, and leveraging ed-tech in non-technical ELA classrooms. Scott Bayer is a High School...