During this time of remote learning, an emphasis has been put on promoting positive learning and mental health of students, whereas the needs of teachers have been overlooked in some cases. Teachers, tech coaches, administrators, and all school faculty should feel supported – not only for their own well-being but for the overall well-being of the school. We recently spoke with Micro-Credential Program Manager, Noah Geisel, to understand why the emphasis on prioritizing teachers and faculty is so important.
Noah's Advice for K-12 Leaders to Prioritize Teachers and Faculty
In 2020, Noah tweeted:
School and district leaders often proclaim that "our people are our must valuable resource"

Now is a really good time for them to be deliberate in walking the talk, bc their action/inaction is clearly showing just how valued their people are. #SaturdayMorning

— Noah Geisel (@SenorG) October 10, 2020
Noah explained that the inspiration behind this tweet came from a sense that educators are doing a great job of thinking about students and putting their needs first. However, he has observed that there is a glaring lack of intentionality around SEL for adults, teachers, and staff members. He believes that when these individuals are burnt out they are not going to be able to do a good job of what is most important to schools.
How Administrators can Prioritize Teachers and Faculty
Noah describes administrative positions as "one of the most difficult and thankless jobs on the planet." 
Although Noah is not an administrator himself, he wants to call administrators to action to ask the right questions and help others understand the importance of the administrative roles to better support staff. Noah reminds us that some people may have blind spots that they are oblivious to. For people to think outside of their box and break out of an echo chamber leaders have to be intentional and ask the tough questions. Noah stated, "Doing something and getting it wrong is way better than not doing anything at all." He doesn't want people to have the impression that this is throwing people under the bus, but rather ask these important questions:
What are we doing? 

How are we doing it? 

How do we know if it's working? 

Are we doing enough?
 Noah hopes that with these questions people will find a sense of urgency for the betterment of the hard-working staff in the district.
K-12 leaders have a responsibility to make sure that they continue to prioritize teachers and faculty to avoid any negative impacts. In this time teachers might tend to feel 'burnt out'. Leaders in K-12 education need to take initiative to provide resources for their teachers and staff to continually feel supported, positive, and have a growth mindset.
Listen to the full conversation with Noah Geisel on our Tackling Tech Podcast!
On this episode of Tackling Tech Podcast, powered by Dyknow, Brett McGrath speaks to Noah Geisel, an educator, EdTech Coach, trainer, speaker, and expert in Digital Badge Credentials. Brett and Noah discuss equity, access, opportunity, and human-centered design.
Start teaching confidently with Dyknow for free!
In addition to web browser updates and bug fixes, Dyknow released several major product updates, new features and enhancements. Check out Dyknow's 2021 Year in Review!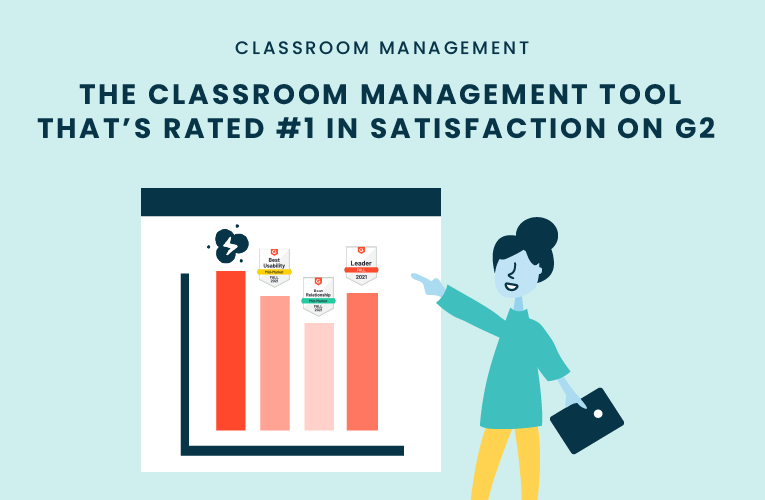 K-12 Administrators across the world trust G2 as the #1 platform to find, research, and choose EdTech tools that solve the most pressing problems their teachers are experiencing. In G2's Fall 2021 Reports, Dyknow was once again rated #1 in overall Satisfaction out of...
On this episode of Tackling Tech, Tierra Leustig interviews Scott Bayer about being an anti-racist teacher, diversifying reading lists, creating inclusive learning environments, and leveraging ed-tech in non-technical ELA classrooms. Scott Bayer is a High School...