One of the biggest drivers of growth within students in education is student engagement. Educators are searching for ways to enhance student engagement during remote and hybrid learning. Technology has become the number one driver for the success of growth and learning in 2021. With the implementation of technology, educators have been able to find edtech tools that are transforming student engagement in their classrooms. We recently hosted the EdTech Roundtable: EdTech tools for Student Engagement, where educators Scott Nunes, Jennifer Leban, and Erika Rodriguez spoke about some of their favorite edtech tools and how they are using these tools to enhance student engagement with technology.
Advice from Leading Educators to Enhance Student Engagement with Technology
"Flipgird and Wakelet are two tools that up student engagement and you may find students using these products for their own benefit" -Scott Nunes
Free tech tools are available everywhere. Scott mentions that two of his favorites are Flipgrid and Wakelet which are completely free and online. These tools have impacted his classroom so much that his students are now using the tool outside of the classroom for their own fun. Education doesn't have to be stagnant. Use tools that excite your students to be curious, creative, and engaging.
"We need to be human. As teachers, we have to be okay with the hot mess that is behind us and our students." -Jennifer Leban
A new transition into unknown territory can be incredibly hectic. Juggling the responsibilities of work, family, friends, hobbies, self-care, etc. is something that each and every person deals with and is still learning to master. Jennifer explains that educators have to understand that they are only human and so are their students. Cut each other some slack and understand that not every day is going to be the same or easy. Be understanding and kind through and through. Students are able to better connect to teachers and material when they feel supported and heard by their teacher.
"I always give my students choice" -Erika Rodriguez
One of the best ways to enhance student engagement is to let students have a say in what/how they learn. Choice boards are a great way to achieve this. Provide students with a list of options of activities or topics to complete, then let them decide what they want to accomplish that day. Better yet, give students an option of tech tools to complete these assignments to familiarize them with the variety of tools that can be helpful to them throughout their education. Students know themselves better than anyone, so let them dictate what they feel is best for them to work on in the classroom.
"If I were a betting man I would double down on Wakelet" -Scott Nunes
Wakelet, defined by Wakelet is, "a free platform that allows you to save, organize and share content from across the web." Educators are loving this tech tool for enhancing student engagement through technology. 
"Just jump in and try it" –Jennifer Leban
Technology can be very intimidating, but you cannot learn unless you try. Jennifer emphasizes how important experimenting with technology and tech tools is for enhancing student engagement. Many people feel so uncomfortable with technology that they refuse to try. These people are only holding themselves back from the benefits and possibilities that technology provides for student engagement. Finding the right tools and tactics will take time, so ease into the journey.
Student engagement is an art to master for educators. Not all tactics will work for all classrooms. Finding the right tool for your classroom will take time and research. Experiment with different tools and tactics to enhance student engagement in your classroom.
Start teaching confidently with Dyknow for free!
In addition to web browser updates and bug fixes, Dyknow released several major product updates, new features and enhancements. Check out Dyknow's 2021 Year in Review!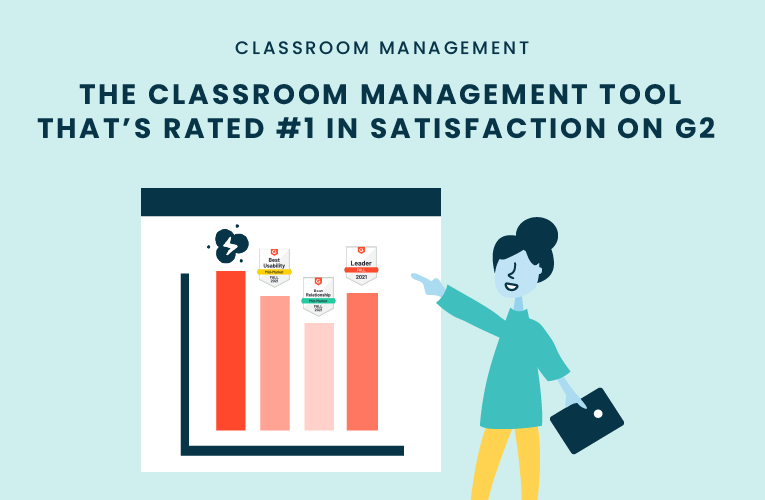 K-12 Administrators across the world trust G2 as the #1 platform to find, research, and choose EdTech tools that solve the most pressing problems their teachers are experiencing. In G2's Fall 2021 Reports, Dyknow was once again rated #1 in overall Satisfaction out of...
On this episode of Tackling Tech, Tierra Leustig interviews Scott Bayer about being an anti-racist teacher, diversifying reading lists, creating inclusive learning environments, and leveraging ed-tech in non-technical ELA classrooms. Scott Bayer is a High School...