We had the chance to share the story of Charlotte-Mecklenburg Schools' 1:1 student device program at NCTIES this year in the presentation, How Charlotte-Mecklenburg Schools use Technology to Defeat Student Device Distractions. It was great to highlight their massive student device deployment (currently the largest Chromebook deployment in the U.S.) story and get an understanding of how their teachers use Dyknow to help defeat student device distractions. We were fortunate to get a better understanding at the teacher level by asking Jillian and Rachel some questions to learn how they are using technology in their classrooms and what they do to maximize it to keep students on task.
Jillian Whurr is in her sixth year of teaching in Charlotte-Mecklenburg Schools. She has spent 4 of those years teaching 5th grade Science at Palisades Park Elementary in Charlotte, North Carolina. She earned her degree from UNC-Charlotte in 2013 and enjoys teaching Science because it grabs her student's attention and keeps them engaged. She's an avid technology user and prides herself on her ability and willingness to learn.
Rachel Smith is another teacher in Charlotte-Mecklenburg Schools that we are highlighting. She's in her 10th year of teaching and currently teaches 6th grade Math at Carmel Middle School. Before teaching in Charlotte-Mecklenburg Schools, she spent 6 years teaching math in an international school in South Korea.
How are you maximizing your student device program in your classroom?
Jillian: Each student has a Chromebook in 5th grade. They use it in all three classes (Literacy, Math, Science), and we all teach a variety of subjects with the Chromebook. Personally, I use Google Classroom, TeachTCI, Canvas, ExploreLearning, and Google Docs/Slides/Forms the most. We are very lucky to have so many Chromebooks at our school, and it has made technology integration in all subjects so easy! Students know the expectations for using Chromebook, and utilizing Dyknow helps minimize the amount of off-task behaviors and distractions.
Rachel: I made sure to plan well in advance to have all of my resources uploaded so that there is no downtime due to technology during class.
What are the problems and benefits you face with student devices in your classroom?
Jillian: The main problem is off-task behavior. Some students will, unfortunately, take any opportunity to get on YouTube or begin Googling things that are not related to what I'm teaching. 5th graders are old enough to test the teacher's limits, and we've found that it's important to set the technology expectations early on to prevent off-task behavior. The main benefits of student devices are the ability to integrate technology into all subjects, the lack of paper copies needed, the learning opportunities that come with technologically-savvy students, and the constant availability of new websites and apps that make teaching and learning easier and more fluid.
Rachel: The benefits of technology is that I save paper, and I'm able to provide a variety of different resources to my students to meet their individual needs. I don't face many problems with technology. A few students will try to play a game or two, but most of my students are actually very good about staying on task on their Chromebook. One of the slightly annoying issues is when a student doesn't have their Chromebook charged, but that usually is not too big of a problem.
What tips can you provide on how to maximize instructional time with technology?
Jillian: We do a lot of front-loading; there are introductions at the beginning of the year to most of the websites and apps that we use throughout the year. By the second or third month of the year, the students are well-versed enough on these websites that there's rarely a question anymore of how to log on or access their assignments. Websites like Google Classroom are built to be teacher friendly; this removes a lot of guesswork and frustration. Also, it's very helpful to have staff that is open to trying new things and willing to learn how to use new technology. We can't expect the students to learn new things if we don't model the willingness to learn for them!
Rachel: Be prepared! Have everything ready for your students when they enter the classroom. Unstructured time always leads to issues with classroom management. If you consistently show students that you are not prepared for them to come in the room, they are not going to prioritize being prepared for your class. Also, hold high expectations for your students. When you show students that you believe they can do work at a high level, they will rise up and meet you there.
We'll continue to highlight the teacher's voice on this blog and are always willing to take your recommendations on topics that you or your school find helpful as technology continues to change K12 education. 
Want to learn from educators like you?
In addition to web browser updates and bug fixes, Dyknow released several major product updates, new features and enhancements. Check out Dyknow's 2021 Year in Review!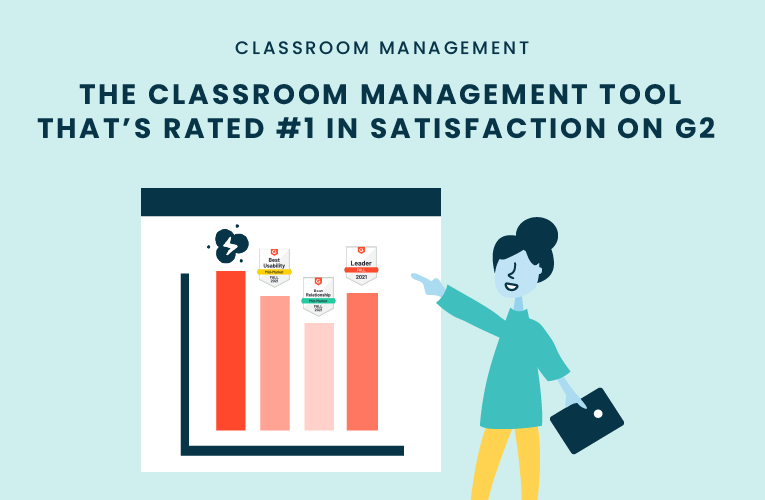 K-12 Administrators across the world trust G2 as the #1 platform to find, research, and choose EdTech tools that solve the most pressing problems their teachers are experiencing. In G2's Fall 2021 Reports, Dyknow was once again rated #1 in overall Satisfaction out of...
On this episode of Tackling Tech, Tierra Leustig interviews Scott Bayer about being an anti-racist teacher, diversifying reading lists, creating inclusive learning environments, and leveraging ed-tech in non-technical ELA classrooms. Scott Bayer is a High School...