Back-to-school is one of the busiest times for technology teams across K12 education and Dyknow is committed making this process as seamless as possible for technology teams. One way that we achieve this is with our SIS Integrations.
Dyknow's SIS integrations
We announced our new integrations with leading Student Information Systems (SIS Integrations) this January at FETC and since then, our adoption of these integrations has only increased. We've made it easy to sync through Clever or OneRoser to help support nearly any integration that exists in the market. The Dyknow team is committed to helping streamline the technology team's workload during back-to-school time, instead of adding more work to it. These SIS Integrations make it easier than ever for Technology Administrators to import student roster data, leading to a flawless transition for teachers to use Dyknow in their classrooms.
Teachers expect classroom management software to work when their class begins, so we've been dedicated to supporting technology coaches and administrators by making SIS integrations incredibly simple. Technology Administrators are vital to making sure that Dyknow helps teachers defeat student device distraction in the classroom, and our goal is to save them time, energy, and headache when preparing for back-to-school.
We've made an effort to have more face-to-face conversations with our customers which validate that Dyknow is solving a massive problem in the market: helping teachers defeat student device distractions and keeping students on task. We even get digital feedback on how Dyknow is making a difference in enhancing our customer's 1:1 student device programs.
Don't just take it from us. Hear what our customers are saying about Dyknow's SIS integrations!
"Dyknow has allowed teachers to maximize on-task behavior, collect data to help focus students, look for trends in technology use and secure online assessment environments. Integration with Skyward makes implementation possible on the first day of school and the students in your classroom are in the proper class, even when the schedule changes. Like all good technology, integration allows Dyknow to be seamless and invisible. It quietly does its work in the background with a single click each class period. Providing accountability, data, and secure assessment environments would be impossible without this incredible tool."

– Tony Zahn | Director of Science & Instructional Technology, Grapevine-Colleyville ISD
What teachers are saying:
"Dyknow keeps my students on task so they can focus and reach their full potential."
"Dyknow discourages disengagement."
"Just them (students) knowing that I am monitoring with Dyknow keeps them on task."
Whether it's
Tweets
from teachers or hearing feedback in trade show settings, we do not take these conversations about Dyknow for granted. In fact, it is this customer feedback that has led to some of our most important product developments over the past year, including our SIS integrations. 
Check out our "How-To" SIS integration instructions just in time for back to school!
By continuing to have conversations with customers at events and online, we are finding ways that we can build a first-in-class experience for teachers, technology coaches, and administrators. We understand that there is a ton of planning and preparation that goes into back-to-school and we want to give you resources to support this process!
Want to try Dyknow this back-to-school season?
In addition to web browser updates and bug fixes, Dyknow released several major product updates, new features and enhancements. Check out Dyknow's 2021 Year in Review!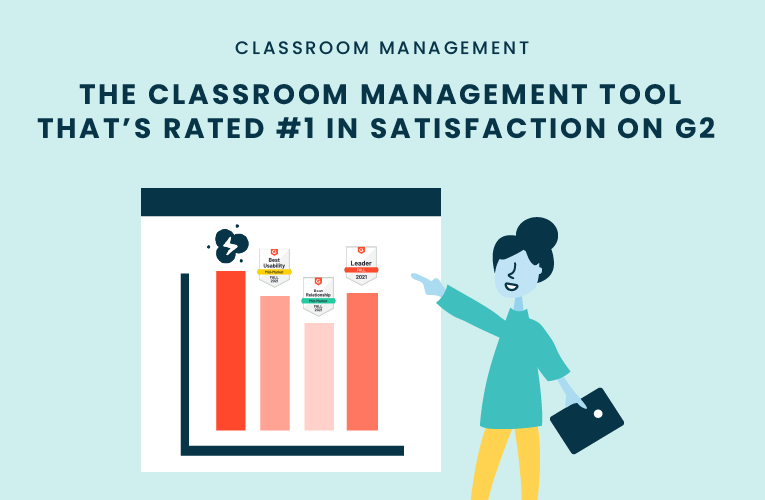 K-12 Administrators across the world trust G2 as the #1 platform to find, research, and choose EdTech tools that solve the most pressing problems their teachers are experiencing. In G2's Fall 2021 Reports, Dyknow was once again rated #1 in overall Satisfaction out of...
On this episode of Tackling Tech, Tierra Leustig interviews Scott Bayer about being an anti-racist teacher, diversifying reading lists, creating inclusive learning environments, and leveraging ed-tech in non-technical ELA classrooms. Scott Bayer is a High School...