One of the most important things an EdTech tool can do for integrated environments is to increase student engagement. But what does this mean in terms of technology integration? How do educators in various roles define engagement? And how does Dyknow increase student engagement in K-12 classrooms?
In our last post, we summarized 3 qualities to look for from EdTech tools and how these qualities can come together to create a maximized experience for an integrated environment. Tyler Abernathy, a Tech Coach at Richland District Two, explained these 3 qualities in a recent conversation. He explained that "technology integration should be at least one of three things. Either you use it for engagement, efficiency, or it enhances what you're doing." In these next few posts, we will dive deeper into each of these qualities, how to look for EdTech tools that achieve them, and how Dyknow helps educators achieve each of these qualities in their classrooms.
To be effective, the best EdTech tools increase overall engagement. Since that can mean many things, we broke down engagement into three categories: engagement between teachers and students, engagement with the lesson, and engagement with devices. If an EdTech tool has the potential to increase your current classroom engagement in at least one of these categories, then it should be worth exploring further.
"If a tool can make your learning more engaging, then obviously that has a benefit if it creates overall student engagement with both technology and the lesson and teacher engagement with incorporating technology."

– Tyler Abernathy
Engagement between teachers and students
Engagement between students and teachers is of the utmost importance in the classroom, whether it be to enhance the lesson with student participation, or teachers checking that students are grasping class material. When evaluating new EdTech tools, educators should look for tools that not only increase engagement during class time, but increase that engagement in a way that adds value to the lesson, maximizing instructional time rather than taking away from it.
How can Dyknow help increase engagement between teachers and students?
Formative assessment tools within Dyknow like sending messages, asking questions, and checking for understanding, allow teachers to engage with students through devices during class.
Henry Robinson, a teacher at Gerena Elementary, explains how he increases student-teacher engagement with Dyknow: 
Not only does Dyknow allow Mr. Robinson to eliminate device distractions, but his favorite way to use Dyknow is to reduce classroom noise. He does this by using Dyknow's messaging feature to send students commands, requests and to check learning progress. This reduces the amount of vocal requests between Henry and his students during class so that other students can stay on task while doing work, instead of being distracted by interactions with other students. Mr. Robinson uses the question tool to see if students are grasping material during class and to gauge how far along they are on certain tasks. This allows students to honestly report if they are having trouble with an assignment or material without the whole class knowing, as well as letting Mr. Robinson know if they need more time to finish something.
Engagement with the lesson
Engagement with a lesson should be thought of in two ways. First, increasing the engagement that students have with what is being taught in terms of interest and attention. If students aren't engaged with the teacher's lesson at the front of the classroom, it's even harder to get them engaged with the content of what is being taught. This leads to the second way that students can engage with the lesson, and that is in terms of engaging with the content of a lesson. EdTech tools that can increase student engagement with a lesson by incorporating learning tools that support that content, ultimately contribute both to students retention of a lesson and teachers' ease of teaching and engaging students with curriculum.
How can Dyknow help increase engagement with a lesson?
Dyknow helps increase engagement with the lesson in two ways. First, by limiting off-task behavior and device distractions during class, students are less likely to be distracted, and inherently more engaged with the lesson, and teachers are able to use devices to enhance their lesson palns. Second, Dyknow gives teachers the ability to push out URLs and check student understanding, enabling them to keep students engaged throughout a lesson and revisit certain activities if students are having trouble grasping them.
See how these teachers use Dyknow to increase engagement with their lessons:
DyKnow has changed the way I am able to connect and engage my students! This application has made it possible for students, at all levels, collaborative through Advanced Placement, to interact, research, and test without the temptation of the internet and other applications.

— Laura Gualtiere (@lgualtiere) September 26, 2018
Engagement with devices during class
Increasing engagement with devices during class can be tough to do, particularly because there can be negative device engagement and positive device engagement. Increased device engagement can run the risk of students being engaged with devices in the wrong way, being off task during class. However, limiting that negative engagement inherently increases positive device engagement during class, leading to consistent use of devices for instruction. When both teachers and students are engaged with devices in the right way, instructional time can be elevated to a whole new level. 
How can Dyknow help increase engagement with devices durng class?
Dyknow's classroom management software defeats that negative device engagement, namely off-task device distractions, and empowers teachers to use devices in the classroom for positive engagement, maximizing instructional minustes by engaging students with devices in a positive manner.
Tiffany Todd, a Tech Coach at Linton-Stockton School, explained that before they implemented Dyknow, students were distracted and so teachers weren't using devices at all. Now that they have Dyknow, teachers are confident that device usage is productive in the classroom and engagement with teacher and student device usage is at an all time high for Tiffany's teachers. Watch the full video:
Increasing overall engagement is the first quality to look for in effective EdTech tools. Keep an eye out for our next two posts on how to look for tools that also increase efficiency and achieve overall enhancement for technology integration. 
Increase engagement with Dyknow!
In addition to web browser updates and bug fixes, Dyknow released several major product updates, new features and enhancements. Check out Dyknow's 2021 Year in Review!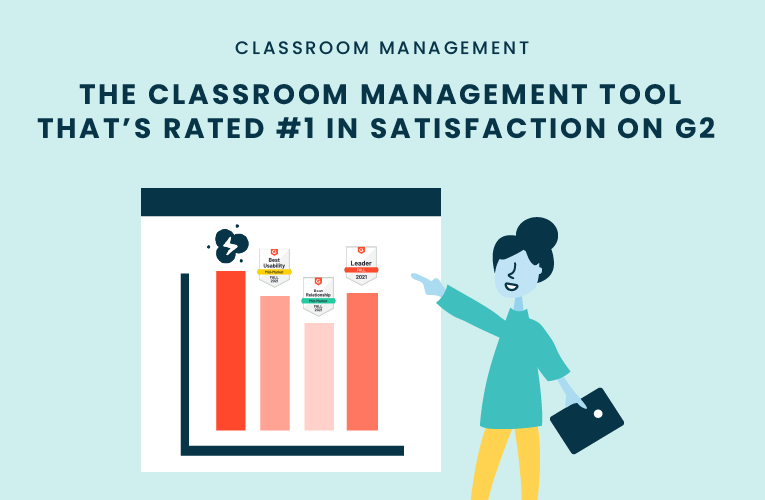 K-12 Administrators across the world trust G2 as the #1 platform to find, research, and choose EdTech tools that solve the most pressing problems their teachers are experiencing. In G2's Fall 2021 Reports, Dyknow was once again rated #1 in overall Satisfaction out of...
On this episode of Tackling Tech, Tierra Leustig interviews Scott Bayer about being an anti-racist teacher, diversifying reading lists, creating inclusive learning environments, and leveraging ed-tech in non-technical ELA classrooms. Scott Bayer is a High School...