Not all classrooms are alike, and as a result, not all teachers manage their classrooms the same – despite this, most 1:1 environments suffer from student device distractions. We have learned that depending on the structure of a classroom and teachers' instructional style, teachers utilize Dyknow's classroom management software differently, using the features that they see most fit for keeping their students on task. 
Last February, we spoke with Henry Robinson, a teacher at Gerena Elementary in Springfield, Massachusetts, to understand how he uses Dyknow to defeat student device distractions in his classroom. He believes that the future of his profession is going to be exclusively done on the computer or in the technological setting. Therefore, he has geared his entire lesson planning around different computer activities. 
We recently spoke with Mr. Robinson again, to see how he has been using Dyknow at the beginning of this school year to eliminate distractions. What we learned? He's been using Dyknow to defeat classroom noise as well as device distractions!
How Henry Robinson uses Dyknow features to defeat device distractions
 

and

 

reduce classroom noise:
1. Send messages to students instead of individual commands
Not only does Dyknow allow Mr. Robinson to eliminate device distractions, but his favorite way to use Dyknow is to reduce classroom noise. He does this by using Dyknow's messaging feature to send students commands, requests and to check learning progress. This reduces the amount of vocal requests between Henry and his students during class so that other students can stay on task while doing work, instead of being distracted by interactions with other students.
2. Use the question tool to measure student progress
Mr. Robinson uses the question tool to see if students are grasping material during class and to gauge how far along they are on certain tasks. This allows students to honestly report if they are having trouble with an assignment or material without the whole class knowing, as well as letting Mr. Robinson know if they need more time to finish something. 
3. Using polls to gather student opinions quickly without noise
Mr. Robinson says that his students love when he uses Dyknow's polling tool to get student opinions on things like where they should have recess. This allows him to gather student opinions on such topics without having student conversations and arguments about differing opinions. 
Advice from Henry Robinson for teachers who are new to defeating device distractions with Dyknow:
Mr. Robinson is an avid Dyknow user, so we wanted to find out if he has any advice for teachers who are new to using Dyknow to defeat device distractions in their classrooms this school year. Henry recommends that teachers ease students into being blocked, by setting up blocking plans, and using messages, questions and polls, and to use the full-screen blocking feature only when it's necessary. He has noticed that his students find this feature upsetting, because it is such a harsh way to block. This is not to say that this feature is ineffective, as it is one of Dyknow's most used features to manage device distractions. It is important to determine, based on your classroom environment and blocking preferences, how frequently this tool should be used, and which students need this feature more than others.
Regardless of your classroom structure and teaching environment, Dyknow's classroom management software is beneficial to remove both student device distractions as well as decrease noise distractions in the classroom and the distractions that come along with noise – whether it be between teachers and students, or just among students. Learn how Dyknow can benefit your classroom environment this school year by hearing other customer stories on our blog.
Start teaching confidently with Dyknow for free!
In addition to web browser updates and bug fixes, Dyknow released several major product updates, new features and enhancements. Check out Dyknow's 2021 Year in Review!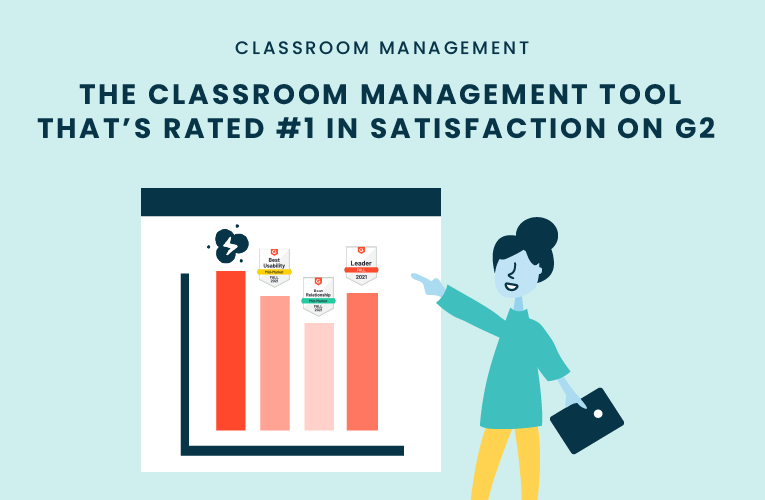 K-12 Administrators across the world trust G2 as the #1 platform to find, research, and choose EdTech tools that solve the most pressing problems their teachers are experiencing. In G2's Fall 2021 Reports, Dyknow was once again rated #1 in overall Satisfaction out of...
On this episode of Tackling Tech, Tierra Leustig interviews Scott Bayer about being an anti-racist teacher, diversifying reading lists, creating inclusive learning environments, and leveraging ed-tech in non-technical ELA classrooms. Scott Bayer is a High School...