Technology is changing schools and we've found that teachers want to hear from other teachers about how they are managing all the changes to maximize instruction time in the classroom. We've asked teachers that are Dyknow users to share their experience about their student device journey and offer tips to other teachers about how they are regaining control of their classrooms.
Henry Robinson is currently in his fifth year of teaching, his second-year teaching math at Gerena Elementary in Springfield, Massachusetts. He believes that the future of his profession is going to be exclusively done on the computer or in the technological setting. Therefore, he has geared his entire lesson planning around different computer activities. During writing class he types and researches using Word and Google Chrome. During science, his class completes assignments on Microsoft teams and Stemscopes and engages students by using Quizziz and Legends of Learning. During math, they are solving and computing using Microsoft Onenote and then spiraling back into the past curriculum refreshers on Edulastic. When it is time to have some fun, they use Prodigy to incorporate math in a communal game. Henry is currently getting a masters in teaching. His goal is to help modify the current curriculum into a more tech-friendly model. Henry has a wife and two daughters who he loves dearly.
Here's how Henry is defeating classroom distractions at Gerena Elementary:
"If you have a chance to read my small teacher bio please do, it will let you know how much technology plays a part in my daily classroom teaching. Almost 100% of my teaching is done using the computer. Lessons are delivered digitally, and the instruction is differentiated. This is a far cry from the days of paper and pencil. Now students are logged in and ready to learn. This is exciting, the future is here, and I am preparing these kids for it. We can bounce from lesson to lesson, subject to subject in a matter of clicks, reducing the dreaded "transition time". Students have become more engaged and are increasing their understanding by being exposed to so much through the computer. With all that time being spent on the computer it is imperative to understand how to limit wondering mice and keep the students on task.
The school I work in has no walls that go from ceiling to floor. It was built as an open concept school, designed to promote community. That has its pros and cons. A pro is that it teaches you to have good classroom management, keeping them under control and with a lower volume. A con is that not all students want to follow that ideal and at times transitions can be louder than you want. Also, another con is that the children, who want to get excited about learning, are not able to since their excitement can distract other classrooms. The options are this: either continue to teach in a prescribed way; lots of pen and paper, picture walks, individual work, stations, but always having to focus on muting the children. Or change the teaching platform altogether. I chose the second and decided that I would be better equipped at increasing differentiated instruction while also increasing student excitement and engagement.
While the students are on the computer I am on the computer. Each lesson includes the need to use different parts of the device. At the beginning of the day, they are usually just using Microsoft Word so the monitoring is minimal. I will go into Dyknow and turn on "Allow Only" and click my Microsoft Office tab. This allows the students to only work within the Microsoft Office application, limiting the desire to stray and click on other tabs and apps. If the writing is research related then I will modify the "Allowance", choosing search websites beforehand and allowing the students to use them. This helps me control the information being found and the sites the students are seeing.
When we move into our science block the students are using Stemscopes, an online science website purchased through our school. This gives me the chance to "Allow Only" the website needed to access Stemscopes and lets the kids learn without distraction. While the students are doing their task online, I get to check for understanding. In the past, this would have involved handing out tickets or papers with prepared questions on it or event asking the whole class to stop and look at me or walk around to each student and ask. Now I send Dyknow's "Student Understanding" to the class to see who is comprehending the work. With the data from their responses, I can make some small groups and review what topics they struggled with. By sending the message digitally I eliminate the need for loud or disruptive responses to occur and the students can continue with their work.
To transition the groups between subjects I send out a message alerting them what time it is and what subject we need to move onto. This allows the class to avoid losing learning time and avoids unnecessary movement. During this math switch students who have small group know where to go and students who are beginning their I-Ready work know it's time to log on. Before I start my small group, I turn on "Allow Only" I-Ready to ensure the class is on task and not browsing. During small group I keep my computer on monitoring the students periodically. When the small group is over, I message the students that we are switching to a whole group lesson. Instead of announcing it to the whole class or having small groups or kids move at a time, I can alert the entire class of what is happening, and they can prepare themselves for the next part of the lesson. While the students work independently, I use Dyknow to watch. With the visibility I am able to notice mistakes being made and areas of struggle. I use this information to help with immediate or future instruction. I also use the "Ask Question" tool that coincides with the work the students are doing to check in on understanding. This doesn't disrupt the class or the work they are doing, and the question can be different for each student or groups of students.
The system is not perfect because people are not perfect. Even though students are instructed to remain on task, they sometimes cannot keep from being curious or find themselves wanting to be doing something else. When a student strays, I can let them know individually that they need to get back on track. This reduced class interruptions and alienating a student who made a mistake. This may be the most valuable component of Dyknow. Alerting students to get back to work with custom messages that can relate directly to the individual student allows for much less uncomfortable interactions that make students feel picked on or isolated. My greatest skill as a teacher is that I can talk to students and listen to what they want to tell me. I am not the greatest math teacher or science teacher, but I am good at diagnosing when students need help personally or academically. This ability to talk to students without singling them out allows me to reach more students than if I had to call them over one by one or visit them in their seats with a group around them. Maximum outreach and organization with minimal disruption is the benefit of the Dyknow system.
Technology allows me to be a better teacher who spends less time swamped in paperwork and working more efficiently every day. Teaching the students to work in an efficient and exciting way by using the technology available to them is my daily goal. My job is to teach them the new ways to learn and to build on previous assignments to have them become the strongest learners they can be. This means that they must go out into the digital world and explore. They are children, this means they need guidance and they need to be watched. Dyknow allows me to give them the freedom to explore the exciting worlds on their computers, but it also allows me to keep them safe." 
Want to defeat distractions like Henry Robinson?
In addition to web browser updates and bug fixes, Dyknow released several major product updates, new features and enhancements. Check out Dyknow's 2021 Year in Review!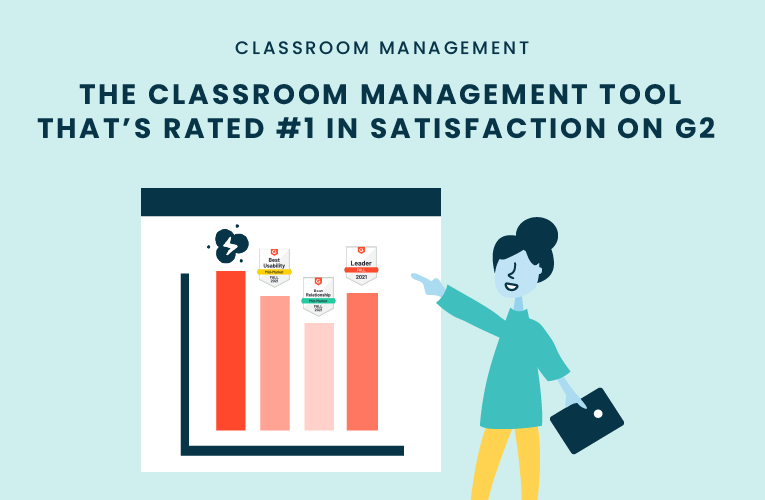 K-12 Administrators across the world trust G2 as the #1 platform to find, research, and choose EdTech tools that solve the most pressing problems their teachers are experiencing. In G2's Fall 2021 Reports, Dyknow was once again rated #1 in overall Satisfaction out of...
On this episode of Tackling Tech, Tierra Leustig interviews Scott Bayer about being an anti-racist teacher, diversifying reading lists, creating inclusive learning environments, and leveraging ed-tech in non-technical ELA classrooms. Scott Bayer is a High School...