FETC 2020 is fast approaching on January 14th, and one of the hard parts about attending a large conference like FETC is deciding what sessions to attend from the agenda. On Tuesday alone there are over 150 sessions to choose from! Dyknow will be attending FETC 2020 to connect with educators from all over the country, so here is our breakdown of Tuesday sessions to add to your FETC 2020 agenda.
FETC 2020's Tuesday sessions will start at 8:00 a.m. and continue until 6:00 p.m. – so be prepared for a full day of learning! These are some of the sessions on Tuesday's agenda that we are most excited about.
FETC 2020 Tuesday Agenda Highlights
Tuesday, January 14th, 8:00 – 10:00 a.m.
Holly Clark, Director of Innovative Learning, Oakhill Academy
Empowering students to ask their own questions can be game changing in the classroom. This one small shift can help our students become better thinkers and problem-solvers. In this session, you will learn a powerful Question Formulation Technique for helping students become better questioners, meta-cognitive learners and become more engaged in their own learning.
Tuesday, January 14th, 10:30 a.m. – 12:30 p.m.
Ryan Imbriale, Executive Director of Innovative Learning, Baltimore County Public Schools | Susan Brooks-Young, Author/Consultant, SJ Brooks-Young Consulting | Dan Morris, Coordinator, Colorado Digital Learning Systems
Start from where you are and what you have, then build to where you want to go. it's increasingly important to accurately identify technology currently available on your site and plan how you will make the best use of what's available while still planning for the future. Attend this workshop to acquaint yourself with strategies you can use to expand and enhance effective use of technology supported instruction by reviewing approaches and identifying steps that encourage effective use of the technology available while planning for future needs. An online agenda will be provided for use during the conference and participants will have ongoing access to all materials referenced.
Tuesday, January 14th, 1:30 – 3:30 p.m.
Eujon Anderson, Technology Director, Troy City Schools
As the educational technology world progresses, teachers are becoming more disconnected and overwhelmed with the expectations of administrators. Though the concept for creating an innovative and engaging classroom is needed, teachers feel as if their administrators have no idea of the digital tools being integrated into the classroom. If you are seeking to break this trend, and are wanting strategies to help increase communication and collaboration, this session is for you. Come learn how to "think as a teacher," yet "act as an admin." Learn the digital tools and resources that are incorporated in the classroom but from the administrator's perspective. Google Apps, social media, Chrome Extensions, YouTube, WeVideo, and Screencastify will be discussed.
Tuesday, January 14th, 4:00 – 6:00 p.m.
Joe Montemaro & Brian Zimmer, Directors of Educational Technology, Webster Central School District
Student workers have been a vital component to the success of the 1:1 transition in the Webster School District (NY). During the presentation, participants will explore the integration of a student worker program in a district of over 8,000 students. Student workers will share experiences of the day-to-day practices within their defined roles. The presenters will share the value of the skills gained through this trusting opportunity for student workers. Participants will take a virtual field trip to the classroom to fully understand the capacity of the students.
Tuesday, January 14th, 4:00 – 6:00 p.m.
George Vogeley, Digital Learning Specialist, Martin County School District
Join us to take a look at how our Digital Learning Department developed a K-5 Digital Citizenship and Media Literacy Curriculum that meets the needs of all students. By combining resources from Common Sense Media, Google Be Internet Awesome, CS Unplugged, and custom-made items, we created a continuous K-5 vertical alignment meeting the standards and our student needs. The curriculum is easy for teachers to implement in the classroom, as all resources are provided with the curriculum resources and delivery platform. Best of all, students are highly engaged and motivated to participate in each lesson.
It is important to set goals for what you hope to get out of conferences like FETC 2020 so that you have a plan for choosing the sessions that will help you achieve those goals. Our Tuesday session highlights from the FETC 2020 agenda are a good start if you are looking to learn from educators about how to maximize your 1:1 program, bridge the gap between administrators and teachers, or implement critical initiatives such as digital citizenship. Let us know what sessions you will be attending by tweeting us @dyknow and be sure to stop by our FETC 2020 booth!
Want to see the full FETC 2020 agenda?
In addition to web browser updates and bug fixes, Dyknow released several major product updates, new features and enhancements. Check out Dyknow's 2021 Year in Review!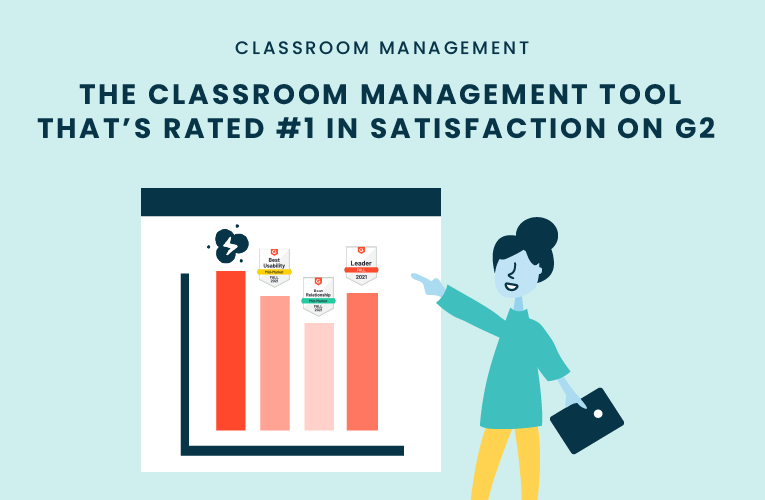 K-12 Administrators across the world trust G2 as the #1 platform to find, research, and choose EdTech tools that solve the most pressing problems their teachers are experiencing. In G2's Fall 2021 Reports, Dyknow was once again rated #1 in overall Satisfaction out of...
On this episode of Tackling Tech, Tierra Leustig interviews Scott Bayer about being an anti-racist teacher, diversifying reading lists, creating inclusive learning environments, and leveraging ed-tech in non-technical ELA classrooms. Scott Bayer is a High School...