Over the last few years, Digital Citizenship has redefined K-12 technology integration.
K-12 technology integration is no longer just about introducing devices in the classroom – it's about ensuring that students are becoming safe, responsible, and effective digital citizens in and outside of the classroom.
Digital Citizenship has never been more important, as young children spend around 7 hours every day in front of a screen.
But what does Digital Citizenship actually mean? And how can educators promote it in their classrooms?
A Definition for Digital Citizenship
Digital Citizenship is all about one thing: teaching students how to be responsible, safe and effective on the internet and digital devices so they will continue these practices beyond the classroom.
Kevin Honeycutt | "Our kids are growing up on a digital playground and no one is on recess duty."
With the rate at which technological advancements are growing, not only do students use devices and the internet in their classrooms, but they also use personal mobile devices on a daily basis. Whether playing games, engaging on social media, watching entertaining videos or online shopping, a growing number of adolescent engagement takes place online. Because of this, it is crucial to encourage good digital citizenship first and foremost in the classroom, and also emphasize that those practices extend beyond the classroom.  
ISTE described in May 2019 that teachers who encourage digital citizenship have two things in common: "They model ethical technology use for their students on a daily basis, and they naturally incorporate conversations about it whenever technology is part of the lesson plan. In other words, they weave digital citizenship seamlessly throughout their curriculum."
To make digital citizenship even more understandable, we put together this SlideShare deck to explain the definition, what it looks like in action, and how you can weave it into your curriculum on a daily basis.
So, how can educators teach digital citizenship in the classroom?
An article written by Applied Educational Systems outlines 7 things to focus on when teaching good online habits in K-12 classrooms, so we took these and added some of our own, to give you the most comprehensive guide.
1. Empathy
2. How the internet works
3. Understanding user data
4. Practicing digital literacy
5. Acknowledging the digital divide
6. Practicing digital wellness
7. Securing digital devices
Our list:
1. Embed positive digital habits into every lesson
2. Acknowledge the difference between good and bad digital citizenship
3. Create benchmarks for students
Not all digital citizenship is good, so it is important to emphasize the difference between the good and bad, ensuring that students are held accountable when they are engaging in harmful online activity. Technology integration is not going to slow down anytime soon, so it is critical that educators make digital citizenship a priority in the classroom early, to avoid students developing habits of bad online habits for the future.
Register for "How To Promote Digital Citizenship with K-12 Technology Integration"
In addition to web browser updates and bug fixes, Dyknow released several major product updates, new features and enhancements. Check out Dyknow's 2021 Year in Review!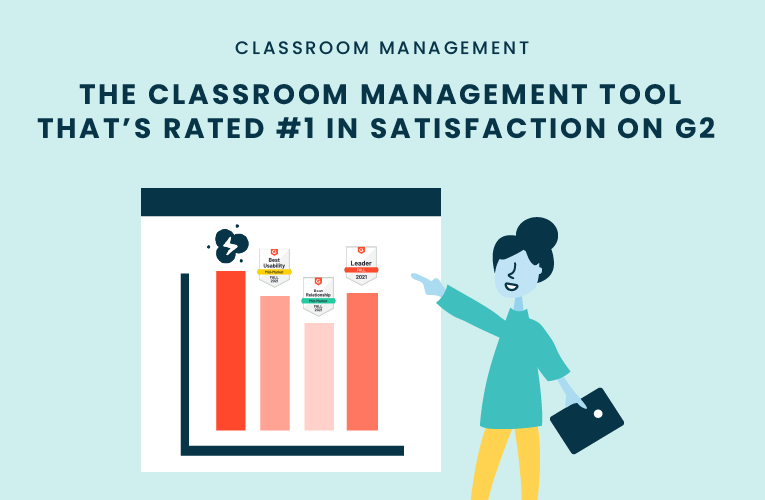 K-12 Administrators across the world trust G2 as the #1 platform to find, research, and choose EdTech tools that solve the most pressing problems their teachers are experiencing. In G2's Fall 2021 Reports, Dyknow was once again rated #1 in overall Satisfaction out of...
On this episode of Tackling Tech, Tierra Leustig interviews Scott Bayer about being an anti-racist teacher, diversifying reading lists, creating inclusive learning environments, and leveraging ed-tech in non-technical ELA classrooms. Scott Bayer is a High School...