This guest blog is authored by Leanne Sherred, President & Co-Founder at Expressable. Learn more about Leanne and Expressable at the end of this post.
How Online Speech Therapy can Accelerate Your Child's Progress
COVID-19 has changed how millions of Americans receive speech therapy.
Families, many of which once received speech therapy in a school or clinic-based setting, are accessing their speech therapists from home, at the click of a button, via their video screen. Likewise, many speech therapists experienced with in-person delivery have been forced to quickly adapt to this new modality.
Change isn't easy. However, many times it's necessary and beneficial. 
For many parents, their knee-jerk reaction is understandably: "How will this affect my child's progress?" It can intuitively seem like speech therapy delivered virtually has trade-offs versus more traditional, in-person care. Will my child pay attention? Will their level of care be comparable? Is online speech therapy effective? 
As it turns out, the trend towards online speech therapy has been growing rapidly for years. Yes, it's been accelerated lately due to school closures and social distancing. However, the truth is more and more families are electing online speech therapy every day. And there's a reason why.
In this article, we're going to cover that when online speech therapy is used correctly it can improve – not detract – your child's progress and learning experience.
Increased Parent Involvement
A mountain of evidence and research suggests that when parents and caregivers participate in their child's speech therapy care, they make better progress towards their communication goals. 
Problem is, cultivating strong relationships between therapists and parents can be challenging within schools and clinics. In schools, you often only hear directly from their speech therapist during their annual IEP (Individualized Education Program) meeting and have very few opportunities to stay in sync otherwise. In a clinic, many times you're left sitting in a waiting room and may only have a few spare minutes to catch your therapist before their next session. This leaves many parents in the dark. 
When speech therapy is delivered virtually, you have the opportunity to sit beside your child and follow along as your therapist delivers their lesson. This means, not only can you participate first-hand, but you can take many of the lessons learned during the session and incorporate them into your child's daily life. Does your child have a speech sound disorder and are having trouble pronouncing their /r/ words? If so, your therapists can teach you how to reinforce these skills at home with language-building activities or word lists to practice. Is your child stuttering? Your therapist can provide cues and techniques to help manage and mitigate their stuttering when they're experiencing moments of disfluency. Does your child have a lisp and are making a /th/ sound when attempting to say a /s/ or /z/ sound? Your therapist can help you identify the correct tongue placement required for proper pronunciation and provide helpful exercises to increase your child's awareness of their mouth movements.  
This valuable information sharing goes both ways. Did your child recently pronounce a new word correctly? Expand their vocabulary? Use a coherent sentence to express their needs? Reach a new developmental milestone? All of these progress points and challenges are important for your speech therapist so they can appropriately tailor their treatment plan to reflect your child's strengths, deficiencies, and progress.
Effectiveness of Online Delivery
Study after study has shown that online speech therapy is as effective as traditional therapy. Just because your child is receiving speech therapy virtually doesn't mean they have to sacrifice their level of care, progress towards their speech and language goals, and educational attainment. 
Many of these studies used standardized tests, including GFTA-2 scores (Goldman-Fristoe Test of Articulation), to measure progress between two groups of students –  one receiving in-person speech therapy, the other receiving online speech therapy. Two prominent studies, including those conducted by  Kent State University and the Ohio Department of Public Education, found similar levels of progress regardless of the delivery method.
Interactivity of Virtual Learning
Children today are digital natives. They've grown up in a media-rich environment, which has changed how many children consume, process, and understand information. From YouTube videos, to educational apps, to video games, when these digital tools are used correctly, and with moderation, they can enhance a child's learning experience. 
Online speech therapy plays into these strengths. Many of the language-building activities and exercises speech therapists use every day to reinforce communication skills are well-suited to virtual delivery. The interactivity of a digital platform can improve a child's attention, increase their willingness to participate, and lead to more productive sessions. Some common techniques online speech therapists use include playing fun games that reinforce speech and language goals, using a variety of digital backgrounds, and giving children remote access to the whiteboard feature. 
Lenne Sherred, M.S. CCC-SLP
President and Founder, Expressable
Leanne calls Austin, Texas home but studied Speech and Hearing Sciences at the George Washington University in Washington, D.C. and gained her Master's in Speech-language pathology from Northwestern University in Evanston, Illinois. She has worked in pediatric outpatient clinics, schools, early intervention, and home health. Leanne is currently the President and Founder of Expressable online speech therapy, a company that envisions a modern and affordable way for anyone who needs speech therapy to access these vital services. You can check out her blog here.
Start teaching confidently with Dyknow for free!
In addition to web browser updates and bug fixes, Dyknow released several major product updates, new features and enhancements. Check out Dyknow's 2021 Year in Review!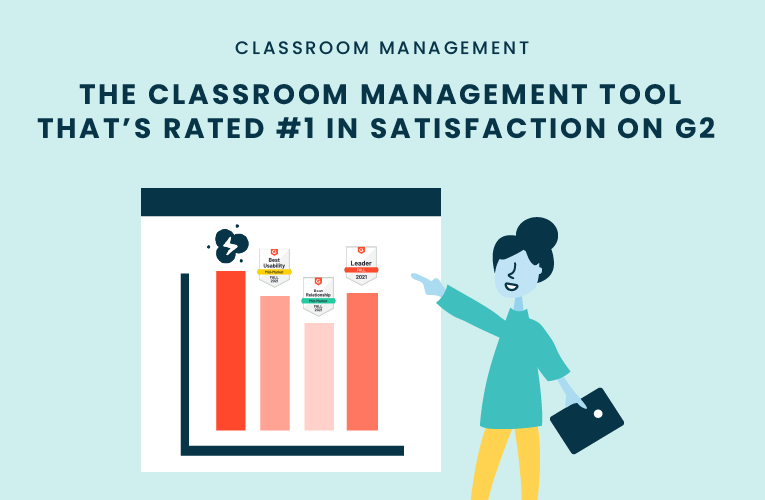 K-12 Administrators across the world trust G2 as the #1 platform to find, research, and choose EdTech tools that solve the most pressing problems their teachers are experiencing. In G2's Fall 2021 Reports, Dyknow was once again rated #1 in overall Satisfaction out of...
On this episode of Tackling Tech, Tierra Leustig interviews Scott Bayer about being an anti-racist teacher, diversifying reading lists, creating inclusive learning environments, and leveraging ed-tech in non-technical ELA classrooms. Scott Bayer is a High School...