Greeneville City Schools in Greeneville, Tennessee is made up of 7 schools and has 2,854 total students. Their district uses Dyknow in their middle and high school's 1:1 student device program made up of Windows machines. Although student devices have many benefits at Greenville City Schools, it changes the classroom dynamic for teachers. The Dyknow team connected with a Greenville teacher on this subject. Below she shares how she leverages classroom technology to advance her lesson plans, while also maintaining efficient classroom management for her students.
Janis Young has been teaching since 1989. Currently, she teaches 7th grade ELA and Social Studies at Greeneville Middle School. Greenville Middle School's mission is to ensure limitless learning opportunities for all students by nurturing talent, inspiring curiosity, and fostering critical thinking through innovative programs of excellence. Janis sees 243 7th grade students on a daily basis. She uses her MIE Expert and STEM certified credentials to ensure that the school's mission is present in her classroom. We were fortunate to ask Janis a few questions to learn more about how she's using technology in her classroom and how she works with others to maximize it.
How are working with tech roles and admins on the use of technology in schools?
Greenville City Schools provides each student with 1:1 technology. With all students having access to a computer, much of the day-to-day learning is performed with the aid of technology. Students need to be able to safely navigate the internet while on their computers. The district's IT team is constantly in communication with staff about threats and advancements to make Greeneville Middle School a safe and advancing educational institution.
Technology is constantly evolving, how do you stay informed about your schools technology program?
As a teacher teaching 21st-century learners, it is important to stay informed with constantly evolving technology. Today's students are dependent upon the use of technology in their daily lives and their future careers will depend on them knowing how to efficiently and properly use technology. Greeneville Middle School is a Microsoft Showcase School. This distinguished award is presented to schools that integrate technology with teaching and learning. I am certified as a Microsoft Office Specialist in Word 2016 and am a MIE Expert. I am involved in the Microsoft program and am a presenter at various conferences on how to incorporate Microsoft programs into daily classroom lessons. Following colleagues on Twitter, Facebook, and other social media outlets allow me to stay informed about what is available to incorporate into my classroom lessons.
What practices (e.g., trainings, edtech days, PD sessions) does your school perform to ensure your student device initiatives enhance learning?
Greeneville City Schools provides opportunities for all teachers and staff to participate in professional days that include advancing knowledge in the area of technology. PD sessions are presented using Microsoft programs. Other edtech days may include attending Canvascon. The district provides opportunities for teachers to attend conferences that incorporate technology into their sessions. I have attended NCTE where I was able to talk at length with membean representatives who were able to advance my knowledge and allow me to bring it back to my students with more understanding and enthusiasm. The IT team at Greeneville City School District is continually looking at ways of providing a safe learning environment with the use of student computers. Having Dyknow to monitor and provide blocking plans allows teachers to focus on the learning content rather than where students may be going in the background on their devices.
What internal and external resources (e.g., LMS, CMS, Websites, Apps, etc.) does your school provide to help maximize digital learning in your classroom?
Greeneville City School District provides teachers with many resources to use in the classroom. Digital learning is maximized through provides like, Canvas, CommonLit, NewsEla, DiscoveryEd, Membean, IXL, BrainPop, Office 365, and Class Dojo.
We'll continue to highlight the teacher's voice on this blog and are always willing to take your recommendations on topics that you or your school find helpful as technology continues to change K12 education. 
Want to learn from educators like you?
In addition to web browser updates and bug fixes, Dyknow released several major product updates, new features and enhancements. Check out Dyknow's 2021 Year in Review!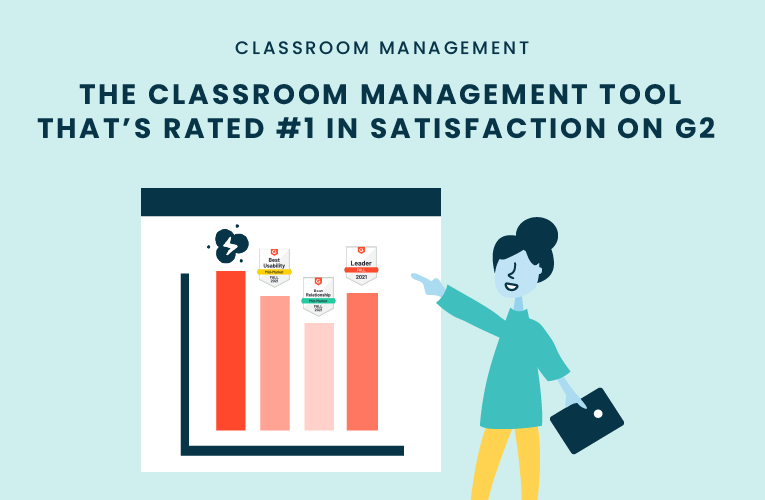 K-12 Administrators across the world trust G2 as the #1 platform to find, research, and choose EdTech tools that solve the most pressing problems their teachers are experiencing. In G2's Fall 2021 Reports, Dyknow was once again rated #1 in overall Satisfaction out of...
On this episode of Tackling Tech, Tierra Leustig interviews Scott Bayer about being an anti-racist teacher, diversifying reading lists, creating inclusive learning environments, and leveraging ed-tech in non-technical ELA classrooms. Scott Bayer is a High School...