When K-12 technology administrators make the decision to implement student devices, it not only changes the learning environment for those students who are newly using devices in the classroom but also creates a learning curve for teachers. A crucial part of helping teachers overcome this learning curve is to have people designated to help educate, train, and facilitate the use of K-12 technology in the classroom. 
K-12 technology integration is never a perfectly planned process. Most of the time, these individuals are not brought into schools when technology is implemented, but rather they are existing teachers and faculty members who take on the additional role of a coach or fully transition into the coaching role.
We sat down with Jeff Krapels, English teacher at Northern Valley Regional High School, to learn how his thinking about k-12 technology shifted and why he eventually took on the role of a K-12 technology mentor when his school implemented one-to-one devices.
Initial thoughts on K-12 technology in the classroom
At the start of 2020, Jeff wrote a blog post looking back on the decade of his teaching career and important lessons learned. One of the most impactful reflections he had was his shift in thinking about K-12 technology in the classroom. Here's what Jeff initially thought about technology in the classroom:
"When my school began piloting 1:1 devices at the beginning of the decade, I was pretty skeptical about it. I liked having a computer myself so that I could keep an up-to-date class website, and sure, PowerPoint was great. Every so often, when I assigned a project in class, it seemed like a good time for students to use a wide variety of technology at their fingertips. But, at the end of the day, I was an English teacher, and the main thing we needed to be doing in class was reading books and writing essays. I saw technology as a distraction." Read the full post
We sat down with Jeff to learn a bit more about his initial thoughts about devices as a distraction and how his thinking has shifted in terms of K-12 technology integration. 
What is the K-12 Technology Mentor Role?
One of the most important parts of implementing devices is making sure they are going to benefit teachers in the classroom. Jeff explained that his school's administration was aware of this early on, which was why they implemented the Technology Mentor role.
"Teachers have always had computers for teaching, but earlier in the decade we started piloting different devices for students to use, and we eventually chose to go with a MacBook Air one-to-one program. In doing that, the district determined that we can't have all these students with devices and not have teachers ready to incorporate them in meaningful ways. So, our Administrators decided to add Tech Mentor positions in each of the high schools. The idea was that teachers who were effectively incorporating devices would coach their peers on how to do the same in their classes."
Jeff explained that "At first, I wasn't sure if the Tech Mentor position was something that I should do, but after just a couple months of being one-to-one, I felt like I had things I could share with my peers that I had been doing in class." 
How K-12 technology allowed Jeff to transform his instruction, and become a Technology Mentor
So what are those tactical things Jeff felt he could share with his peers? He explained that when devices were first implemented, he had to begin to develop and rethink his lesson plans and figure out how an English curriculum and student devices can work in harmony.
"The advent of Google Suite apps completely shifted the way that students look at and do projects. Now students are asking if they can work collaboratively on assignments and projects because they can work so easily on their devices through Google Docs and Google Slides. Knowing what I know about jobs that exist, employers say that collaboration is one of the things that they value most, and I'd say that I'd never truly been able to teach valuable collaboration until we went 1:1."
Jeff concluded his 2020 kick-off blog post by saying…
"Where I started as a bit of a cynic, now I serve my district as one of four technology mentors, working with teachers in my building to come up with ways of effectively integrating technology in their lessons."
Although there are downfalls to technology integration in the classroom, K-12 technology integration can allow teachers to take on new roles like those of Technology Mentors, and Tech Coaches to help their peers implement technology effectively and ensure that students are learning effectively with technology and devices in the classroom.
See how Dyknow can help you teach confidently with technology!
In addition to web browser updates and bug fixes, Dyknow released several major product updates, new features and enhancements. Check out Dyknow's 2021 Year in Review!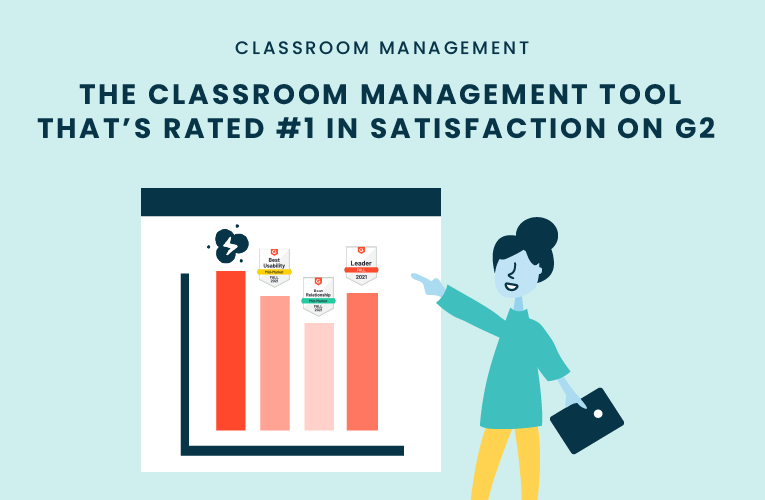 K-12 Administrators across the world trust G2 as the #1 platform to find, research, and choose EdTech tools that solve the most pressing problems their teachers are experiencing. In G2's Fall 2021 Reports, Dyknow was once again rated #1 in overall Satisfaction out of...
On this episode of Tackling Tech, Tierra Leustig interviews Scott Bayer about being an anti-racist teacher, diversifying reading lists, creating inclusive learning environments, and leveraging ed-tech in non-technical ELA classrooms. Scott Bayer is a High School...