Change is inevitable. Figuring out how to navigate through change can be the challenging part. Many K-12 leaders are now asking critical questions to find out how to better facilitate and navigate through change. Derek McCoy, Director of Innovation and Learning at Asheboro Middle School, weighed in during a recent conversation.
How to Facilitate Change as a K-12 Leader
Overseeing change in your school or district can be a very hard skill to master. Derek explained how he regularly tells his colleagues that, "change for the sake of change is tiring, exhausting, scary, and is often not beneficial." Changing 'just because' is what Derek describes as a dangerous game to play. Educators need to consistently check themselves to make sure they are not changing for the sake of change. Instead, the needs of students should be the reason for the change. Educators should be asking critical questions to evaluate the needs of students and what resources a school already has that can provide support for changes to support student-specific needs. As an educator, it is imperative to constantly educate yourself on the aspects of effective student learning. When Derek began as a teacher, he didn't have the knowledge on how to give students a voice and a choice in his class as he does now. He went on to explain that student input was not a priority when he started teaching. As Derek learns more about facilitating change he has found that these four parts are key to easily facilitating change as a K-12 leader:
1. Involve critical stakeholders
Who are the critical stakeholders? Teachers, tech coaches, students, parents, and administrators are all critical stakeholders when it comes to school decision making. Together they are able to work together to build effective plans that are beneficial to all parties involved in the education process. Then they are able to come up with ways that they can make this relevant and impactful in their school building.
2. Commit to lifelong learning
Derek believes that educators should all be committed to lifelong learning; no matter who you are. This is the needed piece to make sure that learner-centered decisions and environments are prioritized. Run full force into initiatives, don't just lead. Commit to something that is bigger than yourself for the betterment of students everywhere.
3. Embrace Diversity
Diversity can have many definitions in education. In this case, embrace the diversity in how others learn, think, and willingness for change. When Derek first became a leader he thought that everyone thought exactly like him. He had to get out of the mindset that everyone was comfortable taking risks and comfortable using the same tactics as him. Not everyone is the same. Some aren't comfortable taking risks and experimenting. Derek urges educators to have the grace and understanding for other people that don't think like you. He wants to emphasize that diversity is not always just about color but about experiences and acceptance of risk and everything that you bring to the table. Derek explained that when he began embracing diversity by showing more grace and understanding, he started seeing the bigger picture and started taking pressure off of himself.
4. Slow things down
Take a moment to breathe. Sometimes taking a step back and slowing things down helps to reflect and visualize what is currently happening, what is working, and what is the next step. Derek explains how he thinks that school leaders don't embrace the role of a coach as much as they should. People need an example, coach, leader, role model to teach them how to be great. The biggest legends, icons, genius, heroes never achieved anything without a coach. Derek stated,  "It's the people who are going to get things done for us, and they need to be coached." This is what he is really excited about. Slowing down might sound counterintuitive, but when you start listening and make efforts more intentional, things get done a lot faster. 
 K-12 leaders need to take action. Take control of the change in your school. Derek emphasizes the need for culture shifts right now. A new culture of collaboration is in the works. Work together with your school to create a culture shift for the better. Make sure to include all four factors to facilitate effective change as a K-12 leader.
Listen to the full conversation with Derek McCoy on our Tackling Tech Podcast!
On this episode of Tackling Tech Podcast, powered by Dyknow, Brett McGrath speaks to Derek McCoy, author and Middle School Principal in North Carolina. Derek is a leader of change and encourages educators to remember what's most important during these challenging times – the well-being of students.
Start teaching confidently with Dyknow for free!
In addition to web browser updates and bug fixes, Dyknow released several major product updates, new features and enhancements. Check out Dyknow's 2021 Year in Review!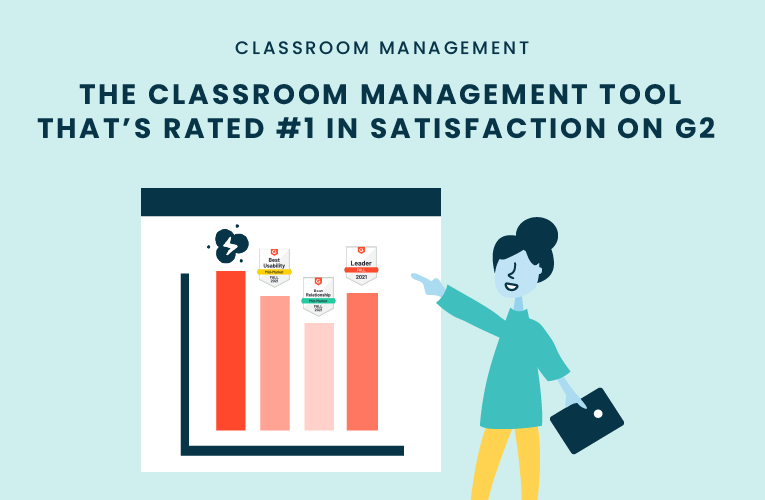 K-12 Administrators across the world trust G2 as the #1 platform to find, research, and choose EdTech tools that solve the most pressing problems their teachers are experiencing. In G2's Fall 2021 Reports, Dyknow was once again rated #1 in overall Satisfaction out of...
On this episode of Tackling Tech, Tierra Leustig interviews Scott Bayer about being an anti-racist teacher, diversifying reading lists, creating inclusive learning environments, and leveraging ed-tech in non-technical ELA classrooms. Scott Bayer is a High School...