Tackling remote learning can be a challenge for districts and schools as they shift to settings where e-Learning and technology now drive instruction. During this time it is important to look past the immediate challenges of remote learning and find opportunities for improvement and change.
For Dr. Erik Youngman, Director of Curriculum, Instruction, and Assessment at Libertyville District 70, remote learning has provided an opportunity for teachers, students, and staff to embrace a Growth Mindset in order to be successful.
In his role, Dr. Youngman advocates for continuous learning, feedback, growth mindset, metacognition, innovation, and visible learning. During this time of remote learning, it has been important for him and his teachers to continue to practice these strategies to make remote learning most effective. One of the most interesting parts of our recent conversation with Dr. Youngman was learning how to use a growth mindset when tackling remote learning.
6 steps for tackling remote learning
Dr. Youngman created a graphic outlining the six steps of remote learning implementation that he suggests all districts should take into consideration. He explained that in reading the graphic, educators should ask two questions: "Which phase am I in?" and "Which phase could I improve or revisit?"
1. Establish consistency by collaboratively creating a plan that aligns with requirements and vision while supporting the needs of students, families, and staff
2. Communicate clearly with stakeholders and train staff
3. Establish culture, relationships, and routines
4. Empower learning aligned with priority standards and skills
5. Enhance engagement, choice, connections, and creativity
6. Gather feedback to guide continuous improvement
Examples for the Growth Mindset
Growth Mindset has been talked about in the psychology space, but only recently has it been brought into K-12 education and used for tackling remote learning. Dr. Erik Youngman has worked extensively with the Growth Mindset and by reading articles and synthesizing that information, he has created structures that coaches and educators can use to teach a growth mindset. 
Primary, Dr. Youngman explained that the Growth Mindset includes learning from mistakes, continuous improvement, problem-solving, and reflection while working in K-12 education. He shared a few examples of his work with the Growth Mindset and how educators should think about using it. 
1. Using Growth Mindset research to empower students
Dr. Erik Youngman explained how he merged Growth Mindset research from Carol Dweck with structures of the applications of learning from Illinois State Board of Education to create the lens for a new topic: The Continuous Learning Mindset. Through this lens, Dr. Youngman created 6 dimensions of Continuous Learning Mindset: problem-solving, communicating, asking questions, self-direction, and working on teams. These 6 dimensions should empower students to enhance the frequency and effectiveness of thinking while also empowering reflection, courage, perseverance, and empathy.
2. Parents and teachers empowering Growth Mindset
Dr. Erik Youngman also shared that parents and teachers can empower a growth mindset via feedback, questions, and self-talk. These are some questions and thought starters for each bucket that parents and teachers should keep in mind. Feedback: "You are not successful yet, but you and I both know you will do it;" "Remember the lesson more than the mistake." Questions: "What questions should be asked or considered in this situation?" "How could you enhance efficiency, flexibility, performance, or growth?" Self-Talk: "I need to courageously move out of my comfort zone," "How do my current actions and attitude impact my progress and success?"
3. Growth Mindset related to learning
Dr. Erik Youngman's new book released on May 6th, 12 Characteristics of Deliberate Homework, which he explained is a great example of how the Growth Mindset is related to learning, and in turn can be used for tackling remote learning. In the book, he talks about how the Growth Mindset related to learning, and deliberate homework, a learning mindset that empowers students to be empowered, reflective, resilient, and resourceful. These 4 buckets are also very pertinent to remote learning.
Tackling remote learning by using a Growth Mindset
The Growth Mindset is a great framework for teachers, parents, and students to think about learning from mistakes, continuous improvement, problem-solving, and reflection. By using the Continuous Learning Mindset, educators can help students empower their learning activities and skills especially in a remote setting. 
Additionally, when tackling remote learning it's important to think about how you are communicating with and evaluating parents' participation and comfort with students learning at home. Using a growth mindset to gather feedback, ask questions, and promote self-talk can be one of the best frameworks to ensure parents are heard, feel confident, and can submit constructive feedback for improvement. 
Lastly, using the four buckets of deliberate homework and the Growth Mindset to guide remote learning will help students and teachers feel confident learning and instructing in a remote environment. These buckets help students feel empowered, reflective, resilient, and resourceful. 
Listen to our full conversation with Dr. Erik Youngman
On this episode of Tackling Tech Podcast, Brett McGrath speaks to Dr. Erik Youngman, the Director of Curriculum, Instruction, and Assessment for the Libertyville School District in Chicago. Erik is an advocate for remote learning and an expert of the growth mindset. His book, "12 Characteristics of Deliberate Homework," will be available on May 6th.
Want to learn how you can implement the Growth Mindset into Professional Development?
In addition to web browser updates and bug fixes, Dyknow released several major product updates, new features and enhancements. Check out Dyknow's 2021 Year in Review!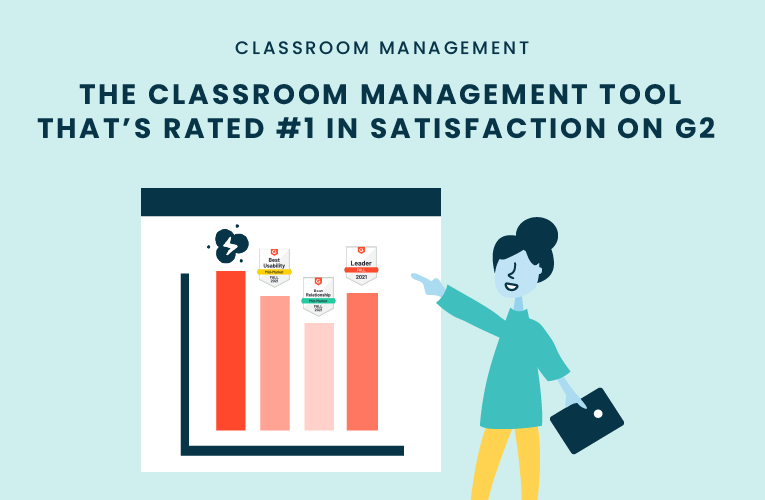 K-12 Administrators across the world trust G2 as the #1 platform to find, research, and choose EdTech tools that solve the most pressing problems their teachers are experiencing. In G2's Fall 2021 Reports, Dyknow was once again rated #1 in overall Satisfaction out of...
On this episode of Tackling Tech, Tierra Leustig interviews Scott Bayer about being an anti-racist teacher, diversifying reading lists, creating inclusive learning environments, and leveraging ed-tech in non-technical ELA classrooms. Scott Bayer is a High School...