The topic of Personalized Learning has long been a goal of many educators, but the circumstances of COVID-19 and remote learning has further proved the need for and effectiveness of personalized learning for instruction. In a recent conversation with Holly Clark, we discussed how teachers can use technology for personalized learning whether they are teaching remotely, hybrid, or in the classroom.
Before we break down the topic of technology for personalized learning, it's important to understand what personalized learning really means. ISTE explains that it is the "purposeful design of blended instruction to combine face-to-face teaching, technology-assisted instruction, and student-to-student collaboration to leverage each student's interests for deeper learning."
Holly shared that although a lot of schools use the terms "voice" and "choice," this does not necessarily mean that they are conducting effective personalized learning to increase student engagement or using the right technology for personalized learning. 
Why Technology Enhances Personalization
Personalized learning can take many forms, whether you are using the Core Four to personalize instruction or creating activities to differentiate learning for students. Regardless of how you are personalizing instruction in the classroom, it is undeniable that using technology for personalized learning is one of the most effective ways to make this strategy effective.
Educator Mary Ann Wolf explained, as cited by Prodigy, "Personalized learning requires not only a shift in the design of schooling, but also a leveraging of modern technologies. Personalized learning is enabled by e-Learning systems which help dynamically track and manage the learning needs of all students… everywhere at any time, but which are not available within the four walls of the traditional classroom."
This sentiment was echoed in our conversation with Holly Clark, as she shared how personalized learning shows up differently in many schools and how she is using technology for personalized learning.
Holly has observed that although many schools believe that they are doing personalized learning, they in fact might not be. This is typically due to schools only focusing on student feedback and personalization at the end of a unit. Holly explained that schools and teachers need to prioritize talking about personalization and differentiation throughout the unit in order to truly conduct personalized learning effectively.
How To Use Technology for Personalized Learning
In our conversation, Holly Clark shared how she is using EdTech tools to enhance personalized learning and differentiation throughout the unit for students.
One of Holly's most successful ways to do this is by using Book Creator. She explained that she using this tool to create an interactive notebook for students to use, and utilizes methods of personalization and differentiation with these notebooks throughout the unit.
1. Assess prior knowledge
At the beginning of the unit, Holly asks students to share everything they already know on the topic that will be taught for the unit to assess prior knowledge. This enables teachers to get an idea of the unique baseline from which each student will grow throughout the unit.
2. Provide personalized learning activities
Once there is an established baseline for the unit, teachers should provide learning activities throughout the unit so that students can show what they are learning along the way. This enables teachers to see all of a student's learning artifacts so that there is a unique demonstration of learning for everything a student is learning relating to that topic.
3. Measure growth patterns
Once students have completed learning activities, Holly shared that she takes that information and looks at each student's unique growth pattern based on their prior knowledge assessment. Having a full picture that is personalized enables teachers to grade students based on where they started and how much they have grown. The more growth there is, the better the grade.
4. Offer additional resources to students
The personalization of this assessment process enables Holly to see specifically which students are not grasping the subject as quickly based on their prior knowledge assessment. Once teachers have determined which students may be struggling, it's important to provide additional resources to those students to enable them to succeed.
Holly Clark described her personalized learning approach as a "longitudinal grading method and evaluating and embedding voice and choice from beginning to end, throughout the whole process." She went on to explain that technology allows us to do this now. Teachers can use technology for personalized learning to do this quickly, powerfully, and truly enhance their instruction if done correctly.
Getting Started with Technology for Personalized Learning
Having worked with and observed many different teachers, Holly Clark's goal is to help teachers integrate technology for personalized learning and overall instruction. Getting started with technology can be the biggest challenge of using technology for personalized learning. One of the biggest questions that she gets asked, is how she got started using technology in the ways that she now uses it.
Her short answer to this question is that as an English teacher, she was looking for a way to get around grading hundreds of papers. So, she began doing exit tickets at the end of lessons where students would write down three things that they took away from the lesson, and she would go home and grade those instead of time-consuming papers.
This strategy has now evolved to using FlipGrid to have students complete this same activity but with a short video response instead of writing their answers. As a teacher, this enables her to watch or listen to students' responses to really understand how they are grasping information, and she can do this in the car or while cooking dinner. From the students' perspective, this enables them to better communicate how they are learning and gives them access to view other students' responses which promotes metacognition and critical thinking.
Listen to the full conversation with Holly Clark
On this episode of Tackling Tech Podcast, powered by Dyknow, Brett McGrath speaks with Holly Clark. Holly is an education thought leader, international speaker, best-selling author, and student advocate with 20+ years as an educator and administrator. Her published three books are The Google Infused Classroom, The Microsoft Infused Classroom and The Chromebook Infused Classroom. She shares her advice on assessing students in a digital age.
Start teaching confidently with Dyknow for free!
In addition to web browser updates and bug fixes, Dyknow released several major product updates, new features and enhancements. Check out Dyknow's 2021 Year in Review!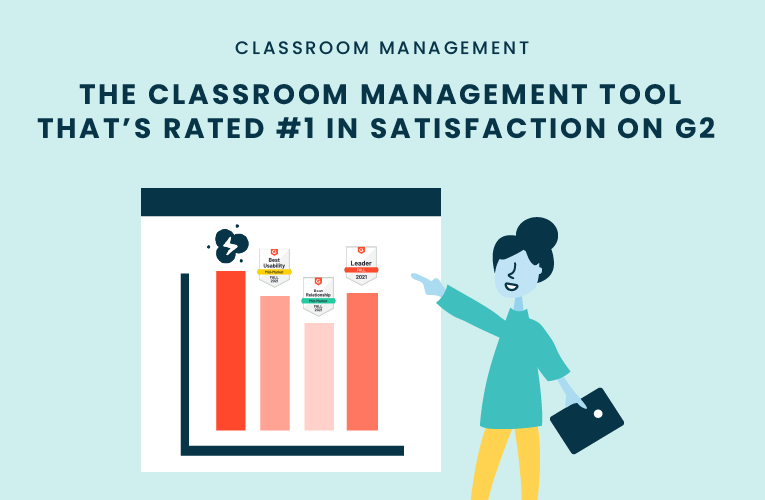 K-12 Administrators across the world trust G2 as the #1 platform to find, research, and choose EdTech tools that solve the most pressing problems their teachers are experiencing. In G2's Fall 2021 Reports, Dyknow was once again rated #1 in overall Satisfaction out of...
On this episode of Tackling Tech, Tierra Leustig interviews Scott Bayer about being an anti-racist teacher, diversifying reading lists, creating inclusive learning environments, and leveraging ed-tech in non-technical ELA classrooms. Scott Bayer is a High School...