The utilization of technology in K-12 classrooms has been continuously increasing over recent years, many challenges coming with technology implementation. With these challenges, it is crucial to focus on the relationship between teachers and technology.
The relationship between teachers and technology differs from person to person depending on a number of different factors. Some teachers may discover the benefit of technology in the classroom and others may see it as more of a distraction. Many schools are newly implementing technology with remote learning, whereas other schools have had technology for years. No matter the outlook on technology in the classroom, it is important to understand how to make the relationship between teachers and technology most effective.
We were able to talk with Tech Integration Coach and host of the EduDuctTape Podcast, Jake Miller (@JakeMillerTech), on The Tackling Tech Podcast to understand, from the Tech Coach perspective, what the relationship between teachers and technology should look like. Jake walked us through what this relationship looked like before the COVID-19 pandemic and how it may have changed given these unique circumstances.
How Remote Learning has Affected the Relationship Between Teachers and Technology
Jake explains that the relationship between teachers and technology has not changed since remote learning. However, what has changed is how easy it has been to recognize the challenges that come along with educational technology, such as keeping student distractions to a minimum and ensuring students are staying safe online. To combat these challenges, Jake observed that teachers were setting 2-3 objectives for remote learning, whether it was the ability to deliver synchronous live lessons or communicate asynchronously with students. 
By setting goals for what needed to be accomplished with remote learning, teachers were driven to use technology to solution their challenges. For instance, if they needed a live video option, they immediately learned how to use Zoom or Google Meet. If they needed a recording tool to communicate with their students asynchronously, they learned how to use Screencastify or Loom. Teachers were completely re-envisioning the ways that technology could be used in their classroom and realizing how it would enhance their lessons. 
Although there are challenges that come along with technology, as an Instructional Tech Coach, Jake urges teachers to recognize educational technology as not just a challenge, but as a tool that enables them to solve problems, meet goals, and address learning standards in the classroom. The ability for teachers to use it as such was proven by the remote learning environment that the COVID-19 crisis presented.
Next Steps for Teachers and Technology
With the uncertainty of the upcoming school year, Jake posed some questions to understand what the best things are that educators can do in regards to technology. He urges educators to consider what will be best for their students, what will be best for themselves, what they are trying to improve in their practice, and what gaps they've noticed in students' understanding. If these needs are identified first, then the next step is to figure out what technology tools can fit in as a support and solution to answer these questions.
While teachers have been relying on technology to find solutions to these questions, they have made huge technology gains. Amplifying teachers' need to meet a goal has enabled them to seek out technology tools to meet that goal. Because teachers are seeking out tools on their own, the implementation of technology has increased teachers' use of technology during remote learning tremendously. Moving forward, we can speculate that the relationship between teachers and technology will continue to grow as teachers become more comfortable with technology usage.
Setting New Goals to Make Technology More Effective
When teachers set specific goals for technology during remote learning, they made huge technology gains that were larger than anything they implemented in the prior decade. Now going into the fall, teachers should be preparing to set goals to make this newly adopted technology even more effective. 
An efficient way to begin this process could be to reflect on the tools used this past semester and understand which tools helped to enhance your classroom. As the next step, look for any gaps in your classroom that you could be closed by adopting new technology. Finally, take inventory of the tools you plan to use in the upcoming fall semester to help reach the goals set to make technology more effective in your classroom.
The relationship between teachers and technology has not changed since remote learning, but there has been an increase in usage of technology during this period as teachers identify gaps and now rely on technology to teach. There is a lot of uncertainty going into the upcoming school year and Instructional Tech Coach, Jake Miller, urges educators to continue to adopt new technology to find solutions in their classrooms.
Listen to full conversation with Jake Miller
This week Brett talks to Jake Miller an EdTech enthusiast, host of the #EduDuctTape Podcast, Tech Integration Coach, former STEM teacher, influencer, speaker, and presenter from Ohio. Jake shares his observations during remote learning and the lessons he's learned while educating educators to use technology in the classroom.
Start teaching confidently with Dyknow for free!
In addition to web browser updates and bug fixes, Dyknow released several major product updates, new features and enhancements. Check out Dyknow's 2021 Year in Review!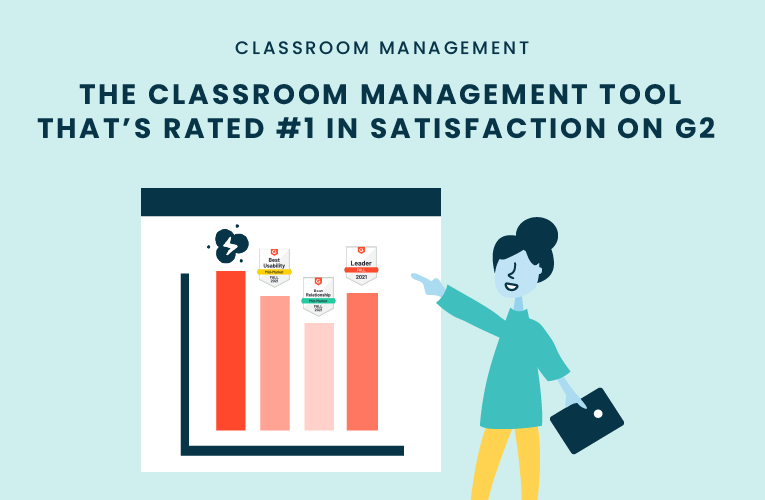 K-12 Administrators across the world trust G2 as the #1 platform to find, research, and choose EdTech tools that solve the most pressing problems their teachers are experiencing. In G2's Fall 2021 Reports, Dyknow was once again rated #1 in overall Satisfaction out of...
On this episode of Tackling Tech, Tierra Leustig interviews Scott Bayer about being an anti-racist teacher, diversifying reading lists, creating inclusive learning environments, and leveraging ed-tech in non-technical ELA classrooms. Scott Bayer is a High School...