At Dyknow, we believe that our customers' voices are important and should be shared with educators everywhere. Whether it's through customer conversations or connecting at events, learning from Dyknow users is invaluable to our team. One of our favorite ways to learn from Dyknow users is through Twitter! We've found that teachers love to share how they use Dyknow which not only informs our team but also provides helpful tips for other Dyknow users. 
We put together some of the best teacher Tweets below so that you can learn some helpful tips from teachers who are defeating distractions and maximizing learning potential in their classrooms.
Check out how teachers are using Dyknow…
I sent a few students #positivemessages using @Dyknow. One left me a note saying how she would try her best all year with my help. Another smiled when I passed him in the hallway. The other told another teacher about it. Positive results! 😊#watchus_sms

— Angie Johnson (@smsMrsJohnson) August 30, 2019
Great tool to help me to monitor and redirect students when they are interacting with their device in class. I can give a redirect that is informative instead of disciplinary. I like being able to give suggestions for redirection instead of just having to punish.

— Deena Wickliffe (@wick_science) September 26, 2018
How are you using Dyknow?
DyKnow has changed the way I am able to connect and engage my students! This application has made it possible for students, at all levels, collaborative through Advanced Placement, to interact, research, and test without the temptation of the internet and other applications.

— Laura Gualtiere (@lgualtiere) September 26, 2018
The tool allows for discreet communication between teacher and student during learning activities so that real-time correction of thinking can occur.

— Deena Wickliffe (@wick_science) September 26, 2018
I like that I can have different plans for different students! I have plans I use frequently, and having that list makes enforcing any one of them a breeze.
There are days with no tech use in English class, but if the student computers are on, then so is my DyKnow! 😊

— Claudia Brunot (@claudiabrunot) September 27, 2018
I use DyKnow in my classroom both as a monitor of student work and as a way to help eliminate distractions for them.
*I love setting the monitor then going back later and viewing where they were working (or not) and adjusting from there. The analytics are extremely helpful.

— Claudia Brunot (@claudiabrunot) September 27, 2018
We love hearing from teachers who use Dyknow in their classrooms. Since teachers use Dyknow differently depending on their teaching style and class structure, sharing their best tips can lead other teachers to become better Dyknow users too. The Dyknow team wants to know how you are using Dyknow to maximize learning in you classroom – tweet us and tell us your best tips!
Not using Dyknow yet? Learn how you can start defeating distractions.
In addition to web browser updates and bug fixes, Dyknow released several major product updates, new features and enhancements. Check out Dyknow's 2021 Year in Review!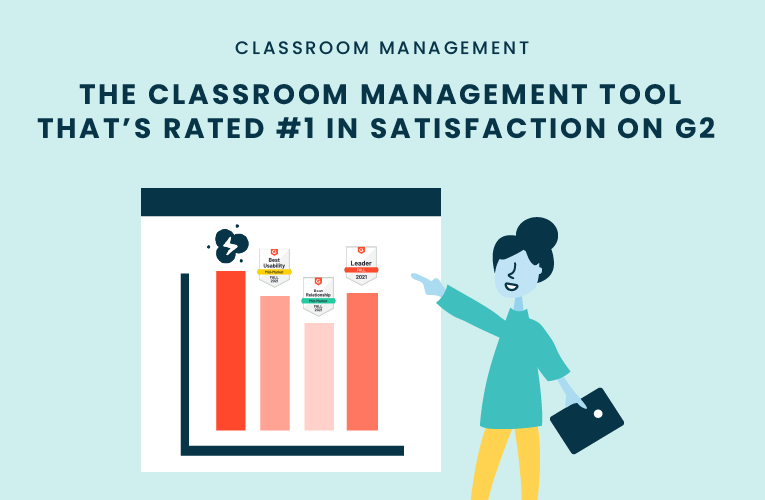 K-12 Administrators across the world trust G2 as the #1 platform to find, research, and choose EdTech tools that solve the most pressing problems their teachers are experiencing. In G2's Fall 2021 Reports, Dyknow was once again rated #1 in overall Satisfaction out of...
On this episode of Tackling Tech, Tierra Leustig interviews Scott Bayer about being an anti-racist teacher, diversifying reading lists, creating inclusive learning environments, and leveraging ed-tech in non-technical ELA classrooms. Scott Bayer is a High School...