Navigating student engagement can be one of the most challenging skills to master in k-12 education. Finding the right tool is the first step to becoming successful with student engagement. Now, with the new wave of technology implementation, student engagement tools are virtually endless. The variety of tools and technology be overwhelming especially if technological knowledge is low. We recently hosted the EdTech Roundtable: EdTech tools for Student Engagement with Scott Nunes, Jennifer Leban, and Erika Rodriguez to outline some of their favorite edtech tools that help students perform in and out of the classroom. Our panelists outlined their favorite student engagement tools: Dyknow, Wakelet, WeVideo, Flipgrid.
Using Dyknow, Wakelet, WeVideo, and Flipgrid for Student Engagement
Dyknow:
Primarily, Dyknow is a student device monitoring platform in which teachers can passively or actively monitor student devices during class. Throughout remote learning, many districts have relied on Dyknow to help continue K-12 education during a period of health safety concern. Here are 3 ways that Erika loves using Dyknow to increase student engagement:
The Dyknow Question Bank provides a tool for teachers to create questions that can be distributed to students during class to easily quiz and engage students without having to go to an alternate tool. Asking questions easily and effectively through Dyknow enables teachers to engage with students on the spot. 
Sending messages within Dyknow can be used to create a more personalized student engagement experience. Teachers can create custom messages or use pre-existing messages within Dyknow to engage with one, a few, or all students to check-in, communicate information quickly, and enable personalized engagement when needed.
Dyknow Polling (Student Understanding) gives teachers the capability to quickly ask students how well they are understanding the current lesson or class material. Students can simply share if they are understanding or not when prompted or voluntarily share this information with their teacher directly through Dyknow. This gives teachers increased visibility into student understanding – even from afar – and enables quick communication and engagement with students.
Wakelet:
A completely free and online tool, Wakelet allows teachers to create, share, and collaborate with each other and their students. Wakelet is a browser-based tool that is compatible with all devices. Scott mentioned that with Wakelet you can connect to other educators and see the content that they are producing on their Wakelet page. They also are able to share their creations on social media through Wakelet. Connect with Scott (@MrNunesTeach) on Wakelet to check out his articles and checks for understanding modules. 
WeVideo:
At its core, WeVideo is a video editing and creation tool. Paid and free options are available for users, although not all features are included in the free version. The paid school account version allows access to a media library of royalty-free content that includes: sound effects, music, video content, and photos. With these resources, content creation becomes a whole lot easier. Another great aspect of WeVideo is that the tool is cloud-based, so you can your students can access all content on any device with the tool. 
Because WeVideo is a collaborative tool, Jennifer likes to use it for student projects. Whether at home or in person WeVideo allows students and teachers to collaborate together online. One way that Jennifer has used WeVideo is by assigning a group project that asks her student to create a commercial using WeVideo. Since, WeVideo has all the tools that they would need to make the production this is a great way to get students engaged, working together, and learning about videography. WeVideo also allows for a variety of upload options; export your file as a video, animated gif, or use audio-only – best used for podcasting. 
Flipgrid:
Like Wakelet, Fligrid is a completely free tool that is incredibly popular with k-12 educators during remote learning. The four C's are the best way to describe Flipgrid: curate, communicate, collaborate, and create. All of these functions are available using Flipgrid. Scott describes how he likes to use Flipgrid for constructing his own lessons and activities. This allows Scott to curate content that is exciting for his students. He also loves to do short-form interviews and reflections with his students using video on Flipgrid. Like WeVideo, Flipgid also offers a library of pre-produced media that can be found in the discovery section of the tool.
Scott predicts that educators will begin to see the impact these tools have on student engagement. Students may start to use these tools for their own enjoyment and benefit outside of the classroom. While these are resources for the teacher they are also resources for students to dive deeper into as well. Student engagement will not be mastered overnight, so invest time into learning about edtech tools that are progressing education into a technological and innovative environment. 
Start teaching confidently with Dyknow for free!
In addition to web browser updates and bug fixes, Dyknow released several major product updates, new features and enhancements. Check out Dyknow's 2021 Year in Review!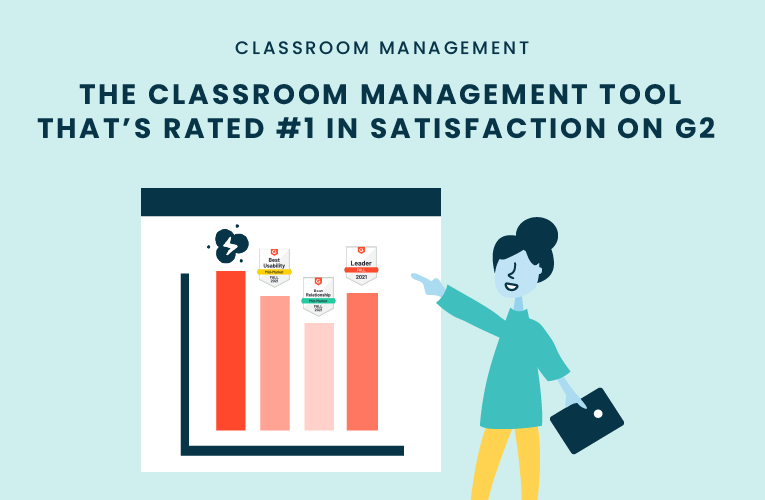 K-12 Administrators across the world trust G2 as the #1 platform to find, research, and choose EdTech tools that solve the most pressing problems their teachers are experiencing. In G2's Fall 2021 Reports, Dyknow was once again rated #1 in overall Satisfaction out of...
On this episode of Tackling Tech, Tierra Leustig interviews Scott Bayer about being an anti-racist teacher, diversifying reading lists, creating inclusive learning environments, and leveraging ed-tech in non-technical ELA classrooms. Scott Bayer is a High School...