When incorporating technology into the classroom, it's important to understand the needs and limitations of the teachers who will handle those solutions on a day-to-day basis. According to Edgenuity, "91% of teachers are excited at the prospect of bringing more digital tools into the classroom, [but] only 16% believe their schools are executing proper integration plans."
We had the chance to talk with Larry Jones, IT Network Administrator from Greeneville City Schools, about his thoughts on why technology management should be moved closer to the classroom.
Here is what he had to say about technology management:
Larry remembers his concerns when his school district was considering implementing 1:1 student devices in their classrooms. He wondered how they were going to control the "tremendous distraction" that they were about to unleash in their classrooms and questioned, "how are we going to help our teachers know that their students are on task?" 
Larry understands the stress of monitoring student device usage. As the IT Network Administrator, his role used to entail monitoring all the device content filters for Greeneville City Schools. At times, he struggled to decipher the difference between a student being off task, or the student having permission to be on certain websites. He remembers, "I didn't know what was going on in that classroom. However, the teacher did." He thought, "If the teacher can see what's going on, then they're able to better manage their classroom." This struggle led him to believe that technology management should be moved as close to the classroom as possible.
After being introduced to Dyknow's classroom management software to use for technology management, Larry had more confidence in implementing 1:1 devices. He says, "This solution has returned control where it belongs, and that is to the teacher in the classroom, not someone at the central office." Larry thinks a lot of 1:1 districts are really struggling. He believes even if their teachers aren't voicing their distress over the distraction of these devices, they are feeling it.
The implementation of classroom management software into your classroom could be the next step you should take to make device usage in your school possible. Classroom management software gives teachers more control in the classroom and takes a load of stress off of district administration by providing them with a tool for technology management.
Interested in learning how Dyknow's classroom management software can increase control of device usage in your classroom? Click here for a demo!
Learn more helpful tips from educators like you!
In addition to web browser updates and bug fixes, Dyknow released several major product updates, new features and enhancements. Check out Dyknow's 2021 Year in Review!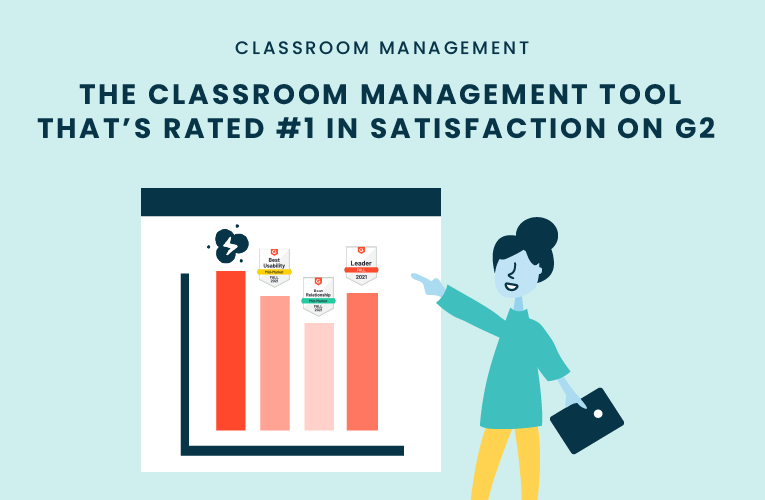 K-12 Administrators across the world trust G2 as the #1 platform to find, research, and choose EdTech tools that solve the most pressing problems their teachers are experiencing. In G2's Fall 2021 Reports, Dyknow was once again rated #1 in overall Satisfaction out of...
On this episode of Tackling Tech, Tierra Leustig interviews Scott Bayer about being an anti-racist teacher, diversifying reading lists, creating inclusive learning environments, and leveraging ed-tech in non-technical ELA classrooms. Scott Bayer is a High School...