It is often thought that the back to school time frame is only the last weeks of summer and the first week or two of school. However, the back to school process can take longer than this expected period due to the length of time teachers and students need to adjust to changes in a K-12 environment. One of the biggest roadblocks in this transition process is student distractions
Fresh from summer vacation, students have been using devices for entertainment like playing games, watching YouTube videos, and chatting with friends. Because of this, the switch to using devices in the classroom solely for educational purposes can be a harsh change, and students will try to get back into their summer routine by accessing entertainment sites during class. These distractions add stress to teachers and take away precious teaching minutes because on top of typical back to school priorities, teachers have the additional challenge of making sure students are on task. This is where a Dyknow free trial comes in. 
Here's how a Dyknow free trial can improve your classrooms…
1. Help teachers create good habits for their students.
The beginning of the school year is the best time for students to make good habits and break bad ones. If teachers begin the year without a tool to manage device distractions, students are more likely to develop a bad habit of being off task during class. We hear from Dyknow customers that the beginning of the year is one of the best times to use Dyknow because it shows students right away that device misuse won't be tolerated. When students are blocked or sent a message through Dyknow at the beginning of the year, they are more likely to stop accessing distracting sites during class altogether, because they know they are being monitored by their teachers.
2. Gain teacher trust by supporting them with a tool they want.
Technology Teams can gain teachers' trust by supporting them with the tools they want at the start of the year. We know that teachers who try Dyknow, love Dyknow. This is also true for Technology Teams because when they can support teachers with a tool that makes their lives easier, Tech Coaches feel like they've done their job. Don't just take it from us, here's what teachers say about using Dyknow after a Dyknow free trial:
"DyKnow has helped me bring students' attention back to our discussions in a discreet non-disruptive way. Over time, just knowing that I have access to their screens keeps them focused."

– David M., Teacher, Cabarrus County Schools
"I use Dyknow to monitor all online work and to reduce noise from my instruction by delivering messages and using polls and questions to check in on student engagement."

– Henry R., Teacher, Springfield Public Schools
"Dyknow helps me keep tabs on my students. It also creates an environment of honesty. Students assume I am always monitoring/controlling website choices, so they do the right thing."

– Lise W., Teacher, Elkhorn Public Schools
3. Dyknow free trial setup is easier than other tools.
Back to school is one of the busiest times for technology teams, so adding another tool with a long setup process is not ideal for most Tech Coaches and Admins. We consistently hear from Administrators that Dyknow free trial setup is significantly easier than they anticipated. Our easy SIS integrations and rostering make it easy for your Technology Team to get up and running in your classrooms just in time for teachers to use it at the beginning of the year.
Getting a Dyknow free trial in your classrooms this back to school season can save teachers time and headache, and gain trust for your technology team. Don't believe us? Try it for yourself.
Try Dyknow in your classrooms this season!
In addition to web browser updates and bug fixes, Dyknow released several major product updates, new features and enhancements. Check out Dyknow's 2021 Year in Review!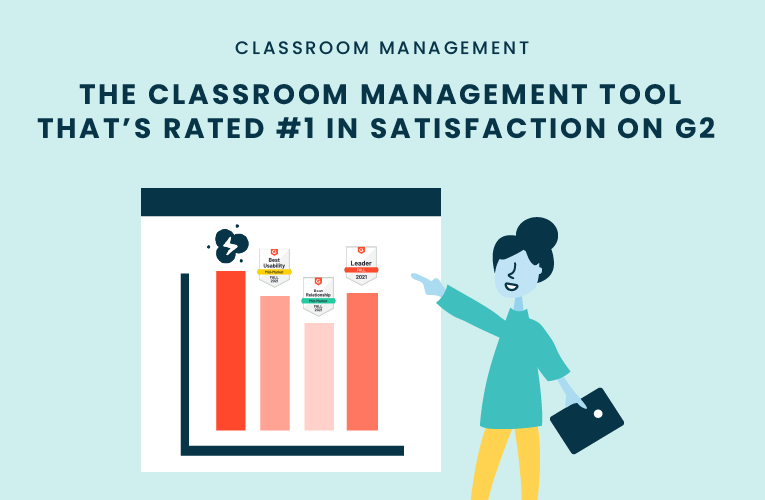 K-12 Administrators across the world trust G2 as the #1 platform to find, research, and choose EdTech tools that solve the most pressing problems their teachers are experiencing. In G2's Fall 2021 Reports, Dyknow was once again rated #1 in overall Satisfaction out of...
On this episode of Tackling Tech, Tierra Leustig interviews Scott Bayer about being an anti-racist teacher, diversifying reading lists, creating inclusive learning environments, and leveraging ed-tech in non-technical ELA classrooms. Scott Bayer is a High School...