The 2020 school year has proven itself to be the year of new. K-12 educators are experiencing new learning environments, using new technology, and connecting with students in new ways. One of the most important things to do amid all of this new, is to find ways to remain steady and retain familiarity in what you do. The best way to do this is by connecting with PLNs (Professional/Personal Learning Networks) using different channels. 
A strong PLN can be the secret to success in this age of the ever-changing K-12 education landscape. We recently sat down with Derek McCoy to learn why his Twitter PLN has been important for K-12 success for him, and how educators can replicate the process of growing a Twitter PLN for their own K-12 success.
Why build a Twitter PLN?
Strong PLNs can be built using virtually any channel. From email, phone calls, and Zoom meetings to LinkedIn, Facebook Groups, and Quora threads, PLNs take many forms for different people. However, Derek shared that his favorite and most effective channel for building his PLN is through Twitter PLNs.
With Twitter, educators have the ability to connect with hundreds of thousands of educators across the world on one single platform. Derek shared that the saving grace for him has been connecting with people on Twitter to build a stronger PLN for K-12 success during this time.
One of the largest benefits of Twitter PLNs is the ability to have consistent conversations using #hashtags and topics that are relevant to other educators. Asking a question or sharing a story about a topic that many are struggling with is one of the most effective ways to engage with other educators to receive answers and learn others' stories. Simply engaging in Twitter discussions, threads, and organized chats allow you to share common ideas with others, and building a strong Twitter PLN from there is just a matter of engaging with other educators on a one-to-one basis.
5 Reasons Twitter PLNs can lead to K-12 success
Derek McCoy shared many reasons why Twitter PLNs have been one of the biggest reasons for his K-12 success. He even explained that he attributes many of his large accomplishments to his Twitter PLN because many of them would not have happened without the support of those with who he has connected virtually.
1. Make connections that empower your classroom
Connecting with other educators outside of your school and district is powerful. This is where new ideas come to life and where educators can find encouragement that they are not alone in the challenges they are facing. Twitter connections can last a lifetime, especially when they have a direct impact on your classroom. Many teachers have shared that new ideas and encouragement received from Twitter PLNs have empowered them to try new things and bring their classrooms to life.
2. Create a routine with regular engagement.
One of the largest benefits of Twitter PLNs for the K-12 education community is the regularity of scheduled Twitter chats. With hundreds of Twitter chats happening every month on the regional and national level, this is a great way to regularly engage with your PLN in a structured manner. Carving out time to engage with your Twitter PLN can be a challenge with the busy schedules that we all have, but committing to a few regular Twitter chats each month will ensure that you are regularly learning from your Twitter PLN and bring in new people to your PLN who you may have not connected with before.
3. Transform leadership with collaboration
Derek McCoy shared that one of the most impactful things about PLNs is they have the power to evolve leadership from where we were 50 years ago. Now, we are in a truly different place where leaders are thinking less in terms of solely focusing on their own school and looking towards their larger community. Whether this community is schools around them or schools across the world, leaders are connecting with and learning from other people to transform their leadership and school.
4. Have the hard conversations
The toughest part about leadership used to be making hard decisions, but Derek believes there is really no such thing as a hard decision. Only hard conversations that lead to a decision. When you frame it like this, it becomes about conversations rather than decision-making, and PLNs are all about conversations. If you have a decision to make, lean on your PLN as a source of information and have these tough conversations with your PLN to inform your decision-making.
5. Connect with innovative minds
Twitter is unique because you have access to the inbox of some of the most influential minds in K-12 education. Whether it is sending a DM or tweeting directly at someone, these people are all seeing the notifications that come in and are eager to engage with you. There are so many people who have an influential voice and powerful ideas who you can connect directly with through Twitter PLNs. 
Who to include in your Twitter PLN
If you are just starting on the path to build a Twitter PLN, it can be hard to know where to start and who to follow. We've put together a list of some of the most innovative K-12 minds who you should include in your Twitter PLN.
Monica Burns | @ClassTechTips
Elizabeth Walhof | @ejwalhof
Eric Guise | @GuiseGotTechEd
Erik Youngman | @Erik_Youngman
Chris Woods | @dailystem
Rachelle Dene Poth | @rdene915
Kyle Niemis | @kyleniemis
Bruce Reicher | @breicher
Tara Martin | @TaraMartinEDU
Darrin Peppard | @darrinmpeppard
John Spencer | @spencerideas
Jorge Valenzuela | @JorgeDoesPBL
Evan Robb | @ERobbPrincipal
Holly Clark | @HollyClarkEdu
Derek McCoy | @mccoyderek
Listen to our full conversation with Derek McCoy
On this episode of Tackling Tech Podcast, powered by Dyknow, Brett McGrath speaks to Derek McCoy, author and Middle School Principal in North Carolina. Derek is a leader of change and encourages educators to remember what's most important during these challenging times- the well-being of students.
Start teaching confidently with Dyknow for free!
In addition to web browser updates and bug fixes, Dyknow released several major product updates, new features and enhancements. Check out Dyknow's 2021 Year in Review!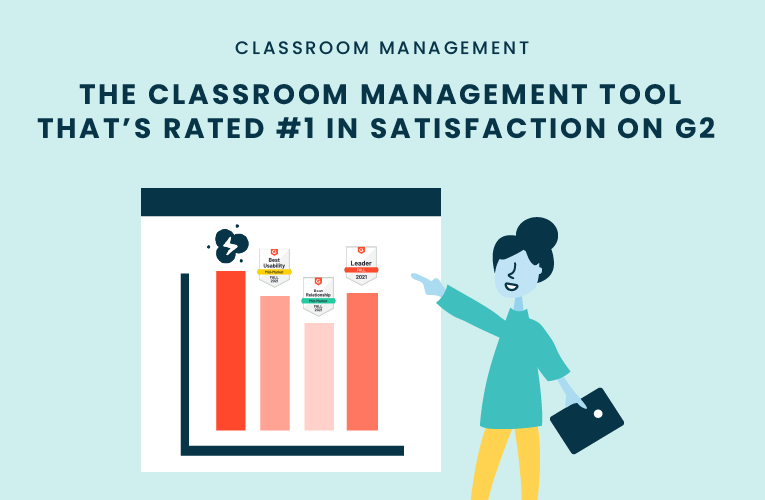 K-12 Administrators across the world trust G2 as the #1 platform to find, research, and choose EdTech tools that solve the most pressing problems their teachers are experiencing. In G2's Fall 2021 Reports, Dyknow was once again rated #1 in overall Satisfaction out of...
On this episode of Tackling Tech, Tierra Leustig interviews Scott Bayer about being an anti-racist teacher, diversifying reading lists, creating inclusive learning environments, and leveraging ed-tech in non-technical ELA classrooms. Scott Bayer is a High School...