Technology coaches have a difficult job to begin with, and prioritizing the various responsibilities of their role entails creates even more challenges. From identifying opportunities for technology development and getting teacher buy-in, to coaching technology implementation and bridging the gap between IT and educators, technology coaches are spread pretty thin. 
We spoke to our network of technology coaches to identify the 7 biggest challenges that they face…
1) TEACHER BUY-IN IS LACKING FOR TECHNOLOGY
A lot of teachers aren't ready to buy into a technology tool if they're not ready to really focus time on it. With the many responsibilities that come with teaching, it can be time-consuming for teachers to devote time to learning and understanding the benefits of new classroom technology. Technology coaches are challenged with getting buy-in from teachers for tools that can significantly improve classrooms.
TRY THIS:

Find a small starting point. Try to go for a quick win, don't try to take on a huge project all at once, but focus on something smaller at first that you can get buy-in on and then move onto larger initiatives after you have a strong initial buy-in.
2) STAYING UP TO DATE WITH THE EDUCATIONAL TECHNOLOGY INDUSTRY
The educational technology industry is ever-changing, and although instructional strategies remain relatively constant, the connection between new technologies and instructional strategies is consistently changing. Technology coaches are challenged with staying up to date with educational technology industry trends and how these trends affect teachers' instructional strategies.
TRY THIS:

Devote time every day to learning. Whether it's to keep a beat of what's happening in the tech world, or how to improve your technology coaching skills. Subscribe to EdTech blogs, newsletters, and other learning materials.
3) NOT ALL TEACHERS ARE ON THE SAME PAGE WITH TECHNOLOGY COMPETENCY AND SKILL LEVELS
Whether due to generational gaps or preferences for certain teaching styles, teachers are rarely on the same page when it comes to technology integration, competency and skill levels, but assuming that these factors predetermine whether or not teachers will be open to using technology tools can be detrimental to technology coaching. The challenge is to avoid making assumptions and instead understand that no two teachers are alike when it comes to technology.
TRY THIS:

Start with the instructional strategy, not the technology tool. Observe teaching strategies and what your teachers need, and then open up that dialogue about those technology tools that might help them.
4) TEACHERS ARE FEARFUL THAT TECHNOLOGY IS GOING TO ELIMINATE THEIR JOB
Technology coaches are challenged with helping teachers understand that technology is here to help them rather than replace them. Teachers can be fearful of technology that they are unfamiliar with, assuming that integrating technology into their curriculum will lead to their job being replaced by technology altogether.
TRY THIS:

Build strong, trusting relationships with teachers so that they will in turn trust the technology tools they are given. Talk about what teachers and students are expecting, and don't let teachers' fear rob students of their experience.
5) BALANCING TECHNOLOGY COACH RESPONSIBILITIES WITH OTHER ROLES
Technology coaches usually hold additional positions in their schools such as librarians, teachers, or broader tech support roles. A challenge for technology coaches can be finding a balance between the responsibilities of multiple roles, and finding alignment in these positions so that they aren't spread too thin.
TRY THIS:

Find a way to streamline both roles. For instance, if you are both a librarian and tech coach, the responsibilities of these roles align, since technology is often run through a school's library. Conduct tech workshops in the library!
6) REACHING TEACHERS WHO DON'T ACTIVELY SEEK OUT TECHNOLOGY LEARNING OPPORTUNITIES
Some teachers actively seek out learning opportunities from technology coaches whereas others will only take advantage of these opportunities if they are required to. Reaching those teachers who are not actively seeking technology coaching resources can be difficult for technology coaches, especially when it comes to making sure that teachers are on a similar page when it comes to technology.
TRY THIS:

Everyone learns differently. Some teachers might prefer hands-on training whereas others prefer reading about a technology tool. Understand your teachers' various learning styles, so that you are coaching them in ways that will benefit them.
7) FINDING TIME FOR FACE-TO-FACE TEACHER COACHING WHEN TECHNOLOGY COACHES ARE LIMITED
Not all school districts are created equal – depending on a school or district size, technology coaches can be limited. Some districts only have a few technology coaches spread between a few dozen schools, whereas other districts have a designated technology coach in each school. For those districts that only have a few technology coaches, it can be challenging to find time to go to individual buildings in order to spend the face-to-face time with teachers that is crucial to successful technology coaching.
TRY THIS:

Consistant face-to-face coaching can be almost impossible given certain circumstances. Provide teachers with resources like webinars, blogs, newsletters, and checklists so that they are being coached even when a tech coach isn't available on-site.
Are you a technology coach who experiences other challenges in your role? Do you have more recommendations for how to overcome these challenges? Dyknow is committed to supporting our community of 3,000+ tech coaches and want to hear your about your own experience as a tech coach!
Looking for buy-in from teachers? Try Dyknow!
In addition to web browser updates and bug fixes, Dyknow released several major product updates, new features and enhancements. Check out Dyknow's 2021 Year in Review!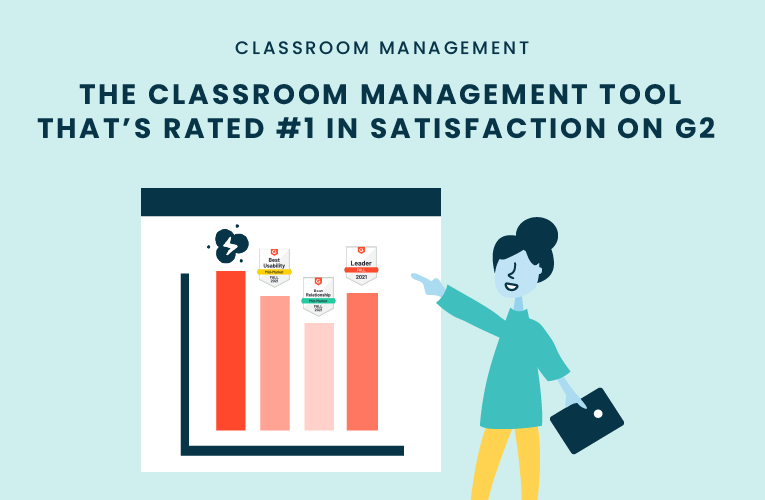 K-12 Administrators across the world trust G2 as the #1 platform to find, research, and choose EdTech tools that solve the most pressing problems their teachers are experiencing. In G2's Fall 2021 Reports, Dyknow was once again rated #1 in overall Satisfaction out of...
On this episode of Tackling Tech, Tierra Leustig interviews Scott Bayer about being an anti-racist teacher, diversifying reading lists, creating inclusive learning environments, and leveraging ed-tech in non-technical ELA classrooms. Scott Bayer is a High School...