The K-12 classroom used to be the picture of productivity, but now that every student has a device, it's full of distractions. 
There are major concerns surrounding student distractions, and these concerns are valid with the increase in devices being used. While school-issued devices provide much support to teachers, students, and parents they also provide an extra layer of distractions that students did not have in the physical classroom.
As implementations of school-issued devices increase in K-12 classrooms, the distractions created by devices increase as well. 1:1 devices are implemented to enhance learning, and the majority of recent implementations were in direct response to the COVID-19 pandemic, and enable teachers to facilitate remote learning. While some schools already used devices in some form before remote learning, the recent push for EdTech integration has forced the schools that did not previously use devices to implement them.  
Now heading back into the classroom, educators need a way to see what websites and applications are taking away from valuable class time and defeat those distractions. These are 7 distractions you should eliminate from student devices in 2021.
7 Classroom Distractions You Should Eliminate from Student Devices
1. Online Games 
Students have access to all sorts of online gaming with their devices. Fortnite specifically is a huge concern for K-12 students because of the popularity in the last few years. School-issued devices like iPads also run the risk of app downloads that can distract students during class time. 
2. Social Media
This generation of students spends most of their time and life on social media apps like Instagram, Twitter, and Tik Tok. This is a huge distraction that can be not only provided by school-issued devices but also devices students have at home as well. 
3. Communication with Friends
Now that students are outside of the classroom, controlling the number of side conversations and attention span of students is much more difficult because of the availability that messaging online provides. Students are able to have side conversations privately with their devices that allows them to stay distracted during class time. 
4. Work for Other Classes
When students feel like they don't need to pay attention during a lesson, they might take that time to work on other work for classes. While this may seem somewhat productive, students are missing out on valuable information and application tactics that the current lesson can provide to them. This tactic is counter-intuitive because students lose out on other information that they will need later on to complete assignments, by working on other assignments during class.
5. YouTube videos/entertainment
Another huge distraction is streaming services. Youtube, Netflix, Hulu, Disney+, etc. are major concerns for student distractions. Because all of these services are compatible and available with school-issued devices, they are often used as forms of entertainment to distract students from class. Now that students cannot be thoroughly monitored, and in the comfort of their own homes, the incentive to become distracted by these services is much more enticing.
6. Online Shopping
Students are now able to browse their favorites stores at their fingertips. Sites like Amazon, Etsy, and Poshmark are all ways that students spend time finding the latest trends. 
7. Unrelated Learning
Other contents like blogs, articles, online books, etc. all contribute to the concern for student distractions in the classroom. While these pieces of content are engaging and informative in itself, it takes away from the learning done in the classroom.
School-issued devices provide students and teachers with many benefits, however, the problems that these devices bring into the classroom can be detrimental. While they help to conduct learning and create face-to-face contact, they also present many extra distractions that would otherwise not be an issue in the classroom. Educators are searching for the right tactics to overcome the student engagement crisis and defeat student distractions in 2021.
Dyknow helps teachers defeat distractions before they even happen. With Classroom Management, teachers can see student thumbnails in real-time and block distracting websites and applications before students even access them. Admins and Tech Coaches can also use Device Impact Measurement to get complete device usage data in order to understand how devices and technology are actually being used at the school and district level.
Start teaching confidently with Dyknow for free!
In addition to web browser updates and bug fixes, Dyknow released several major product updates, new features and enhancements. Check out Dyknow's 2021 Year in Review!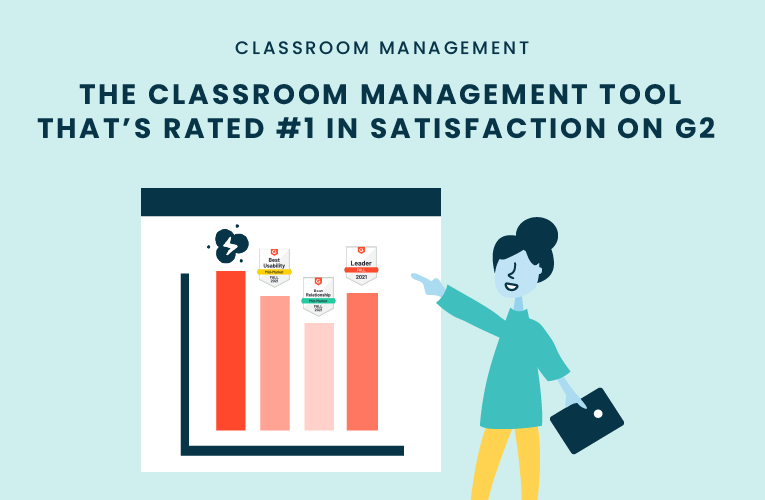 K-12 Administrators across the world trust G2 as the #1 platform to find, research, and choose EdTech tools that solve the most pressing problems their teachers are experiencing. In G2's Fall 2021 Reports, Dyknow was once again rated #1 in overall Satisfaction out of...
On this episode of Tackling Tech, Tierra Leustig interviews Scott Bayer about being an anti-racist teacher, diversifying reading lists, creating inclusive learning environments, and leveraging ed-tech in non-technical ELA classrooms. Scott Bayer is a High School...