Creating a meaningful connection between teachers, students, and technology through professional development has never been more crucial than right now with the current climate of the education environment. It is important that teachers are aware of how to stay connected with students and that they are equipped with the necessary technology to keep students connected with school content, regardless of where learning is taking place. 
A great option for educators to learn how to more effectively bridge the gap between teachers, students, and technology is through participating in professional development sessions. Professional development allows teachers to complete different training sessions to learn how to adapt their classrooms to whatever environment is implemented. 
We recently had the opportunity to talk with Dr. Marcia Tate (@drmarciatate), educational consultant and author, on our podcast, Tackling Tech. She gave us some great advice on how to use professional development to bridge the gap between teachers, students, and technology.
Connecting Teachers, Students, and Technology Through Professional Development
Professional development is a great opportunity for educators to learn how to connect teachers, students, and technology. Here are some reasons outlined by Whitby School on why it is important for teachers to continue to learn through professional development.
1. Improve student outcomes
Professional development gives teachers the opportunity to learn how to improve student learning. Whether teachers are picking up a new learning style or teaching technique, it is important for teachers to continue to evolve their practices in the classroom. Subsequently, by bettering themselves, teachers will be able to better connect with their students in the classroom, which will ultimately promote better student outcomes.
2. Introduce new technology
With hectic schedules, it may be hard for teachers to set aside time to learn more about new technology that will benefit their students. Not only can teachers learn about new tools and devices through professional development, but they can also learn how to improve their use of their current tools and devices implemented in their classrooms, which allows teachers to better connect their lessons with technology in the classroom.
3. Expand teaching horizons
It is important to continually evaluate your instructional practices to understand what you can improve, especially during this time of uncertainty. It is important to make time for professional development to continue to understand how you may alter your teaching style to adapt to the current situation to make a deeper connection with your students.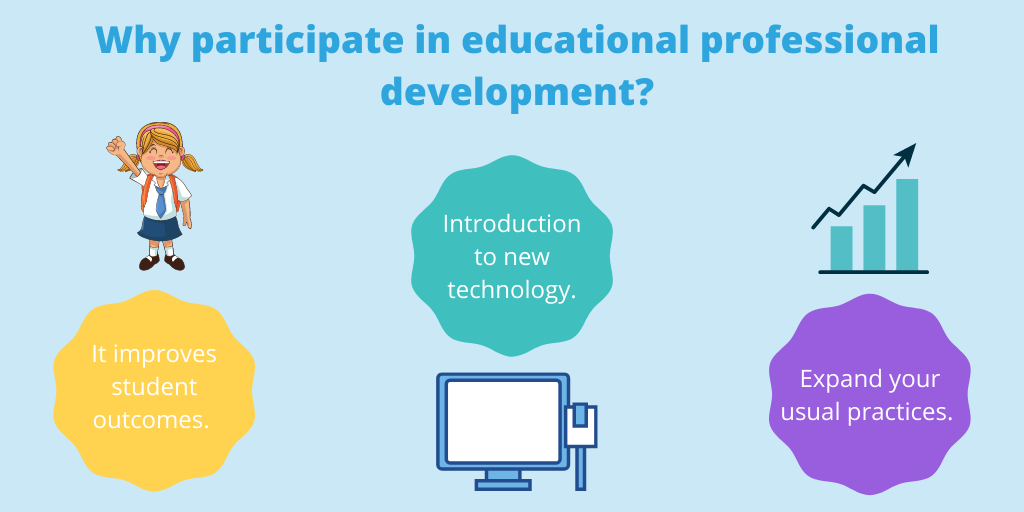 Virtual Professional Development Resources
With a global pandemic, most professional development opportunities are now being offered online, so we wanted to supply you with some of our favorite online professional development resources.
Professional Learning Books: Reading and analyzing a book is one of the most effective routes for professional learning. We suggest looking for books that are written by educators for educators. Dr. Marcia Tate has written multiple books based on the research she has done over various learning styles and brain-based learning. These books are loved by educators across the world. Here are some of her popular books:
Science Worksheets Don't Grow Dendrites: 20 Instructional Strategies That Engage the Brain
Shouting Won't Grow Dendrites: Techniques for Managing a Brain-compatible Classrooms
Online training sessions and conferences: Prior to the COVID-19, most professional development training sessions were done in-person. In order to still facilitate professional development opportunities during this pandemic, many sessions have now been adapted to a virtual setting. At Dyknow, we saw an opportunity to offer even more help to educators during this time. Therefore, we created our 2020 Technology Coaching Conference to virtually support educators professional learning efforts. Here are some of our past events linked:
Coaching the Tech Coaches Workshop
Professional Development Summit
YouTube: Professional development training does not have to take multiple hours out of your day. There are a variety of educational videos that are provided on YouTube that range in different time frames to best fit your time needs. We created our YouTube page to offer a variety of videos. For quick and effective videos, try watching our Tech Coach Corner series. For a longer and more in-depth learning opportunity, we also post our event and podcast episodes on our YouTube page. Here are some of our other favorite educational focused YouTube pages:
Coaching the Tech Coaches Workshop
Professional Development Summit
It is important to dedicate time out of your busy schedule to work on improving your practice as an educator. Professional development sessions and training are a great way to learn how to better yourself and bridge the gap between teachers, students, and technology.
Listen to full conversation with Dr. Marcia Tate
On this episode of Tackling Tech Podcast, powered by Dyknow, Brett McGrath talks with Dr. Marcia Tate, bestselling author of "Worksheets Don't Grow Dendrites 20 Instructional Strategies to Engage the Brain." These brain-based strategies include drawing, discussion, movement, and storytelling, and are backed by extensive research and science and encourages social emotional learning.
Start teaching confidently with Dyknow for free!
In addition to web browser updates and bug fixes, Dyknow released several major product updates, new features and enhancements. Check out Dyknow's 2021 Year in Review!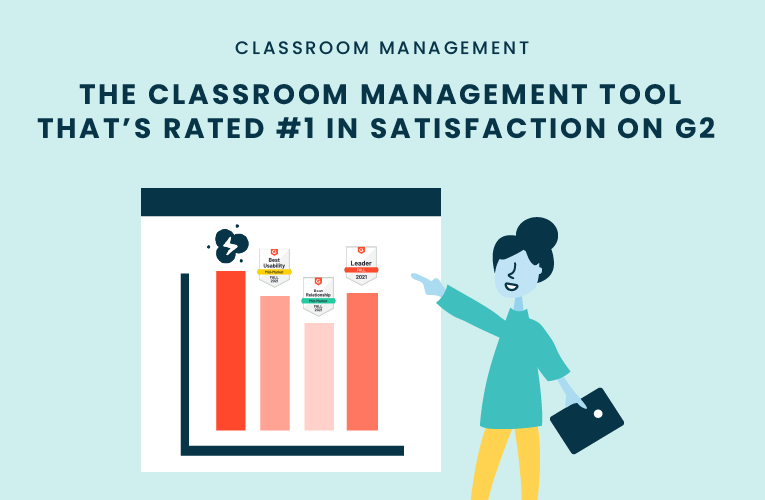 K-12 Administrators across the world trust G2 as the #1 platform to find, research, and choose EdTech tools that solve the most pressing problems their teachers are experiencing. In G2's Fall 2021 Reports, Dyknow was once again rated #1 in overall Satisfaction out of...
On this episode of Tackling Tech, Tierra Leustig interviews Scott Bayer about being an anti-racist teacher, diversifying reading lists, creating inclusive learning environments, and leveraging ed-tech in non-technical ELA classrooms. Scott Bayer is a High School...