In recent years, Iowa schools have invested heavily in implementing 1:1 device initiatives in classrooms throughout the state. The Gazette highlighted, in a 2018 article, that every student at Cedar Rapids secondary school would have a computer within two years. Implementing a 1:1 device initiative is a huge project that takes a lot of resources and time to execute effectively. Once executed, certain challenges arise that schools need to be prepared to overcome. The biggest challenge that comes with 1:1 devices is the fact that students are presented with distractions on a daily basis, in an environment where distractions should be minimal.
The investment that has been made for Iowa's 1:1 device initiative should be maximized by ensuring that once these devices are in front of students, they will be on task and engage with the lessons presented to them. The most effective way to do this is by implementing a classroom management solution within your 1:1 device program. Not only does this ensure that students are on task by redirecting them when they are not, but it also teaches them discipline and digital citizenship skills to recognize when devices should be used to learn, and when it is acceptable to use them for entertainment. At Dyknow, we believe that no 1:1 device initiative is complete without a classroom management solution, which is why our software supports PC, Mac, and Chromebook devices. 
Maximize all aspects of your Iowa 1:1 device initiative
Implementing devices in class can be hugely beneficial if managed properly. Dyknow has several Iowa schools who have recognized that their 1:1 device initiative is doing more harm than good and accordingly implemented Dyknow to manage what students are doing on devices during class.
Here's what one Iowa teacher said about how Dyknow has improved her classroom environment:
"Before Dyknow students would switch from website to website when I couldn't see their screens and switch to the screen they were supposed to be on when I would come close enough to see in the classroom. Now they stay on the site they are supposed to be working on and I don't have students distracted by games, youtube, etc."

– Julia R., North Scott Community Schools
Dyknow's classroom management solution not only enables teachers to defeat device distractions in their classroom but additional features allow them to further engage students once they are on-task. Features like "Send a Message," "Ask a Question," and "Check Student Understanding" are features that teachers love, expressing that they are able to quickly gauge how well students are grasping the lesson or whether students are paying attention. One teacher even says that these features enable him to eliminate unnecessary noise from class time by communicating with students through Dyknow rather than calling them out in class. 
Iowa schools that manage their 1:1 device initiative with Dyknow
Not sure if Dyknow is suitable for your Iowa 1:1 device initiative? Here's a look at just a few of our Iowa customers who are successfully managing their 1:1 device initiative with Dyknow. 
Aplington Parkersburg Community Schools
Parkersburg, IA
Chromebook 1:1 device initiative
Grundy Center Community Schools
Grundy Center, IA
Chromebook & Mac 1:1 device initiative
Sumner-Fredericksburg Schools
Sumner, IA
Chromebook & PC 1:1 device initiative
Maximize the investment in your Iowa 1:1 device initiative by implementing Dyknow's classroom management solution. Not only will it ensure that your students are on task during class, but your teachers will be able to fully engage those students, giving you the confidence that a 1:1 device program was the right investment to make. 
Maximize your 1:1 device initiative with Dyknow
In addition to web browser updates and bug fixes, Dyknow released several major product updates, new features and enhancements. Check out Dyknow's 2021 Year in Review!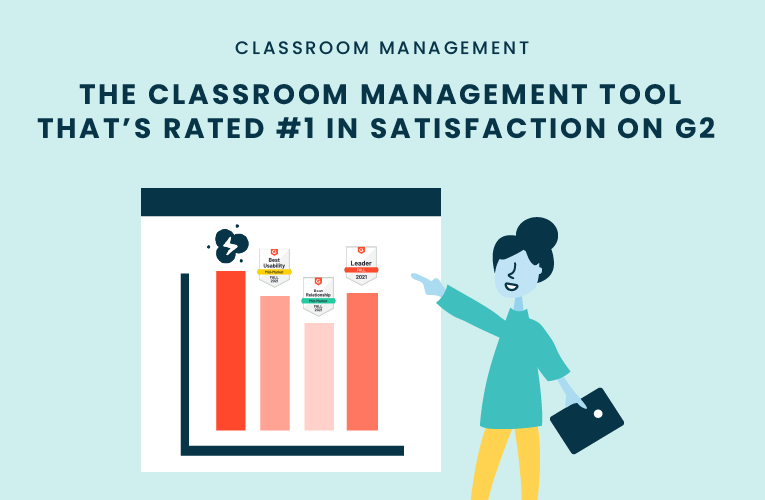 K-12 Administrators across the world trust G2 as the #1 platform to find, research, and choose EdTech tools that solve the most pressing problems their teachers are experiencing. In G2's Fall 2021 Reports, Dyknow was once again rated #1 in overall Satisfaction out of...
On this episode of Tackling Tech, Tierra Leustig interviews Scott Bayer about being an anti-racist teacher, diversifying reading lists, creating inclusive learning environments, and leveraging ed-tech in non-technical ELA classrooms. Scott Bayer is a High School...