As the saying goes, communication is key; especially with parents now that learning has shifted from in-person to remote learning. Communicating important information to parents during remote learning has become more challenging than it was with in-person instruction. In a recent conversation with Rachelle Dene Poth, Spanish and STEAM Teacher and President of ISTE Teacher Network, we learned what the secret to remote learning communication with parents is.
Why Communication with Parents is Important during Remote Learning
Rachelle explained that she finds it amazing how families are keeping up with daily life and school life with all the chaos at the moment. Parents have a new role at home while their children are doing remote learning; they have to make sure that their child is staying on task and up to speed with their learning, comprehension, and assignments. Teachers have to aid parents with this responsibility by clearly and effectively communicating while remote. Teachers need to find a balance between over-communicating and not communicating enough so that parents do not feel overwhelmed during this time.
Rachelle believes that the connection between the parent, student, teacher, and school strengthens by allowing parents to have visibility into their children's learning. Parents are learning more about the different ways students are learning in school;  especially when it comes to technology. At the end of this, parents will feel more connected to the school and to their kids as students and to teachers. 
How to Effectively Communicate with Parents During Remote Learning
Finding the right way to streamline communication with parents during remote learning can be difficult. Many factors go into effective communication including communication channels, frequency, access, etc. Three great ways to communicate with parents during remote learning are:
1. Newsletters
Newsletters can be sent in an email or written format for parents and students to refer to as a guide for a set period of time. Many teachers like to use weekly newsletters that outline assignments, learning objectives, zoom meetings, contact info, etc. for a specific week. This way both teachers and students go back to this email or sheet of paper to always keep track of their work. With newsletters, you are also able to attach links to other documents or resources that students or parents might need during the week which is helpful to keep everything organized.
2. Videos
Videos can be extremely effective because of how much information you can relay in such a short amount of time. Listening to someone speak instructions might be more helpful for an overall understanding of assignments. Videos also make instruction more personal. Students and parents are able to put a face and personality to a name rather than just reading words off a page. This makes even the 'boring part' of learning more engaging.
3. Social Media 
One of the most effective ways to stay in contact with parents is through social media. Everyone these days is on some social media platform whether it be Instagram, Twitter, or Facebook. Teachers can post updates, reminders, and any information onto a social media platform so that parents can receive a notification right to their phone and never miss a post. Using social media platforms also eliminates particle confusion since most will already know how to navigate the site.
Communicating with parents is so important to make sure that students are staying on top of their learning in a remote setting. Educators are encouraged to find the best practices of communication to make remote learning easier. Streamline the best and most effective communication with parents using tips from Rachelle.
Listen to the full conversation with Rachelle Dene Poth on our Tackling Tech Podcast!
On this episode of Tackling Tech Podcast, Brett McGrath speaks to Rachelle Dene Poth, a Spanish and STEAM teacher in PA who is also an attorney with a Master's degree in Instructional Technology in addition to being an author, podcaster, and blogger. She shares the changes she's observed in the rapid transition to online learning. Rachelle encourages teachers to take risks and embrace digital tools because this unfortunate situation can be an opportunity for innovation in education.
Start teaching confidently with Dyknow for free!
In addition to web browser updates and bug fixes, Dyknow released several major product updates, new features and enhancements. Check out Dyknow's 2021 Year in Review!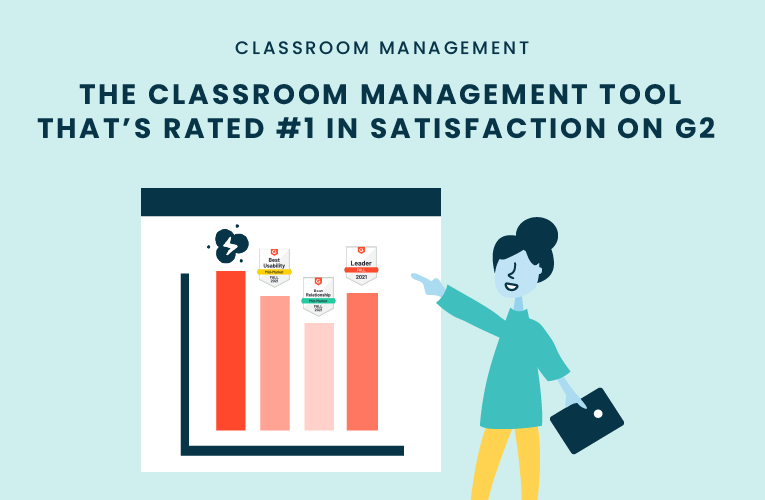 K-12 Administrators across the world trust G2 as the #1 platform to find, research, and choose EdTech tools that solve the most pressing problems their teachers are experiencing. In G2's Fall 2021 Reports, Dyknow was once again rated #1 in overall Satisfaction out of...
On this episode of Tackling Tech, Tierra Leustig interviews Scott Bayer about being an anti-racist teacher, diversifying reading lists, creating inclusive learning environments, and leveraging ed-tech in non-technical ELA classrooms. Scott Bayer is a High School...