The technology integration process has completely changed during the transition to distance learning as educators have developed a complete reliance on technology to conduct instruction safely. It has been no easy task for those in  K-12 education to adapt to the changing conditions of our world during COVID-19.
Although technology integration can be a difficult and sometimes lengthy process, it is important for educators to be able to adapt to new technology tools to meet the changing needs of everyday instruction. As Edutopia explains, it is the "well-integrated use of technology resources by thoroughly trained teachers [that] makes twenty-first-century learning possible." 
While discussing how to be R.E.A.L. when using technology with educator, speaker, and author Tara Martin (@TaraMartinEDU), we learned 3 pieces of advice she would give to anyone in K-12 education to help support effective technology integration. Below we've outlined 3 of the best pieces of technology integration advice for anyone in K-12 education.
3 Pieces of Technology Integration Advice for Anyone in K-12 Education
Technology integration has increasingly become an important topic for K-12 educators as many schools are planning to facilitate hybrid or fully online classes this upcoming semester. We put together some of the top 3 pieces of advice to create effective technology integration into your K-12 classroom.
1. Focus on Integrating One Technology Tool at a Time
Technology integration can be very overwhelming for K-12 educators as there are so many tools available in the education market. Edutopia suggests taking it one step at a time when looking to integrate new technology tools. Not only will the integration of too many tools be overwhelming to the teacher, but also to the student. Therefore, focus on a tool that you find most helpful for the needs of your classroom and figure out how to fully integrate that tool. Once you feel comfortable with the new tool, you can repeat the process of slowly introducing other new tools to your classroom.
2. Set Clear Intentions for Yourself and Others During Technology Integration
During our conversation, Tara Martin explained that one of the best pieces of advice she could give to K-12 educators on effective technology integration is to begin the process with clear intentions. There should be clear intentions set by administrators for how tech coaches should help the teachers and what supplemental tools they should provide to teachers during this process. Teachers should also set clear intentions for themselves on what they hope to get out of the technology integration process. Finally, teachers should have clear expectations for their students on how the new technology tool or device should be used (or not used) during class time.
3. Always Lead with Tech for Successful Technology Integration
During one of our previous digital Technology Coaching Conferences, consultant Monica Burns gave us some great tips on how coaches can support teachers with tech integration. One tip that applies to all educators is to always lead with tech. For example, leading with tech during PD sessions and meetings is a great way to visually show other educators to use a piece of technology in their classroom. Learning from those who lead with tech gives a great opportunity for other educators to understand how to successfully integrate new technology into their classroom.
EdTech Tools that Support K-12 Technology Integration
By following the advice above, you are sure to have a more seamless technology integration process. Even though you may now understand the technology integration process, you may not know which tools to begin the process with. We have some EdTech tools listed below that may be beneficial for your classroom needs.
Bring some fun competition into your classroom with this interactive game based website. Focus on building questions that focus on your current curriculum and then have your students compete to see who can most quickly and accurately answer your questions. 
G Suite for Education offers many different programs that fit the creative needs of all students, whether it be Google Docs for a research paper or using Google Slides for a presentation there is something for everyone. Furthermore, the ability to share these applications online allows for seamless collaboration. 
Dyknow is a student device monitoring software that is used (and loved) by K-12 schools around the country. Dyknow's software gives teachers the peace of mind that their students are on the right track when working on devices during class, whether in a remote environment or in the classroom. Our software will help you maximize technology integration by limiting device distractions and providing a source of truth for technology use in the classroom.
Implementing new EdTech tools through the technology integration process can be intimidating for many K-12 educators. By focusing on one tool at a time, setting clear intentions, and always leading with tech, you are ensured to have a much more seamless technology integration experience. Tara Martin urges K-12 educators to also focus on building relationships with your colleagues during the technology integration experience. She promotes, "relationships, relationships, relationships. I can't emphasize that enough if you are going to be in a coaching role."
Listen to full conversation with Tara Martin
This week Brett talks to Tara Martin, an educator, admin, coach, speaker, author, and founder of BookSnaps. Tara explains what being "R.E.A.L." means and how to be REAL when using technology during remote learning. She wrote a book called "Cannonball In," about her philosophy in life.
Start teaching confidently with Dyknow for free!
In addition to web browser updates and bug fixes, Dyknow released several major product updates, new features and enhancements. Check out Dyknow's 2021 Year in Review!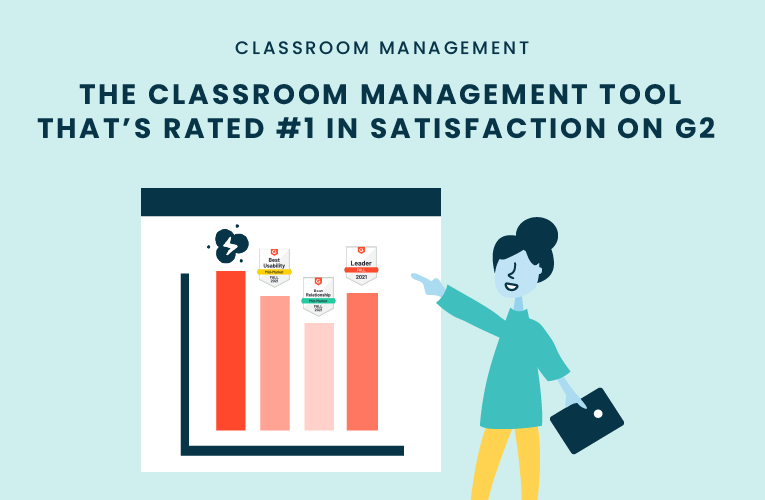 K-12 Administrators across the world trust G2 as the #1 platform to find, research, and choose EdTech tools that solve the most pressing problems their teachers are experiencing. In G2's Fall 2021 Reports, Dyknow was once again rated #1 in overall Satisfaction out of...
On this episode of Tackling Tech, Tierra Leustig interviews Scott Bayer about being an anti-racist teacher, diversifying reading lists, creating inclusive learning environments, and leveraging ed-tech in non-technical ELA classrooms. Scott Bayer is a High School...