The COVID-19 pandemic put schools across the world in a state of emergency distance learning. As teachers no longer had access to their physical classroom, they had to rely on technology to administer daily lessons and assignments, and find new, innovative instruction strategies. 
It is no secret that the use of EdTech, especially during emergency remote learning, can bring many challenges like network connectivity issues and communication barriers. When these challenges arose during distance learning, teachers had to use their readily available resources to problem solve and find solutions to these varying issues. 
We were able to discuss some of these challenges school districts faced when entering emergency distance learning,while talking with administrators and teachers on our podcast, Tackling Tech. We also dove into the solutions they implemented to help solve these issues. Here are the top 4 challenges and solutions teachers and tech coaches faced during emergency distance learning this past semester.
Emergency Distance Learning Challenges & Solutions
1. The Unreliability of Network Connectivity
While relying on technology for communication over lessons and assignments during distance learning, it is crucial to have access to network connectivity. Yet, with the increase of users on networks during emergency distance learning, it became hard to always rely on successful connection to your network. Erika Rodriguez, a middle school science teacher, found her school struggled their first week of distance learning as their LMS network was having connectivity issues. As a LMS is an important tool to have access to during distance learning,this was a big challenge her school district faced. 
TRY THIS: 
We understand not having access to your normal tools while working can be frustrating, so instead of focusing on what you can not do, we suggest focusing on what you can do. While your network is having trouble connecting, work on projects that you do not need your device for, such as writing out future lesson plans or goals you want to focus on during the school year. You may even want to take a break and go on a walk to calm your frustration. Whatever seems to get your mind of the challenge of network connectivity, we suggest trying it.
2. Maintaining a Connection with Students While Being Seperated 
It can be challenging during distance learning to not have face-to-face conversations with your students. Although there are options to video chat with your students, there seems to be less of a connection with a computer screen separating you which can further lead to a loss of communication. With communication being a key component of learning, it can be challenging to correctly convey your message at times or ensure your message is received. 
TRY THIS: 
Spanish and STEAM teacher, Rachelle Dene Poth (@Rdene915), initially struggled at the beginning of distance learning to maintain a connection with her students, but she was determined to not let this challenge continue. Rachelle set her main priority during distance learning to ensure she maintained the student and teacher connection. She made sure to check in daily with her students and if she didn't see them engaging, she reached out to them individually. Through phone calls home and weekly video chats, you can continue to maintain a connection with students even during distance learning.
3. Supporting Student Engagement During Emergency Distance Learning
As you are not in the physical classroom with your students, it is a challenge to ensure they are staying engaged in each lesson. With reduced communication, it is hard to get a read on what activities your students have continued to stay engaged in and what areas they are not giving much attention too.  Even more, using technology as the primary tool to teach your lessons can cause many distractions for students as there are temptations to engage in online activities that are not school focused.
TRY THIS: 
Principal and co-founder of the San Fernando Institute for Applied Media, Pearl Arredondo (@Pearlsfiam), gave us some great tips on how her school has kept students engaged during distance learning. She explains it is most important to be structured, yet flexible. Teachers in her school have been recording Zoom meetings, so they are always available for students. Her school has also created a YouTube channel to reach students by offering fun and informational videos. 
To even further engage your students during distance learning by eliminating EdTech distractions, at Dyknow we create a software that helps defeat distractions in the classroom. By implementing this software on student devices, you can be ensured even when emergency distance learning arises that your students are engaged and staying on track.
4. Juggling the Responsibility of Multiple Roles
While continuing to administer daily lessons during distance learning, many teachers also had other roles to take on while working remotely. STEM teacher and IT coordinator, Josh Bridges explained the difficulties he faced during remote learning, which included being both a parent and teacher at home. He explained it is hard to balance these two roles, as he wants to put full effort in both, causing a lot of challenges. 
TRY THIS: 
We believe it is important to have a work-life balance, so we suggest that you create a schedule of set times for each role you hold. Try creating specific work hours where you will focus your full attention on your students. Make sure you communicate these times to your students so they know when you are available. Once your work time is up for the day, log-off and focus all your attention on your next task. Separating the time spent for each role you hold will not only have beneficial effects for you, but for your students and family as well.
The implementation of emergency distance learning has created many challenges for educators like the loss of network connection, loss of student connections and engagement, as well as holding the responsibility of multiple roles while working from home. At Dyknow we want to help you find the solutions to the challenges you face as an educator. That is why we are always connecting with educators to learn more about the current state of K-12 education. 
We linked our most recent podcast episode below that features eleven previous guests that describe how well their districts were prepared for the unprecedented turn of events that was distance learning and any advice they would share for the upcoming future.
Interested in checking out even more Dyknow content? Our YouTube channel is linked here!
Start teaching confidently with Dyknow for free!
In addition to web browser updates and bug fixes, Dyknow released several major product updates, new features and enhancements. Check out Dyknow's 2021 Year in Review!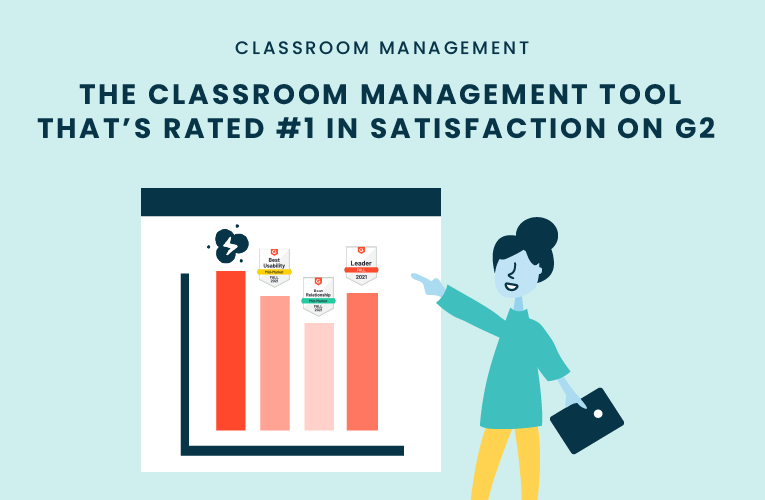 K-12 Administrators across the world trust G2 as the #1 platform to find, research, and choose EdTech tools that solve the most pressing problems their teachers are experiencing. In G2's Fall 2021 Reports, Dyknow was once again rated #1 in overall Satisfaction out of...
On this episode of Tackling Tech, Tierra Leustig interviews Scott Bayer about being an anti-racist teacher, diversifying reading lists, creating inclusive learning environments, and leveraging ed-tech in non-technical ELA classrooms. Scott Bayer is a High School...