The current e-Learning (or Remote Learning) environment can be difficult to navigate for K-12 Teachers, Tech Coaches and technology teams. The majority of schools have transitioned learning to virtual online environments, leveraging technology tools to make instruction possible. This transition comes with its challenges, so we've compiled a few pieces of e-Learning advice that were shared in a recent conversation with Sean Coffron, Instructional Technology Training Specialist at Manassas City Public Schools.
Transitioning to e-Learning creates different challenges Teachers and Technology Coaches.
For Teachers, these challenges include having to learn new technology tools, modify instructional strategies and tactics for the remote environment, and keeping students engaged with learning activities. Some e-Learning advice can be critical to helping teachers feel heard and supported during this time.
Tech Coaches, on the other hand, are challenged with creating new Professional Development strategies for this e-Learning, helping teachers feel confident with new technology tools, and supporting a constant stream of questions. As a Tech Coach himself, Sean had great e-Learning advice for how Tech Coaches can excel during this time. 
e-Learning Advice for Teachers
Sean had insightful advice for teachers who are still adjusting to the e-Learning environment. These few pieces of advice might be just what teachers need to hear during this time.
1. The primary concern of Teachers' roles has not changed.
Teachers should be focused on promoting learning and promoting student development, despite new tools and technologies needing to be used. Sean explains that computers are a great help – especially during this time of remote learning – but teachers need to put their primary concerns first and try not to be overwhelmed by technology.
2. Teachers are the most important resource we have. 
Sean's most valuable piece of advice was this: "Teachers need to remember that they are the most important resource in the classroom, and no computer or piece of technology could ever replace the value of a living and breathing talented educator. This doesn't change if you are in a classroom without walls or a classroom that is online."
e-Learning Advice for Tech Coaches
As a Tech Coach himself, Sean is still navigating the remote learning waters with his fellow educators. But since his district has been in a remote environment for some time now, there were a few pieces of e-Learning advice for Tech Coaches curated from lessons learned thus far.
3. Tech Coaches need to keep doing what we do best.
In order to make technology teams and teachers as successful as horrible during this time, Tech Coaches should continue to be responsive to teachers, keep researching trends and dynamic changes of the technology ecosystem, and make resources available at their fingertips so that they are ready to answer unexpected teacher questions at any time.
4. Help teachers maintain a positive self-image in terms of technology.
This time can be especially challenging for teachers because they now are required to integrate technology into their lessons to facilitate instruction. Many teachers who were hesitant to integrate their classrooms might feel overwhelmed or defeated during this transition. Tech Coaches should prioritize making teachers feel comfortable, confident, and supported during this time so that they maintain a positive self-image in terms of using technology.
5. Remain prepared for questions.
A key part of effective Tech Coaching is being prepared and remaining well-versed in the different resources that are available. Although the role of Tech Coaches is to help integrate technology, it important to be able to identify the pitfalls of having an online platform and how this might challenge teachers. Try to be proactive about anticipating questions and creating resources so that you are prepared to answer them when needed.
Listen to our full conversation with Sean Coffron on the Tackling Tech podcast!
On this episode of Tackling Tech Podcast, powered by Dyknow, Brett McGrath talks with Sean Coffron, the Instructional Technology Training Specialist at Manassas City Schools. Sean shares how his district is continuing to educate students online, some of his favorite online platforms, and his hopes for the future of digital classrooms. Sean advises on what it means to be a studious digital citizen.
Start teaching confidently with Dyknow for free!
In addition to web browser updates and bug fixes, Dyknow released several major product updates, new features and enhancements. Check out Dyknow's 2021 Year in Review!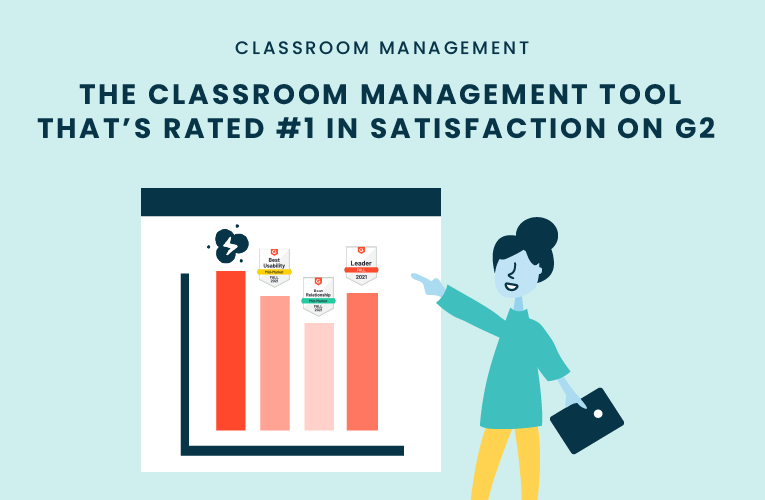 K-12 Administrators across the world trust G2 as the #1 platform to find, research, and choose EdTech tools that solve the most pressing problems their teachers are experiencing. In G2's Fall 2021 Reports, Dyknow was once again rated #1 in overall Satisfaction out of...
On this episode of Tackling Tech, Tierra Leustig interviews Scott Bayer about being an anti-racist teacher, diversifying reading lists, creating inclusive learning environments, and leveraging ed-tech in non-technical ELA classrooms. Scott Bayer is a High School...