The flipped learning model has become especially prevalent during this time of remote learning. Many teachers who are not familiar with this model may not even realize their instruction has developed into a flipped learning model while teaching remotely. 
The flipped learning model is a learning style that can be challenging to understand. Oftentimes it is confused with the flipped classroom model, and although these models are connected, they are not necessarily interchangeable. 
We recently sat down on the Tackling Tech Podcast with Kyle Niemis (@kyleniemis), co-creator of ClassroomQ and Tech Coach at South Brunswick School District, to discuss what exactly the flipped learning model is and how it operates in K-12 schools.
What is the Flipped Learning Model?
In its simplest form, flipped learning is the transition from the "sage on the stage" teaching style to the "guide on the side." With the flipped learning model, teachers transition from a provider of information to more of a coach alongside students. 
With the flipped learning model, teachers begin the school day explaining the content outline, but instead of teaching the content, the students spend the next portion of the day accessing the content on their own. While students work either in groups or individually, teachers are there to coach them through the learning process and at times facilitate group discussions. 
When many schools transitioned into remote learning, teachers may have experienced their traditional teaching style changing to more of a flipped learning style. During remote learning, many teachers are recording lessons for their students every day, that students use to consume the content of a lesson and can rewind or fast-forward through these videos to learn the content at their own pace. This practice of students analyzing the information on their own and the teacher acting as a coaching figure is the bulk of the flipped learning model.
How to Transition your Classroom to a Flipped Learning Model after Remote Learning
As a tech coach who is passionate about flipped learning and leveraging video in the classroom, Kyle is excited to see how a teacher's new skills will translate into a flipped learning style in the physical classroom after remote learning. A large part of Kyle's job will be to help guide teachers to continue to use flipped learning in the classroom. His main advice to teachers will be to take it slow and use whatever they already know.
An example Kyle gives is if you are a science teacher and you made a video during remote learning teaching a lesson over DNA, use this premade video again in the physical classroom. While students watch this video during class time,  the teacher can walk around the room and check for understanding while the pre-recorded lesson is playing.
Compared to traditional lectures, students can take this lesson at their own pace, while still having hands-on help from their teachers. Students that learn quickly during a lecture no longer have to be bored during a lesson that may seem slow, and students that struggle to keep up during a lecture will no longer be frustrated. Using fast-forward and rewind, students can learn the lesson at their own pace.
The flipped learning model can be challenging to understand. We put together a SlideDeck to help better explain what the flipped learning model is and how to transition your classroom after remote learning.
The flipped learning model can be a very effective way to spend class time, but it can be intimidating to begin the implementation process. Kyle suggests that teachers begin the implementation of the flipped learning model with a very simple idea. He strongly believes that once teachers try this model, they will rarely spend their time in front of the classroom lecturing again.
Listen to full conversation with Kyle Niemis
This week Brett talks to Kyle Niemis, the co-creator of ClassroomQ and an Edtech Coach and former science teacher at South Brunswick School District in New Jersey. Kyle is passionate about flipped learning, a method of teaching where students can learn at their own pace watching videos.
Start teaching confidently with Dyknow for free!
In addition to web browser updates and bug fixes, Dyknow released several major product updates, new features and enhancements. Check out Dyknow's 2021 Year in Review!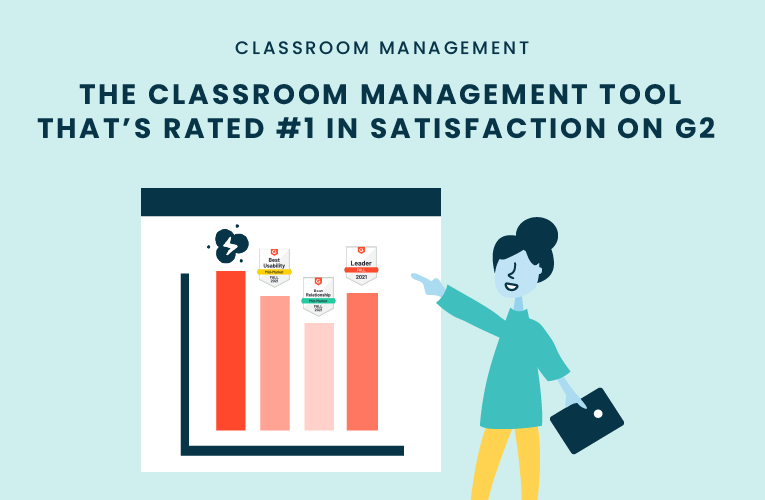 K-12 Administrators across the world trust G2 as the #1 platform to find, research, and choose EdTech tools that solve the most pressing problems their teachers are experiencing. In G2's Fall 2021 Reports, Dyknow was once again rated #1 in overall Satisfaction out of...
On this episode of Tackling Tech, Tierra Leustig interviews Scott Bayer about being an anti-racist teacher, diversifying reading lists, creating inclusive learning environments, and leveraging ed-tech in non-technical ELA classrooms. Scott Bayer is a High School...