How District-Level Technology Teams Can Maximize the Activation of Learning Technology in Schools
As an EdTech partner to thousands of educators, we have the resources to help guide your school's student-device program in the right direction. 
Join us for our webinar, "How District Level Technology Teams Can Maximize the Activation of Learning Technology in Schools" on Wednesday, October 9 @ 12:30 PM EDT, to learn how to maximize results when activating learning technology in all schools in a district. 
How to organize a Tech Coach team in a large district and distribute resources effectively
How to overcome the roadblocks that come along with managing a student-device program in larger districts
What differences there are between activating learning technologies in large and small districts
JAKE STANDISH
IT Program Manager, Charlotte-Mecklenburg Schools
In his role, Jake supports all the different learning tools that have been implemented in the district, as well as training technology staff on how to best support teachers to use technology in the classroom. He works hands-on with all the Tech Coaches in his district to prepare them for one-to-one contact with teachers in their respective schools. His team of Tech Coaches is distributed between 170 buildings which can pose interesting ways to overcoming instructional challenges. 
TIERRA LEUSTIG
Marketing Specialist, Dyknow
As a Marketing Specialist for Dyknow, Tierra constantly aims to get the right message in front of the right audience to inspire and encourage action. In her conversations talking to teachers, tech coaches, and administrators in the K12 space, Tierra understands the importance in providing a platform for these personas to connect, learn from each other, and ultimately improve the performance of their 1:1 student-device programs by making informed decisions. 
Implementing a 1:1 student-device program is just the first step to successful device usage in K12 classrooms. Ensuring that these investments in learning technologies are maximized is the most important part of successful student device usage. We want to make sure district-level technology teams are able to effectively activate their learning technologies so that students and teachers get the most out of educational technology.
Learn how to maximize the activation of learning technology in your classrooms
In addition to web browser updates and bug fixes, Dyknow released several major product updates, new features and enhancements. Check out Dyknow's 2021 Year in Review!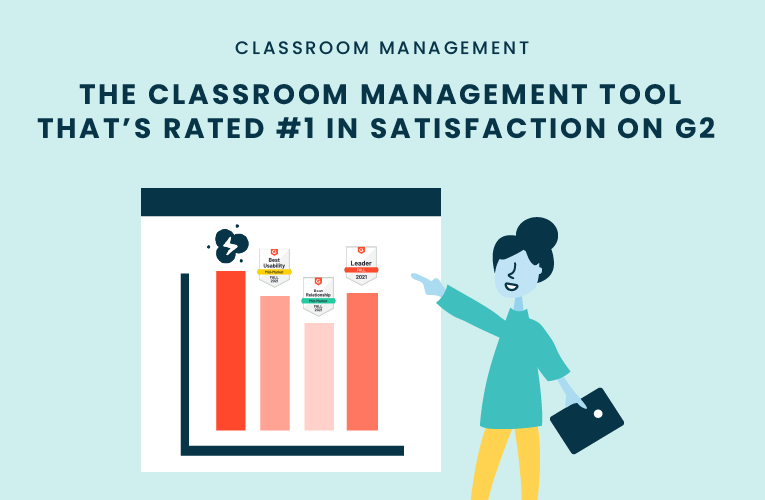 K-12 Administrators across the world trust G2 as the #1 platform to find, research, and choose EdTech tools that solve the most pressing problems their teachers are experiencing. In G2's Fall 2021 Reports, Dyknow was once again rated #1 in overall Satisfaction out of...
On this episode of Tackling Tech, Tierra Leustig interviews Scott Bayer about being an anti-racist teacher, diversifying reading lists, creating inclusive learning environments, and leveraging ed-tech in non-technical ELA classrooms. Scott Bayer is a High School...